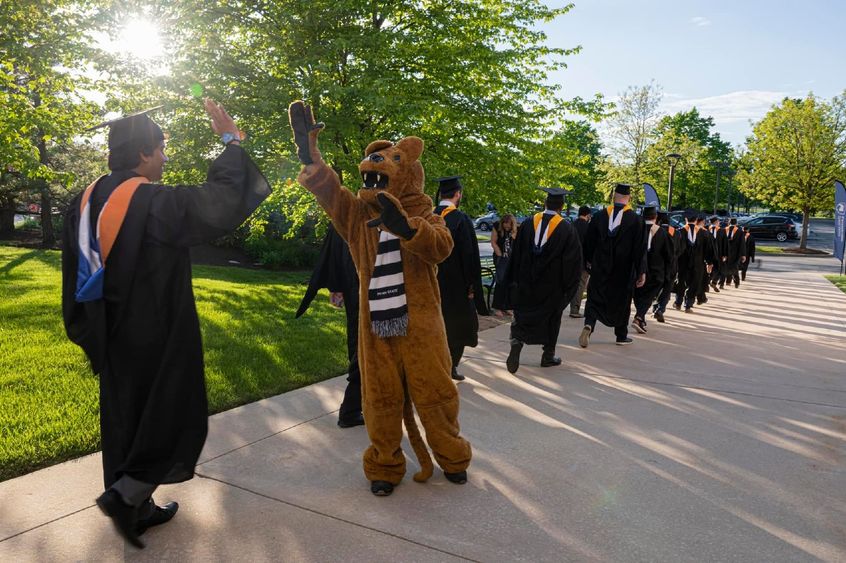 MALVERN, Pa. — The Penn State Great Valley School of Graduate Professional Studies celebrated more than 500 graduates during a commencement ceremony on Friday, May 5.
Penn State Great Valley alumnus Marc A. Lucca, president of Aqua Pennsylvania, delivered the keynote address, reflecting on the importance of education, selfless leadership and serving the greater good.
"Opportunities to serve are all around," Lucca said. "No matter your degree or profession, I ask that you see your life in service to others and community. Serve each with honor and pride. Give freely of yourself and your time. See yourself as a valuable part of your community, whether that community be your neighborhood, city, state or beyond. … I challenge you to set aspirational goals that help others and ask that you challenge others to do the same. Embrace change and always challenge yourself and others to do more and achieve more. Dream bigger, think bigger and act boldly."
Seven students were recognized with outstanding achievement awards in their respective programs: Akanksha Anand in data analytics, Utkarsh Singh in engineering management, Patricia Tento in information science, Erik Zalewski in business administration, Yasmin Borhan in finance, Christopher Gray in leadership development, and Jaspite Jackson in accounting.
Singh — an SAP Business Analyst at IDI Consulting who was involved with the Google Developer Student Club, Great Valley LaunchBox Student Startup Project, and Penn State Global in his time on campus — spoke on behalf of his fellow graduate students.
"I started grad school like any other international student, with a lot of questions and doubts. But the amazing opportunities that opened up for me here made me realize that I had made the right choice," Singh said. "Life is unexpected and challenging, which makes life exciting. I would like you to picture your life five years from now and ten years from now and work towards that life you envision. Keep putting in the work, and I'm confident that all of us will make our future selves proud of us. When I look at you, I see courage, I see sacrifice, I see determination, I see enthusiasm, I see hope. And I am inspired by what I see."