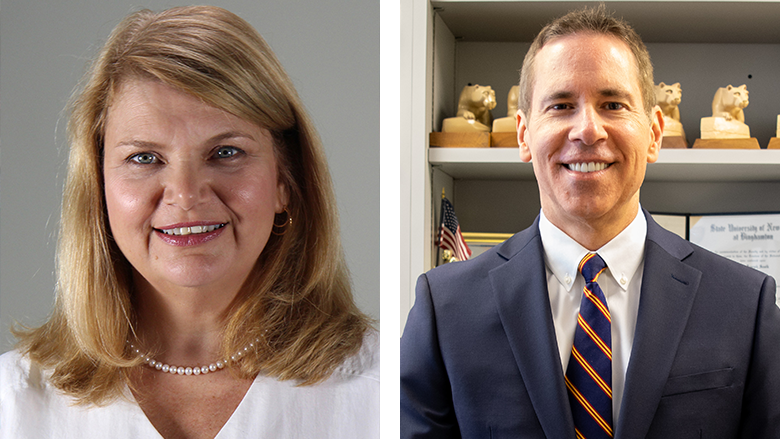 MALVERN, Pa. — Denise Potosky, professor of management and organization, and John J. Sosik, distinguished professor of management and organization, are celebrating 25 years at Penn State Great Valley.
Sosik joined Penn State Great Valley on the tenure track in 1995 after earning his doctorate from the State University of New York at Binghamton. Potosky began as an adjunct faculty member while finishing her dissertation at Rutgers University and joined the tenure track the following year. The two share more than a work anniversary, however.
Both Potosky and Sosik grew up in northeastern Pennsylvania and had an immediate connection when they met. Since then, they've collaborated on research, mentored students, worked on the creation of the Master of Leadership Development (MLD) degree program that Sosik spearheaded and seen Penn State Great Valley change and grow.
"We're like brother and sister," Sosik said. "We look at each other for cues during our faculty meetings. We do challenge each other sometimes. We've got lots of grit. And lots of mutual admiration for what we've each accomplished."
Potosky has met numerous colleagues across the United States and around the world who know Sosik. In fact, if she encounters someone who is unfamiliar with Penn State Great Valley, she often only needs to mention Sosik's work to spark their recognition.
"I'm really proud to know him," Potosky said. "It's always been great to have a colleague like John to bounce ideas off and collaborate with. … We try to support each other in advancing ideas and initiatives. There are only a handful of faculty in the social sciences at Great Valley, so it's been great to have my career path coincide with John's."
Potosky, who earned her undergraduate degree from Penn State University Park, came to Penn State Great Valley because it shared many similarities to other parts of her life. Prior to starting her doctoral program, she taught at Wright State University, often working with adult learners at a nearby General Motors factory. She was also surrounded by adult learners while earning her doctoral degree.
When Potosky began her doctorate, she was enrolled in the Institute of Management and Labor Relations — it became the School of Management and Labor Relations during her time as a student. The building that housed the Institute was newly constructed.
"Then, Great Valley presented an opportunity to work with adult learners in a brand-new building that was still known as the Great Valley Graduate Center. It wasn't the School for Graduate and Professional Studies yet," Potosky said. "I felt right at home with a rising star. New building, new program, adult learners. It felt new and familiar at the same time."
In 1995, Great Valley offered courses in Allentown, Lancaster and Malvern. Allentown was about an hour from where Potosky lived, but Malvern and Lancaster were about two hours away. The drive was worth it, though, especially for courses in Malvern, which were always at capacity. The dot-com boom was just beginning in 1995; as technology grew, so did enrollment.
That growth coincided perfectly with Great Valley's mission of bridging the gap between theory and practice, which was particularly appealing to Sosik, who had corporate work experience in information systems and auditing prior to entering his doctoral program. Combined with the campus' group decision support system software — which he used in his dissertation — the interdisciplinary faculty and growing up a die-hard Penn State football fan, Great Valley was the perfect fit.
Sosik's passion for teaching had initially driven him to Great Valley, but, in his first year, he discovered something else.
"I 'caught the bug' for research and publishing on leadership, mentoring and character development," Sosik said. "It ended up serving me well. My second passion fueled a very productive career and significant contributions to my field. It all resulted in being named distinguished professor of management and organization in January 2020."
The Great Valley campus has physically grown since 1995 with the addition of the Conference Center Building and the Alumni House. Technological advances have changed course delivery and program curricula. There were multiple other changes, including the disbursement of the education division, the increase in collaboration with other campuses and academic units and the influx of international students and faculty.
Great Valley isn't all that different than it was 25 years ago, though. The close-knit, welcoming campus that drew in Potosky and Sosik hasn't changed, and driven, passionate students are still the norm.
"I can't say enough about what a privilege it is to know the person who chooses to continue their education at Penn State Great Valley," Potosky said. "On the one hand, I've grown professionally through my research and by meeting colleagues all around the world. But it's not just that I have some research skills that other people seem to like to talk or read about — my own professional growth is tied to the opportunity I've had to meet and work with such fantastic students at Great Valley."
Sosik feels similarly. After 25 years of experience and many publications, he values the ability to choose where and how he can contribute, shifting his primary focus from publishing to his original passion — meaningful teaching and mentoring.
While many aspects of Penn State Great Valley have stayed the same, Potosky and Sosik wouldn't be where they are without change.
"I've become more socially responsible, while more vocal about one's need for honest self-evaluation and improvement of one's character strengths and flaws," Sosik said. "I'm older now and see more clearly the big picture of an academic career situated within the context of life. Continual personal development of self and others, research on leadership and character development, and empowerment of others to become their best possible selves remain my aspirations. I hope that I've contributed well to these goals."
Potosky has become the embodiment of the "Penn State family." She and her husband met at the University, but 25 years ago she wouldn't have envisioned their children enrolling at Penn State. Yet all three of their children attended or are currently attending for their undergraduate degrees.
Potosky's professional life has expanded farther than she would have imagined, too. She spent seven months in France as a Fulbright Research Scholar and has met colleagues all over the world, among other things.
"I've continued my research, and I get to do what I'm good at, but it's always in new ways," Potosky said. "When I walked in that new building 25 years ago, I never envisioned the places I've traveled, the people I've met and the opportunities that have presented themselves."
Reflecting on their Penn State Great Valley experiences, it was difficult for Potosky and Sosik to choose a single favorite memory. Commencement ceremonies. Creating the MLD program. Faculty meetings. Developing new courses. So much goes on that it can be easier to wonder where the time has gone than to identify one defining moment.
But, there is something that stands out above all else: the people.
"It's really all about the many enjoyable working relationships and experiences with my close colleagues and students," Sosik said. "It was the way we encouraged each other to excel in our writing and research, experiment in our teaching, enjoy our lunches together at local restaurants, and relax at Reading Phillies games in the summer. For me, it's the people who made the best memories at Great Valley!"