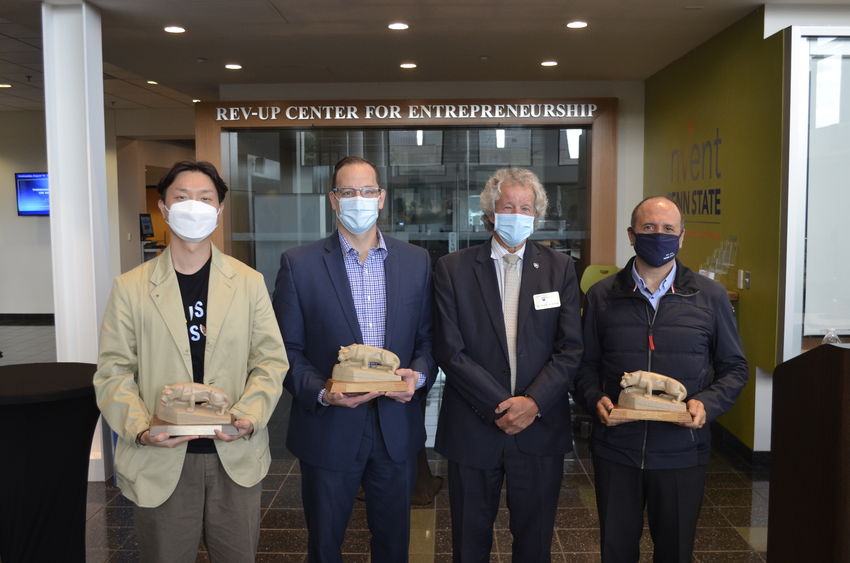 MALVERN, Pa. — Every August, Penn State Great Valley kicks off the fall semester with a convocation celebration for faculty and staff. This year, the campus recognized four faculty members for their dedication to teaching, service, and research.
Minyoung Cheong, assistant professor of management and organization, and Richard Wall, adjunct instructor in the management division, both received the Excellence in Teaching Award. The pair were chosen after months of nominations from students, alumni and faculty.
"I am truly humbled to receive the 2020-21 Faculty Teaching Excellence Award, a powerful motivation booster that will empower me to continue improving myself and serving our Penn State Great Valley community," Cheong said. "Given all the unprecedented challenges we had gone through, this year's recognition especially means a lot to me. Without the support of each and every resilient Great Valley staff member and, most importantly, our agile and hardworking students, this would not be possible. So, this reward is for you all, Great Valley!"
Wall said, "I am grateful to the Penn State Great Valley community for this recognition. Each semester, I benefit from the tangible results of teaching that I observe from our students: insightful classroom observation and analysis, signs of personal development, increased confidence and a greater awareness of personal responsibility. These results and this award, as well as constructive criticism help me to maintain a high level of enthusiasm and appreciation for my participation in this wonderful environment."
Youakim Badr, associate professor of data analytics, received the Award for Faculty Service, which recognizes a full-time faculty member who exemplifies excellence in service for the Great Valley community. Badr has supported increased industry-academia partnerships and has served in leadership roles and as a mentor and adviser in artificial intelligence challenges and competitions.
"I'm honored and humbled to be recognized," Badr said. "Recognition is always good, but the award also is a testimony to the amazing people with whom I worked."
Ashkan Negahban, assistant professor of engineering management, received the Research and Scholarship Excellence Award, which comes with $1,000 to support research. Negahban's research has achieved national recognition, including an $831,276 grant from the National Science Foundation last June.
"I'm honored to receive the 2020-21 Research Excellence Award, which is my second research award since I joined Penn State five years ago," Negahban said. "I'd like to use this opportunity to thank my collaborators and research assistants as well as our chancellor and staff for their continued support of faculty research. I look forward to many more exciting research projects at Penn State in the years to come."