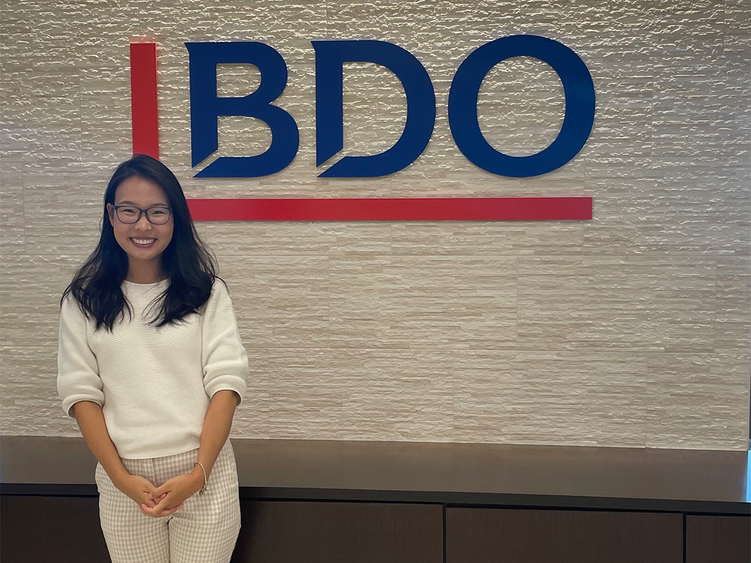 MALVERN, Pa. — Internships provide students with invaluable real-world experience that supplements their classroom knowledge — and can lead to exciting job opportunities, which Penn State Great Valley master of professional accounting student Bolortungalag Mijiddorj can attest to. After spending the summer as an audit intern with BDO USA — which provides assurance, tax and financial advisory services worldwide — Mijiddorj was offered a full-time position with the global accounting firm.
Prior to coming to Great Valley last year, Mijiddorj spent three years as a senior audit associate at KPMG Mongolia. When she decided she wanted to pursue a master's degree, she knew she wanted to go to a school with rigorous academics that would expand her horizons while offering an environment she could feel comfortable in. On the recommendation of a friend who graduated from Penn State, Mijiddorj decided to learn more about the University and realized Great Valley's accounting program would be a great fit.
The classes Mijiddorj took in her first year in the program instilled key concepts and knowledge that she applied to solve real-world problems she faced throughout her internship, she said. A week after Mijiddorj's internship ended, BDO USA offered her a full-time position as an associate auditor, which will begin in January 2024, a few weeks after she graduates.
"I would highly recommend doing an internship during your program, especially for the international students, because there's a higher chance that you will get a full-time offer in your field," Mijiddorj said.
Mijiddorj plans to earn her Certified Public Accounting (CPA) licensure after graduation and has been preparing for the exams with the help of Becker's CPA review course, which Great Valley offers students limited complimentary access to.
Mijiddorj said she is grateful for the experiences and opportunities Great Valley provided for her and credits the faculty and staff — particularly Bo Ouyang, associate professor of accounting, and Yuan Shi, assistant professor of accounting — for providing valuable advice and mentorship.
"The professors in the accounting program are very professional, and they are always more than happy to help steer you toward success and support you," Mijiddorj said. "I think the most important thing that I have learned during my program, besides the academics, is to never be afraid to ask. There are no stupid questions, so ask and get the exact answer. Be curious. It is only when you ask that you will learn more and improve yourself."