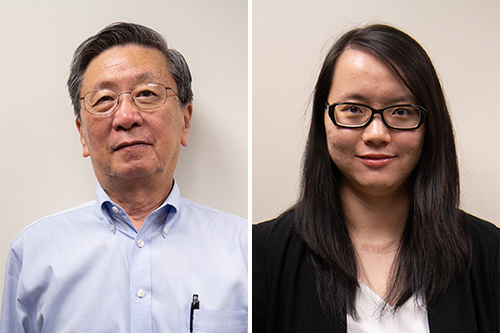 MALVERN, Pa. — Faculty who bring real-world experience and research to the classroom are invaluable to students' growth and learning. Two such faculty members joined Penn State Great Valley's management division this semester: Yong O. Kim, assistant teaching professor of finance, and Yuan Shi, assistant professor of accounting.
Born and raised in Korea, Kim immigrated to the United States and earned his bachelor of science in applied mathematics and statistics from SUNY Stony Brook and his doctorate in economics from New York University.
After teaching at Rutgers University, Baruch College, and the University of Manitoba, Kim spent the past 18 years working for banks. Upon moving to the banking industry, one of Kim's first assignments involved applying financial models he had taught.
"I realized the finance [concepts] I taught, every one of them, were being used in-depth in banking," Kim said. "I always thought, 'If I'm ever going to teach again, I think I'm going to tell students that all these steps are being used.' If you understand those things, you can actually advance yourself pretty well. I never really told that kind of story when I was teaching because I didn't know."
Kim jumped at the opportunity to return to academia and will teach the courses Analysis of Financial Markets and Financial Management online this semester.
"Penn State has a great deal of respect in the industry, so I'm very glad to be part of Penn State," Kim said. "I'm excited about coming back to academics and seeing how my banking knowledge and experience integrates into the classroom."
Shi came to the United States from China eight years ago and earned her master of science in accounting from the University of Texas at Dallas and her doctorate in accounting from the University of Texas at Arlington. Shi is a licensed CPA and has worked as an accountant in public and corporate accounting firms in addition to teaching.
Shi assisted in teaching graduate-level courses beginning in 2014, but primarily taught undergraduate students before coming to Penn State Great Valley.
"I enjoy teaching both undergraduate and graduate students, but I think that if [graduate students] can apply their class experience and accounting theory to their real-world practice, that would be perfect," Shi said.
This fall, Shi will teach the courses Accounting Information and Decision Systems and Financial and Managerial Accounting.
Shi's research focuses on analyst forecasts and management forecasts, and Penn State Great Valley offered her the perfect opportunity to teach, research and collaborate.
"The faculty here are amazing," Shi said. "They have published extensively, so in the future, I'll appreciate any opportunity to collaborate with them. I believe my research will benefit from the strong support from Penn State Great Valley."