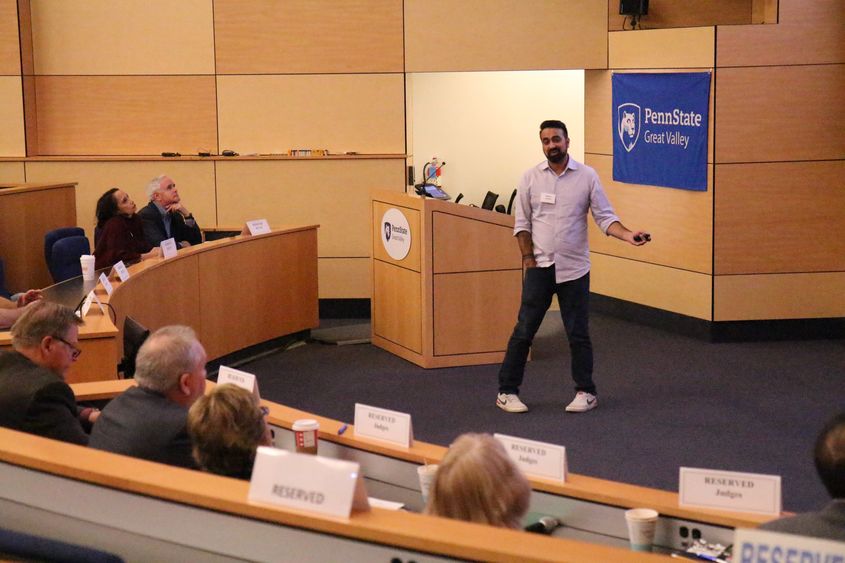 MALVERN, Pa. — For entrepreneurs, the ability to deliver a concise and persuasive "elevator pitch" is critical to their start-up's future. In the span of 20–30 seconds — or the standard length of an elevator ride — they must summarize their product and pique the interest of potential investors and partners to gain vital funding and support.
Eleven individuals recently refined their pitch skills at Penn State Great Valley's Lion Cage, an annual competition for early-stage entrepreneurs to present their ideas to a panel of judges and vie for cash prizes. The event is held through the campus' REV-UP Center for Entrepreneurship, a program operating in partnership with the Chester County Economic Development Council to engage and encourage community members in generating innovative, commercially-viable solutions that address existing and emerging business and social needs.
Now in its second year, the event draws interest from not only Penn State students and alumni, but also the general public. This year's event received 22 pitch applications.
Winners included:
Squawkr — a social audio app to live stream your own commentary over televised sports – was born out of a lengthy work commute. Hardas spent the daily drive listening to sports talk radio and recapping games with a colleague. Wouldn't it be cool, he thought, if there was an outlet to get raw, immediate commentary from real people?
A Penn State Brandywine alumnus with a business degree and a concentration in marketing, Hardas was used to thinking imaginatively. Creating Squawkr became a passion project, something he could develop after work.
Fast forward two years, Hardas held a soft launch for Squawkr during last year's Eagles Super Bowl run. Over 200 people in the Philadelphia-area downloaded the app — a market he considers desirable because of its devoted and enthusiastic sports fans. Now that he's had the chance to collect initial feedback, he's planning a re-launch this spring. The app can be downloaded from the App Store or Google Play.
For him, the timing of Lion Cage was perfect. Though he participated in pitch competitions in college, this was the first time he showcased Squawkr.
"It forced me to put together a clear, consistent message and present it to people," he said.
Like Hardas, Wayne Frick was well on his way to launching his product, but he needed to describe it more concisely. Developed for the 50 million backyard bird watchers in the U.S. and Canada, his product, Chipsounds, is an innovative product that wirelessly streams the beautiful sounds of birds from their bird feeders into their homes, in real-time.
Through SCORE (a free service for business mentoring), he connected with REV-UP through Leo Daiuto, the center's entrepreneur-in-residence.
"Leo has been a fantastic resource," he said. "He helped guide me through some decisions on key product features and discussed revenue models for the business in general and the app specifically."
Despite this feedback and advice, refining Chirpsounds to a 5-minute pitch for Lion Cage created a new challenge for Frick.
"The process of boiling my business concept down into a 5-minute presentation was extremely valuable" he said. "Albert Einstein once said, 'If you can't explain it simply, you don't understand it well enough.' This process helped me bring to life Chirpsounds' true selling proposition. Deciding what the most important parts of my business were and having to say it in as few words as possible helped me refine my elevator speech."
Knowing how difficult this exercise can be, the organizers of Lion Cage — Leo Daiuto and REV-UP faculty director Doug Schumer — held a practice session several days prior to the event. Whether they had a full-fledged pitch or just a bulleted list of ideas, competitors were invited to present their work and receive one-on-one coaching.
That idea of being prepared — and having a well-crafted pitch — was central on the event day. During his keynote address, Wayne Kimmel, managing partner of SeventySix Capital, emphasized to the audience the importance of networking and communication.
"You need to feel comfortable in an uncomfortable setting," he told the audience. "What you say is so important. Ask 'how can I help you' instead of asking for handouts and funding. Say please and thank you. Have your business card ready and collect others."
Each competitor had five minutes to present his or her project, followed by two minutes of questions from the judges. In between rounds, they could connect with another, finding common experiences and challenges.
"The event was so positive and motivating," said Hardas. "As an entrepreneur, so much of the process is isolating; you're in your own head. This was an opportunity to be reinvigorated and receive valuable feedback."
Crafting succinct pitches and preparing for questions was beneficial for this year's participants, who feel ready for the next step of their businesses.
"I learned not to be afraid to get out of my comfort zone," said Zerega, the man behind the second-place winner Soil Solutions. "Lion Cage was an incredible experience. I feel better prepared to speak to investors in the future."