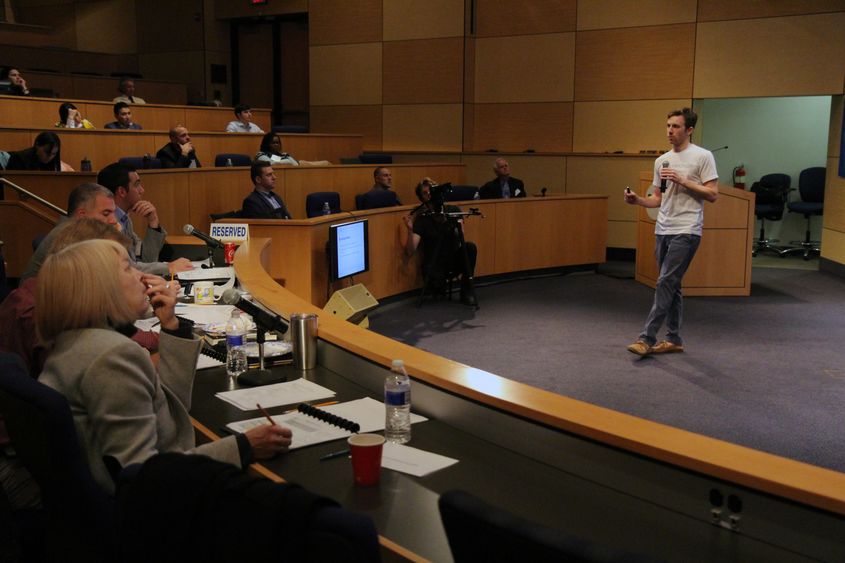 MALVERN, Pa. — Penn State Great Valley will hold the second annual Lion Cage pitch competition from 10 a.m. to 4 p.m. on Saturday, Nov. 10.
Designed for early-stage entrepreneurs, Lion Cage creates an opportunity to pitch business products or ideas to a judging panel of startup and business experts, receive valuable feedback, and compete for prizes. A total of $5,000 will awarded this year, and the contest is open to both the Penn State community and the public.
The event is held through the campus' REV-UP Center for Entrepreneurship, which was established in May 2016 through a grant from the Invent Penn State Initiative. Operating in partnership with the Chester County Economic Development Council, REV-UP aims to engage and encourage Penn State students, faculty and community members to generate innovative, commercially-viable solutions to address existing and emerging business and social needs, and to support their entrepreneurial efforts as they serve the Philadelphia region.
In its first year, Lion Cage saw 10 pitches from students, alumni and community members. Their ideas ranged from an Esports strategy app, to an on-demand child care center, to a community-centered coffee shop. Speakers included Michael Dermer, founder and author of the Lonely Entrepreneur, and Anthony Gold, co-founder of ROAR for Good.
"Last year's inaugural event was a great success," said Doug Schumer, faculty director for the REV-UP center. "Participants and attendees came together to celebrate entrepreneurship. This year we will build on that success, featuring a pitch contest with bigger awards and a keynote address by the entrepreneur and author Wayne Kimmel."
A sports tech venture capitalist and philanthropist, Wayne Kimmel has been named a top innovator by Philadelphia Magazine and is included on Philadelphia Business Journal's Power 100 list. He is the managing partner of SeventySix Capital, a venture capital company that invests in startup consumer facing tech companies in the sports, health and retail industries. Other partners include Jon Powell, CEO of Kravco Company LLC, a leading real estate company that developed the King of Prussia Mall, and Ryan Howard, former National League MVP and 2008 World Series champion with the Philadelphia Phillies.
Competitors for this year's event will be preselected through an application process. Interested individuals must complete the online application by Friday, Oct. 19. Lion Cage is open to the public, but advance online registration is required. The event is sponsored by American Crane. More information is available at greatvalley.psu.edu/lioncage.