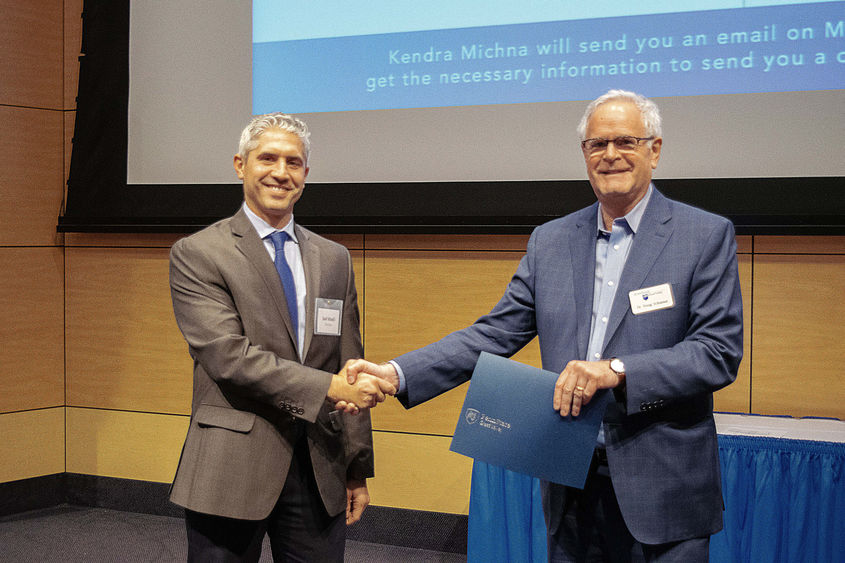 MALVERN, Pa. — Even before he won first place in Penn State Great Valley's third annual Lion Cage pitch competition, offered through the campus' REV-UP Center for Entrepreneurship, Aevumed founder and CEO Saif Khalil had unique ties to Penn State. Aevumed, a medical device company focused on providing solutions for patients with rotator cuff tears, is headquartered in Penn State Great Valley's Conference Center Building.
When Khalil was looking for an office, he got in touch with the Chester County Economic Development Council for location suggestions in Keystone Innovation Zones, regions designated by the commonwealth of Pennsylvania to promote entrepreneurial growth.
The Conference Center Building was the perfect fit. Since Aevumed needed to produce prototypes of its devices, Khalil seized the opportunity to have headquarters just one floor above Penn State Great Valley's engineering lab.
Although Khalil has only been running Aevumed full time for about a year, the company was years in the making. As a mechanical engineer, Khalil's interest in medical devices was sparked by a biomaterials class he took in graduate school. Building devices for the human body presented similar challenges to building machines meant for different environments, like submarines and spacecrafts.
"When you put something in the body, you've got to make sure that it withstands specific loads in the body," Khalil said. "There are similar engineering challenges when implanting a device in the body for treatment, and I thought it was really interesting and you get to help people at the same time."
Khalil worked for other medical device companies before founding Aevumed. The more he looked into the segmented markets, the more interested he became in orthopedic devices for the shoulder. The extremities — foot, ankle, shoulder, elbow, hand and wrist — are the smallest and fastest-growing market in the orthopedic industry. Shoulder devices comprise about half of that market, so there were opportunities.
There's no use in making a device just to make a device, though — there has to be a clinical need for it. Khalil researched the market to identify what the problems were, how big those problems were, and if and how other companies were addressing those problems.
"We found that there's a big problem with rotator cuffs," Khalil said. "Twenty percent of patients that go through a rotator cuff tear surgery and repair come back because of a re-tear. … If you have a large tear to start with and you get it fixed and repaired, you have a much higher chance of almost 50% for a re-tear. That's a big problem."
It was the perfect opportunity for Aevumed to investigate a cost-effective solution to reduce re-tear rates. Khalil consulted with surgeons — including April Armstrong, an orthopedic surgeon at Penn State Milton S. Hershey Medical Center — to understand what rotator cuff surgeries were like and what their needs were.
Aevumed produced the PHANTOM Anchor, an FDA-cleared suture anchor aimed at helping patients with low bone density; the PHANTOM Anchor contains more threads that hold onto bone.
"We have a ground-breaking or disruptive technology," Khalil said. "There's really nothing like it. It's really going to change the way surgeons perform these surgeries into a more confident, more reliable, quicker, simpler and ultimately better results for the patient and still be cost-effective."
When Khalil received an email promoting Penn State Great Valley's third annual Lion Cage pitch competition, he decided to participate. Aevumed was working on developing a new device that would directly address rotator cuff re-tear rates, and Khalil knew Lion Cage would provide good opportunities for networking and feedback.
Khalil was used to pitching Aevumed and its products to potential investors, but embraced any practice, feedback and criticism. It's all part of growing as a company.
"When you're a startup, everything counts," Khalil said. "It's all about networking, too. You get to meet new people and you get to sharpen your skills. The more you present anywhere, the better you get."
Khalil also enjoyed listening to the other competitors' pitches and the questions they were asked by judges. Seeing what other groups focused on and how they presented their pitches gave him ideas on how he could further refine his pitches for Aevumed.
Networking, receiving feedback and developing ideas were key aspects of Lion Cage for Khalil and Aevumed. Winning first place is always a thrilling bonus, though.
"It was great," Khalil said. "I felt very fortunate. You're going up there with other companies and everyone's trying very hard. It's also encouraging. It makes you feel like you're on the right path."