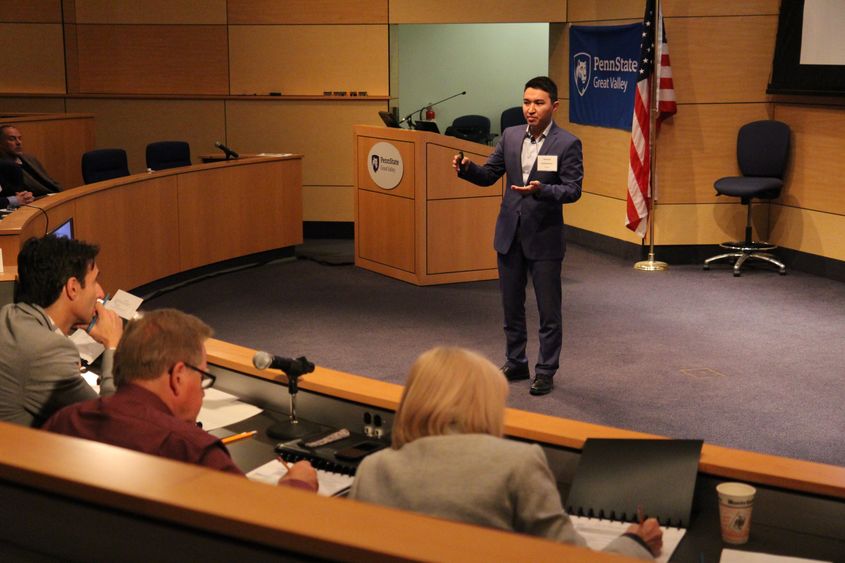 MALVERN, Pa. — Early-stage startup founders and Penn State students and alumni recently competed at Penn State Great Valley's inaugural Lion Cage event on Nov. 18.
Sponsored by the REV-UP Center for Entrepreneurship, Lion Cage created an opportunity for entrepreneurs to pitch their business ideas to a panel of judges: Steve Meyers, executive vice president of digital at Beasley Media Group; Anthony Daiuto, managing partner of the Revolt Group; Chuck Thomas, former vice president at Comcast and QVC, and retired Penn State Great Valley part-time faculty; and Cindy Mable, founder of the CAM Group and part-time faculty member at Penn State Great Valley.
Now in its second year, REV-UP aims to engage and encourage Penn State students, faculty, and community members in generating innovative, commercially viable solutions that address existing and emerging business and social needs, and to support their entrepreneurial efforts serving the Philadelphia region. Lion Cage comes on the heels of the campus' first-ever Student Pitch Day, an event held in the spring and only open to students.
"Everyone is familiar with the show Shark Tank, but being Penn State, Lion Cage was a natural choice," said James Nemes, chancellor and chief academic officer of Penn State Great Valley.
Ten individuals were selected to compete. Their ideas ranged from shared community space for art and technology projects, to glow-in-the-dark rugs designed to promote better sleep in nurseries, to a website to house photographs and videos of ancestors for future generations.
Cash prizes were awarded to these three finalists:
Rob Ambrose, Trick Strat Esports Drawing App
A former professional Esports player, Rob Ambrose came up with the idea for Trick Strat during his time competing on the Gears of War Pro Circuit.
"I wanted to create a tool for players and coaches to prepare for future tournaments," he said. "I used to draw everything by hand; there wasn't anything readily available for me to use."
A Penn State Great Valley software engineering graduate student and full-time software developer, Ambrose built an application where Esports teams can discuss and draw strategies on in-game maps — similar to how a football coach might depict plays on a whiteboard.
A few months later, Trick Strat has over 1,000 registered users.
At Great Valley, Ambrose took an invention and creative design course that explored the U.S. patent system, and ultimately decided to file one for his app. Now, Ambrose is focusing on how to expand Trick Strat to other competitive video games, leveraging connections in the Esports industry.
Though he created a PowerPoint for potential investors, Ambrose had never formally pitched the app. After receiving an email to current students promoting Lion Cage, he decided to give it a try.
"Presenting Trick Strat to industry members and faculty was a great experience," said Ambrose. "It was validating for me to know people unfamiliar with Esports understood the concept, and I was excited to educate them about our community."
Trick Strat can be downloaded from the App Store or Google Play.
Scott Bersak, Pop in Kids Club
After reading about Lion Cage online, Scott Bersak, a local entrepreneur, decided to pitch his new business: Pop in Kids Club, a drop-in, on-demand child care center open seven days a week from 7 a.m. until 10 p.m. or later.
Bersak came up with the idea a year and a half ago when he was looking for a change from his 9–5 job. He wanted to create a business that would allow him to spend more time with his two daughters and solve the gaps his family faced with traditional child care.
He looked at competitors and found ways to differentiate his business: pricing options for parents to select their hourly rate, a strong brand identity, and technology for customers to check-in and reserve spots for their children.
"From a work perspective, it's been the most fulfilling year of my life," he said.
Designed to have the look and feel of a national franchise, the first location of Pop in Kids Club is set to open in early 2018 in Exton, Pennsylvania. Bersak hopes to enroll over 2,000 families; 200 children are pre-registered. More information can be found online or on Facebook.
Lavanetta Quince, The Southern Cup
A runner-up on Student Pitch Day, Quince decided to try out a new business idea at Lion Cage: The Southern Cup, a community-based coffee shop providing meeting space, board games and southern-style desserts.
Inspired by childhood memories of sharing coffee with her father and enjoying Sunday dinners with her grandmother, Quince wants to create a space to bring people together.
"Growing up, we'd get together every week, and play cards over coffee and sweet potato pie," she said. "People would join in and play; it didn't matter if they were a stranger or a member of the family. It was a regular thing for us. But now it seems that happens less and less — people are so consumed technology. With the Southern Cup, I want to bring the comradery back."
Noticing that big-name competitors lack meeting space — customers tend to get what they need and leave — she aims to create a place where people engage with one another.
Quince plans to determine a location in Philadelphia for The Southern Cup, and is in the process of trademarking the name.
About the event
In addition to a pitch competition, the organizers created an event to include, educate and involve the local community.
Lion Cage began with a keynote address from Michael Dermer, founder and author of The Lonely Entrepreneur. Dermer left a promising career as a mergers and acquisitions lawyer to start IncentOne, the first company to provide rewards for healthy behavior.
Dermer spoke to the audience on how to become a successful entrepreneur, emphasizing the need to embrace humility, communicate amidst the chaos, and create a process.
"Entrepreneur is not just a job, it's an identity," Dermer said. "You need to create an arena where it's only you, and embrace that journey."
Later on, Anthony Gold, co-founder of ROAR for Good, discussed how to build a startup by creating a strong team and fundraising. Gold drew on his own experience utilizing accelerators and crowdfunding when launching his business.
Bersak, the man behind Pop in Kids Club, found the speakers informative and interesting.
"The Lion Cage speakers were top-notch," he said. "I was truly impressed, engaged and enriched. As an entrepreneur about to launch my business, I could relate to their passion and their struggles. It's encouraging to hear they came out on top."
Having participated in other regional pitch events, Bersak particularly enjoyed being able to watch other pitches.
"Whether the presenter had an idea or fully operational business, we learned from one another and networked," said Bersak.
For the Southern Cup's Lavanetta Quince, pitching her idea to seasoned entrepreneurs helped her think differently.
"I learned a lot," she added. "I didn't think to consider a trademark until I spoke with one of the judges. I encourage anyone with a business idea to participate in an event like Lion Cage. It's a learning experience; you can find out what you are missing or overlooking. You can speak with experts, seek feedback, and determine if your idea is viable."
For the organizers, it was a successful event that brought several of REV-UP's goals to fruition.
"We achieved everything we had hoped for in creating this event," said Doug Schumer, faculty director for REV-UP. "Entrepreneurs created visibility for their companies, received feedback from the panel of judges, and formed new connections. Our speakers shared their experiences in founding companies, which directly correlates to our goal of helping entrepreneurs start new businesses in the commonwealth."
Chancellor Nemes agreed. "One of the things I was particularly pleased to see was participation beyond students," he said. "Including and educating alumni and community entrepreneurs has been one of our objectives and it was great to see it happen."