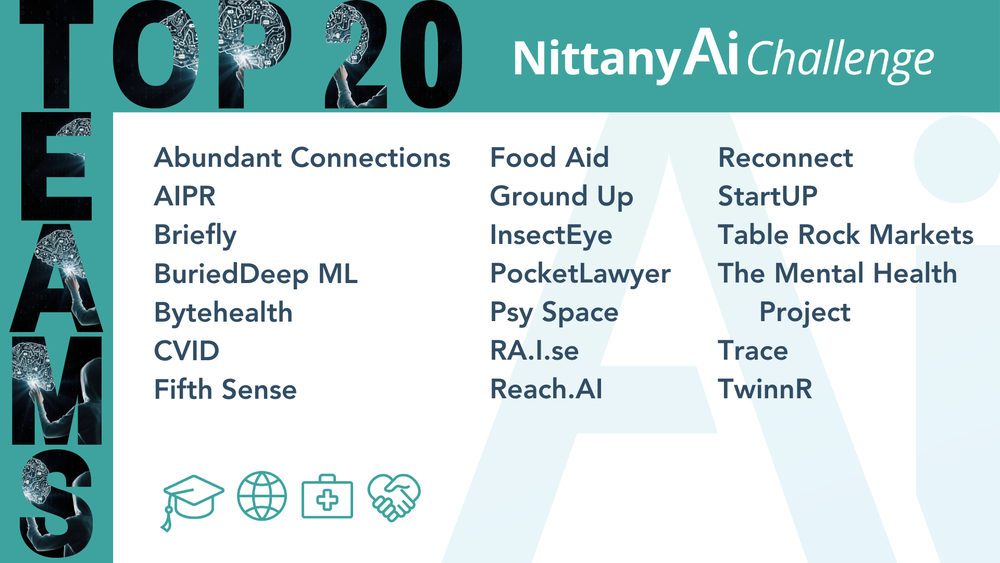 UNIVERSITY PARK, Pa. — Twenty Penn State teams with students from seven different colleges and six campuses, including for the first time Penn State World Campus, will each be awarded $500 to compete in the Prototype Phase of the 2021 Nittany AI Challenge. Teams were selected based on their potential for positive impact on the world, all using AI for Good to develop solutions that address real-world challenges in education, environment, health and humanitarianism.
The Nittany AI Challenge is organized by the Nittany AI Alliance, a service of Penn State Outreach. Brad Zdenek, innovation strategist for the Nittany AI Alliance, said that even with the additional challenges surrounding the COVID-19 pandemic, the students are engaged.
"Even while facing significant struggles and upheavals in their lives due to the pandemic, our students once again demonstrated their potential for positively impacting the world through the application of artificial intelligence," Zdenek said. "The individuals on these teams represent the best ideals of Penn State: innovation, leadership, and a desire to improve the world. We are honored to have a part in helping these ideas become a reality."
Students with a wide variety of skill sets from the College of Engineering, College of Agricultural Sciences, College of Earth and Mineral Sciences, Eberly College of Science, College of Information Sciences and Technology, College of the Liberal Arts and Smeal College of Business at Penn State who are earning their degrees through Penn State World Campus, at University Park, Great Valley, Mont Alto, Lehigh Valley and Harrisburg campuses make up the following teams:
— Abundant Connections — Reduces annual food waste by using computer simulation, machine learning and web development to monitor food waste in communities and connect with those in need of food.
— AIPR — Solution aimed to limit contamination by sorting materials using machine learning to make recycling more efficient and economical.
— Briefly — Smart summarizer tool that extracts meaningful information from text, audio and video source to aid students with online learning.
— BuriedDeep ML — Simultaneous Localization and Mapping (SLAM) robot used to locate valuable metals in a landfill that can be recycled, ultimately reducing waste.
— Bytehealth — AI used to prevent depression though a multifaceted data acquisition and analysis system.
— CVID — Website that provides information about specific areas in the United States and the need for the COVID-19 vaccines.
— Fifth Sense — AI-based, live sound-transcription mobile application for the hearing impaired.
— Food Aid — AI-based program to help food banks meet nutritional needs for the population they serve.
— Ground Up — Reduce the environmental impact of meat production by using AI to predict combinations of plant-based products to mimic ground meat.
— InsectEye — AI-based insect trap and identification system to assist entomologists in understanding insect biodiversity.
— PocketLawyer — Mobile application using AI to identify emotive words that will trigger automatic recordings on smart phones for use in instances of domestic abuse or abuse of power situations.
— Psy Space — AI utilized through a mobile and web application to provide support that can ease short-term distress and identify mental health conditions in the absence of a health care professional on site.
— RA.I.se — AI imagery and temperature screening robotic system for automated body temperature monitoring of construction workers.
— Reach.AI — AI to analyze public data in rural Pennsylvania to bridge racial and ethnic health inequity and disparity.
— Reconnect — AI to identify phone addiction by recognizing excess screen time, presenting user with an alternative, real-world activity to try in its place.
— StartUP — AI-based platform which enables users to interact with tools that work to inform the entrepreneur to make better business decisions and avoid costly mistakes.
— Table Rock Markets — An e-commerce platform designed to keep farms in business by increasing sales and profitability, while helping families eat healthy, locally grown food.
— The Mental Health Project — Software designed for mental health professionals to provide diagnostics, treatment and to identify patients who may be hard to treat by aggregating initial self-reported data.
— Trace — Urban growth monitoring solution to provide cities with data to better assist in preparation for natural disasters.
— TwinnR — AI-driven solution to access data and better provide smart manufacturing solutions.
All 20 teams will have the opportunity to submit a video demonstration of a prototype on March 31 for the chance to be selected and funded to create a minimum viable product (MVP) during the final phase of the 2021 Nittany AI Challenge.
New to this year's Challenge, IBM Watson is sponsoring the advancement of two solutions that leverage the use of Watson technology and have the potential for significant impact in the "AI for Good" pillar of health. IBM Watson chose ByteHealth and The Mental Health Project to automatically advance to the Prototype Phase and will choose one team to automatically advance to create an MVP in the final phase.
To learn more about the Nittany AI Challenge, the IBM Watson Advantage, AI workshops and events, visit the Nittany AI Alliance online.