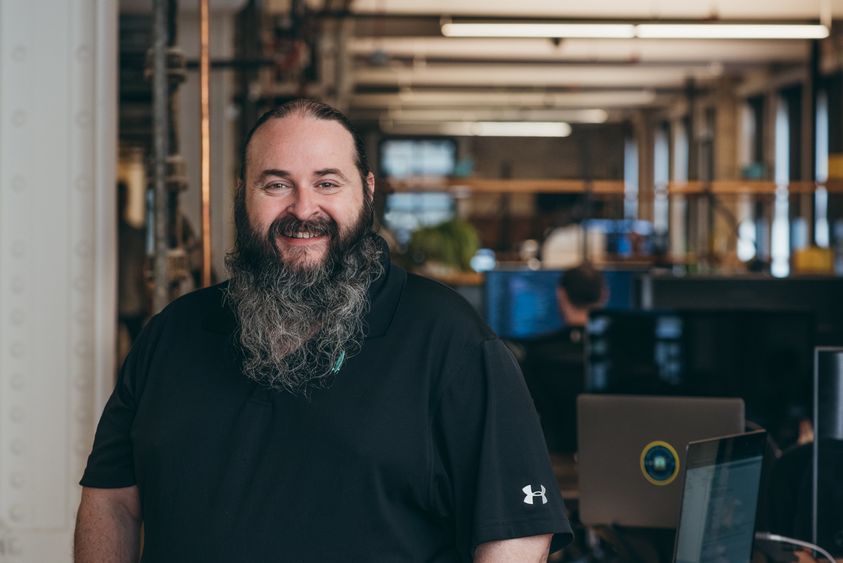 UNIVERSITY PARK, Pa. — Students interested in working with artificial intelligence are invited to attend the Nittany AI Challenge Celebration Event from 5-8 p.m. Tuesday, Sept. 10, in Heritage Hall in the HUB-Robeson Center on Penn State's University Park campus. Students can register to network with AI professionals, enjoy a free meal, get inspired to create teams for the 2020 challenge, and see which AI projects from the 2019 challenge receive $25,000 in additional development funding from the Nittany AI Alliance.
Marc Boudria, vice president of science and technology at Hypergiant Industries, will be the keynote speaker for the event. Boudria has spent 20 years of his career creating solutions and exploring the cutting edge of various forms of technology, all with a strong focus on AI.
"The problems of today cannot be solved by using the same thinking that created them," Boudria said. "The machine intelligent future demands we approach it, design it and develop it differently than we have with other technologies up to this point."
Brad Zdenek, innovation strategist for the Nittany AI Alliance, works closely with teams competing in the challenge each year to help them create a strategy to develop solutions to real-world problems.
"The Nittany AI Challenge Celebration Event will bring together industry leaders such as Hypergiant and Oracle, along with Penn State students, leaders from University Park and Commonwealth campuses, faculty and staff to highlight what can be accomplished with artificial intelligence," Zdenek said. "For the past eight months, the Nittany AI Challenge teams have been proving each day why they are among the best and brightest students at Penn State, and this is our opportunity to showcase their solutions and recognize their talent and hard work."
The annual Nittany AI Challenge offers teams the chance to compete for grants by developing AI-based solutions during out-of-classroom learning opportunities with AI platforms and companies, including Microsoft, Google, Oracle and Amazon. Each year, teams submit an idea in January. If selected, the teams go on to compete for a chance to receive funding to continue building their solution with a goal of creating a minimum viable product (MVP). The challenge culminates with pitching day and a celebration event where the remaining teams present their MVP and compete for a final chance to receive additional funding.
Neil Ashtekar is one of the students competing in the 2019 Nittany AI Challenge. Ashtekar and his team will present LionPad, an app that streamlines student housing options.
"The Nittany AI Challenge has been a great opportunity to apply what we've learned in the classroom to develop a real-world technology startup," Ashtekar said. "Our team is excited for the MVP pitch contest and hopes to win funding to continue the development of LionPad and bring our product to market."
Ashtekar shares more about his team's app and experience in the competition in the Nittany AI Challenge blog.
Seven other Penn State student teams from the Eberly College of Science, College of Engineering, College of Information Sciences and Technology, College of Arts and Architecture, Penn State Berks and Penn State Great Valley will showcase their MVP on Sept. 10:
AleMS: AI Energy Management System is designed to be used by Penn State building managers to gather insights with a goal of creating sustainable campuses.
CourseCat: A Smarter Course Catalog is designed to assist students by making course recommendations.
Deep Sign tackles communication issues for the aurally challenged using AI to enhance the quality and clarity of interaction with others.
Resilient Resumes uses AI to help students craft their resume.
Revu is designed to keep students engaged when completing reading assignments by using AI to develop quizzes.
NSO QuickAdvisor is a virtual assistant designed to answer common advising questions.
uApplication is an online marketplace to search for admissions counselors and mentors.
Those who are interested in AI and want to attend the Nittany AI Challenge Celebration Event to network, enjoy a free meal, and find out more information about AI and competing in 2020, should register here.