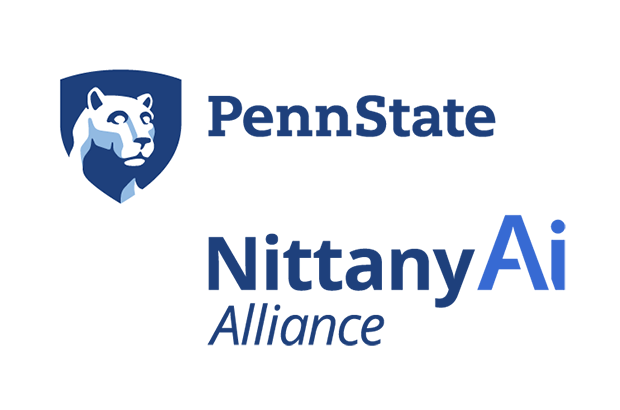 Applying classroom knowledge in competitions can be exciting for students; when that competition aims to solve real-world problems, the experience is even more exhilarating.
For the past two years, Penn State Great Valley students have thrived in the Nittany AI Challenge, a competition for students to apply Artificial Intelligence (AI) technologies to real-world problems. Working in small teams, participants expand on their classroom knowledge and use cutting-edge AI platforms. The challenge is comprised of three rounds of judging, with winning teams receiving funding to further develop their ideas into a successful business. This year, two Great Valley teams advanced to the second phase, with one receiving funding for the final round.
The competition has a broad approach, encouraging students to focus not only on technological aspects, but also on the potential to create business and change society. For Youakim Badr, associate professor of data analytics, the multidisciplinary view mirrors his teaching philosophy, which inspired him to become a mentor for the competition.
"In my opinion, students who participate in Nittany AI learn the lesson of designing original solutions with business values for real-world problems," Badr said. "They are aware of their potential to build an advanced data analytics software that is different from software applications. They become more interested in solving open-ended design problems with positive social change implications. The Nittany AI challenge also provides our students a concrete learning outcome and the opportunity to apply what they have learned in our programs."
Concepts learned in class played a vital role when coming up with ideas for the competition. MedArmor was one of 10 teams from four Penn State campuses to receive funding for the final phase; group members Atharva Mungee, Wahid Khan, Shreyesh Doppalapudi, and Namrata Chaudhary were drawn to the competition because of the way it allowed them to apply what they learned in classes.
The MedArmor team wanted to use what they were learning to solve a real-world problem, so the chance to apply their technical skills, business acumen, and classroom knowledge was the perfect opportunity.
Like most other Nittany AI proposals from Great Valley, MedArmor -- which aims to provide potential medical diagnoses through AI technologies -- evolved from work being done on campus. Mungee's master's thesis focuses on predicting Autism Spectrum Disorder based on genetic profiles.
The MedArmor team considered a few other ideas before choosing, though.
"What we were focused on was the outreach of the product, how it could actually help a person in his or her real life and what impact we could make," Khan said. "That was the main focus on picking MedArmor."
Since the theme of the 2020 Nittany AI Challenge is "AI for Good," the group decided a product in the medical domain was the best fit.
The other Great Valley team to advance in the competition was Fast Insights, a video-to-text summarizer designed to help content moderators who work to ensure videos don't contain inappropriate content. Although the Fast Insights team didn't receive funding for the final phase of the competition, they recently wrote about the project on the Nittany AI blog and identified other potential uses for their product.
Badr promoted the competition to new engineering students during the fall semester and began working with interested teams once submissions opened in January.
"They come with a simple idea and I challenge them to increase their levels of awareness and curiosity to find a solution with added value and social impact," Badr said. "Many of them have professional experience, but not related to AI. I promote their thinking skills and tell them, 'The idea is now great. What are the emerging AI technologies that you may need?' I review their proposal and we incrementally improve it before submission."
The MedArmor team worked with Badr to refine their idea throughout each phase. Based on a user's medical history, genetic profile, age, and other factors, the predictive dashboard calculates the probability a user will be diagnosed with one of five diseases.
Since the team initially didn't know much about the genetics domain, much of their early work involved research and compiling state-of-the-art knowledge. Then, they dove into developing their product.
Overall, the development process went smoothly; despite not being experts in genetics, the team realized they could easily apply concepts learned in classes. Penn State Great Valley's multidisciplinary approach to teaching also provided a strong foundation for how they approached the project.
"You do not need to be master of the domain, but you just need to understand how the domain works and then apply your data science knowledge," Mungee said. "That is one approach that we learned in the statistics course which Dr. Badr offers. He said, 'If you know statistics, if you know math, you can apply data science concepts in various fields.'"
During in-person and virtual team meetings, the group discussed ideas and potential features for the project. They knew the focus needed to be on the customer, so they decided to implement health recommendations to help mitigate the onset or spread of the disease and cost prediction to help users budget and make insurance accommodations.
The team has spent much of the summer working on MedArmor. They focused on emulating a software development lifecycle while applying their data analytics knowledge. "Complete" is the word they'd use to describe the experience, which helps them feel prepared for eventually entering the workforce. They plan to continue expanding and improving their product even after the competition is over -- they've researched potential stakeholders and brainstormed new features.
The group will present MedArmor to a panel of judges in September; whatever the outcome, they're appreciative of all they've learned.
"We definitely want to give credit to Dr. Badr and everyone who has been involved with us in guiding us through," Mungee said. "Without our mentors, we don't think that we would have reached this point."