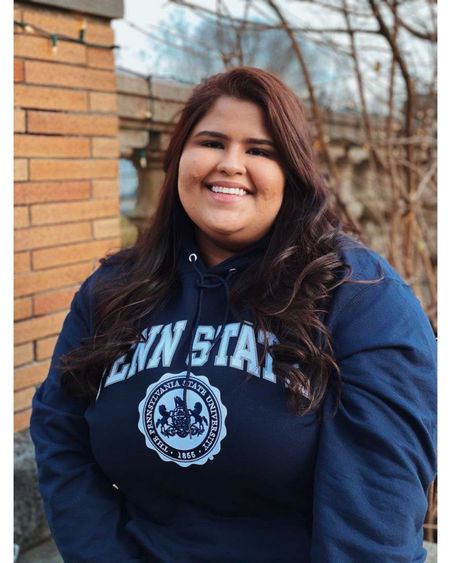 When Penn State Great Valley School of Graduate Professional Studies first began to offer its MBA program at Penn State Abington, Zeenat Chughtai was finishing her undergraduate degree. Now, less than two and a half years later, Chughtai is one of the first Abington master of business administration (MBA) graduates.
Designed for working professionals, Great Valley's MBA program is offered in four locations across the Greater Philadelphia region: Malvern, Abington, Penn State Berks in Reading, and Penn State at the Navy Yard in South Philadelphia.
Great Valley first began offering MBA courses at Abington in the fall of 2018, when Chughtai was in the final year of her undergraduate degree at Abington. The program intrigued her, and she decided to apply after talking with Christian Hicks, associate director of recruitment at Penn State Great Valley, in the final semester of her undergraduate career.
"I looked at Temple's MBA program and I also looked at Saint Joseph's MBA program," Chughtai said. "I guess I felt a stronger connection to Penn State being a Penn State alum, so our program kind of drew me in a little more."
Despite her inclination toward the Penn State MBA, Chughtai initially wasn't sure if she would enroll. She had just completed her undergraduate degree a year earlier than anticipated, and although she was accustomed to working and taking classes at the same time, she was hesitant to begin a graduate program so soon after beginning a full-time position as a benefits analyst at Wills Towers Watson.
About a week before the fall 2019 semester started, Chughtai decided to enroll in the program. Communicating was key for Chughtai, both with her professors and with her company. The support helped her adjust to the unfamiliar seven-week course format, maintain a work/life balance, and apply classroom concepts to her job.
"[The program] helped me see the transaction from both sides," Chughtai said. "I'm seeing it from a client or customer standpoint and then seeing it from a business-minded standpoint of why the business operates in the way it does or why they use certain models. … You realize, 'Using this theory or changing my mindset to this will help me succeed in my job or succeed in my daily tasks.' … There were a lot of personal takeaways and not just business takeaways. It wasn't just 'How can this help me advance in my professional career?'"
The 48-credit program equips students with the tools to lead businesses, think strategically, articulate a vision, and motivate colleagues. Depending on their backgrounds, students may be eligible to waive up to six foundation courses. Chughtai kept this in the back of her mind as an undergraduate, choosing classes that provided exemptions from some MBA foundation courses.
Even more appealing than the course exemptions and Penn State loyalty was the flexibility the program offered. In addition to core courses, the program presents a variety of other offerings to allow students to design a curriculum aligned with their career interests and goals. Chughtai focused on taking courses related to human resources to bolster her knowledge for her current job as well as for her future career path. She was also able to complete the Human Resource Management certificate to further enhance her understanding of the area.
"I liked the flexibility to be able to choose my own path," Chughtai said. There were options available for each category. It wasn't like there was only one class you had to take and that was it. It was kind of building your ideal degree to how you want it. I think that's the most anyone can ask for. … The flexibility was one of the greatest things about the program for the simple fact that you tailor it to your specific needs and it's not someone telling you, 'This is what you need.'"