Campus now accepting applications for fall 2019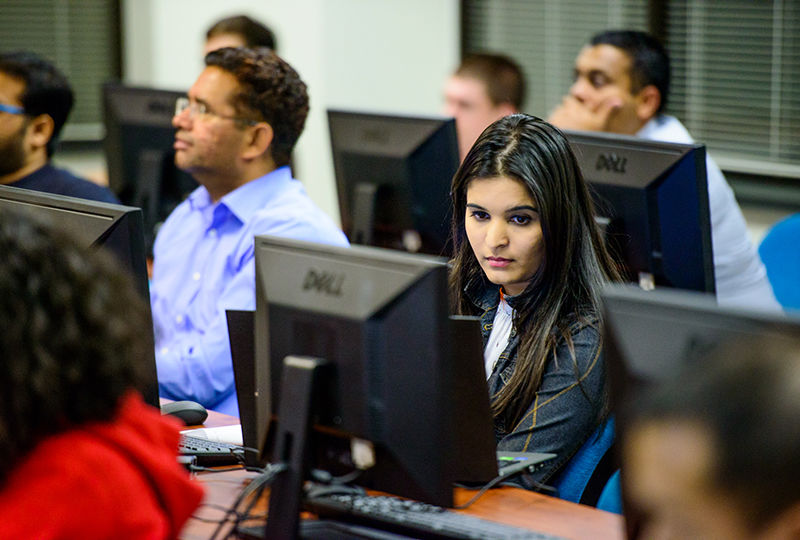 WYOMISSING, Pa. — Penn State Berks is offering a master of business administration program customized to fit the needs of working professionals, with convenient times and flexible formats. Through the Penn State Great Valley School of Professional Studies, the MBA program is offered at Penn State Berks one night a week from 6 to 9 p.m. in a blended format, either face-to-face or via videoconferencing, with additional online coursework. Seven-week terms allow students to focus on one course at a time and still complete the degree in fewer than three years.
The MBA program is fully accredited by the Association to Advance Collegiate Schools of Business International, a standing earned by less than 5 percent of the world's business programs. The 45-credit program is designed by premier faculty members who have research and business experience to provide professionals with the knowledge and practical tools to run organizations, articulate a vision, motivate colleagues, and think strategically. The program explores real-world issues through case studies, projects, simulations, and guest lecturers who are leaders in business and industry.
In addition, students have an opportunity to customize their program of study in core market areas. Offerings in marketing, health care, human resource management, sustainable business practices, and finance allow students to choose a curriculum aligned with their interests and goals.
Brittany King, marketing manager at Dun & Bradstreet, completed the MBA program at Penn State Berks. Knowing she wanted a face-to-face program from a reputable university, she decided on the Berks campus for its proximity to her home in Upper Macungie.
"Faculty set reasonable expectations for classwork," King said. "The program's format helped me meet the demands of my full-time job, so I could leave the evenings and weekends for school work. Additionally, my professors were all very knowledgeable in their space and highly responsive if any questions on assignments did arise."
Penn State Berks will hold information sessions on campus for the MBA degree program from 6 to 7 p.m. on Wednesday, April 24, in 120 Gaige Technology and Business Innovation Building; noon to 1 p.m. on Thursday, May 2, in 157 Franco Building; and 6 to 7 p.m. on Wednesday, June 26, in 157 Franco Building. In addition, Penn State MBA webinars will be held on the following dates and times:
Tuesday, April 16, 11 a.m. to noon
Tuesday, May 21, 11 a.m. to noon
Thursday, June 13, noon to 1 p.m.
Tuesday, July 9, 11 a.m. to noon
Thursday, Aug. 1, noon to 1 p.m.
To register for an information session or webinar, visit berks.psu.edu/mba-events. For more information on the Penn State MBA program, visit berks.psu.edu/mba.