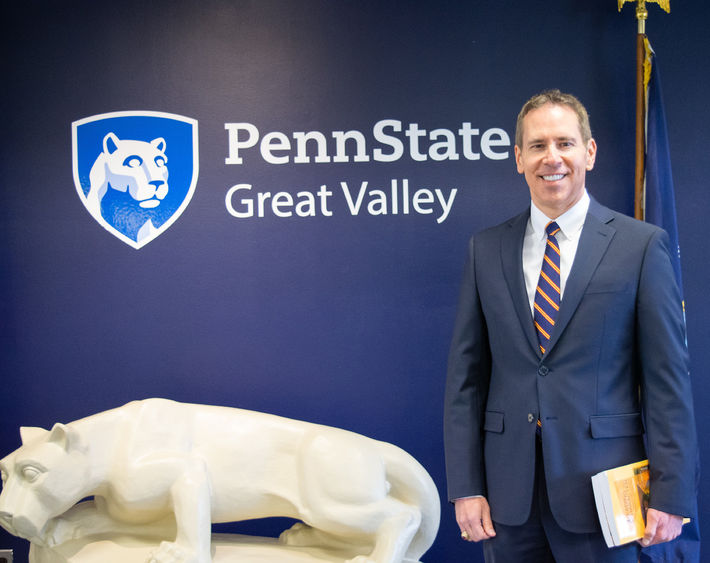 MALVERN, Pa. — John J. Sosik has been named distinguished professor of management and organization in recognition of his outstanding academic contributions to Penn State.
The title of distinguished professor recognizes full-time faculty who are acknowledged leaders in their research fields and demonstrate significant leadership and teaching skills.
"Being named distinguished professor at Penn State is certainly a thrill and honor for me," Sosik said. "I am grateful to my colleagues for their nomination for this designation. Penn State Great Valley, with its special purpose mission and collegial culture, has been a perfect fit for me and a strong foundation for my work on leadership development in business, education, and military settings."
Sosik joined Penn State Great Valley in 1995 after earning his doctorate from the State University of New York at Binghamton. He serves as the professor-in-charge of the Master of Leadership Development program and has developed six new courses for Great Valley's management department and World Campus' Master of Professional Studies in the Psychology of Leadership program.
The courses Sosik teaches employ experiential and collaborative learning techniques and advanced information technologies to maximize learning outcomes. Using resources like artificial-intelligence-based leadership simulations and 360-degree-feedback leadership assessment tools, Sosik's teaching approach has students actively engaged in the learning process and aware that they are also a product of the learning process.
Sosik's research focuses on leadership and organizational behavior processes and outcomes and spans many disciplines, including psychology, education, mentoring, and information technology. In 2001, he was awarded a grant from the National Science Foundation to study leadership of virtual teams at Unisys Corporation. Practitioner interest in his research has allowed him to conduct training and consulting projects for a wide range of corporate, not-for-profit, education, and military organizations.
Sosik has published more than 100 academic articles, books, book chapters and proceedings. He has presented over 95 papers at a variety of national and international conferences. His first book, "The Dream Weavers: Strategy Focused Leadership in Technology-Driven Organizations," was published in 2004 after a sabbatical project in which he examined the strategic leadership of 75 top executives from 65 organizations in the United States and Israel. He has published two other books, "Leading with Character: Stories of Valor and Virtue and the Principles They Teach" and "Full Range Leadership Development: Pathways for People, Profit and Planet," both of which are in their second editions and are used for leadership development by several universities and the U.S. Air Force.
In the future, Sosik said he plans to explore how advanced information technology in the age of Industry 4.0 can affect the way leadership is studied and practiced in organizations. He also intends to continue his research on how character strengths and virtues influence the leadership development of business and military leaders.
Prior to earning his doctorate, Sosik received an MBA from Wilkes University and bachelor's degrees in both accounting and information systems from King's College. He is a certified management accountant and a member of Beta Gamma Sigma, as well as the Academy of Management, American Psychological Association, Institute of Management Accountants, and Institute of Behavioral and Applied Management.