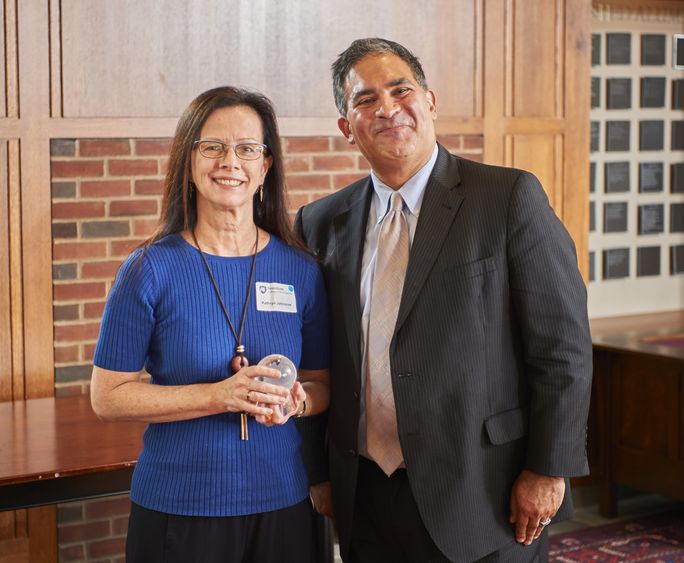 MALVERN, Pa. — Kathryn Jablokow, professor of engineering design and mechanical engineering and associate chief academic officer at Penn State Great Valley, was the recent recipient of the 2018 Penn State Engineering Alumni Society World-Class Engineering Faculty Award in recognition of her teaching, research, and service.
Characterized by seven attributes — solidly grounded, technically broad, globally engaged, ethical, innovative, excellent collaborator, and visionary leader — the term 'World-Class Engineer' was coined in 1994 by Jack Matson, now a professor emeritus within the College of Engineering. Originally used as the vision for developing the engineering leadership development minor, the concept grew and was adopted by the College of Engineering to describe its ideal graduates. In 2015, it also became a way to acknowledge a faculty member who embodies its definition.
Jablokow met Matson in 1993, when she became a member of the faculty advisory committee for the Leonhard Center for the Enhancement of Engineering, where Matson was serving as the founding director. He quickly noticed her creative approaches to teaching and appointed her as assistant director of the center.
The two remained close, collaborating again in 2013 to develop a Massive Online Open Course (MOOC) on creativity, innovation, and change with Darrell Velegol, distinguished professor of chemical engineering. With over 260,000 enrollments to date, their course is now considered one of the 50 most popular MOOCs of all time by Online Course Report.
It was Velegol — the very first recipient of the award — who nominated Jablokow. Like Matson, he was immediately impressed by her character and work ethic.
"Kathryn is a deep intellectual academic with great insights into creativity and innovation," he said. "At the same time, she's a ball of energy that makes change happen! That combination makes her extraordinarily successful and enables her to have a huge impact with her students. And I thought, 'This is a chance to honor Kathryn with the award, but it's also a chance to honor this award with Kathryn winning it!'"
Sven Bilén, head of the School of Engineering Design, Technology, and Professional Programs (SEDTAPP), wrote a letter supporting Jablokow's nomination.
"She has used her special insight in engineering design and creativity in the establishment of many impactful courses and programs that have educated the next generation of engineers, prompted people to think differently, and granted engineers advanced degrees," he wrote. "Any one of these programs would be significant enough in itself, but collectively, they truly establish that her accomplishments are sustained and significant contributions to the field of engineering design education."
He praised Jablokow for her role in establishing the bachelor of engineering degree with the multidisciplinary engineering design (MDE) option, offered regionally through the Abington, Brandywine and Great Valley campuses. Students complete the first two years of their coursework at Abington or Brandywine and finish the program at Great Valley, which is home to a state-of-the-art, $2.5-million Innovation Suite, which supports hands-on projects and instruction.
"As its inaugural director, Dr. Jablokow's vision for what the MDE option within the degree might be and the tenacity to fully develop and offer it are remarkable," he continued. "Not only did this include fleshing out the entire curriculum and ensuring it meets the rigor required of a Penn State Engineering degree, but also that it meets the unique needs for design engineers of local industries in the Philadelphia region."
Matson agrees with Velegol and Bilén's sentiments.
"Kathryn is an incredible innovator in her teaching, research, and administrative duties, fulfilling all the attributes of the World Class Engineer, and fully deserving of the award," added Matson.
Jablokow received the award during a ceremony in October, sponsored by the Penn State Engineering Alumni Society. Matson, Velegol, and Bilén were present.
"Jack started the concept of 'Intelligent Fast Failure,' which says that if you're seeking to be creative, you don't want to fail, but at times you will fail," said Velegol. "Do it fast, do it intelligently, and make a difference. Jack was the original. I can't think of a better person to carry that forward than Kathryn — she's daring and bold and smart like Jack, and I'm super proud to have them as friends and colleagues!"