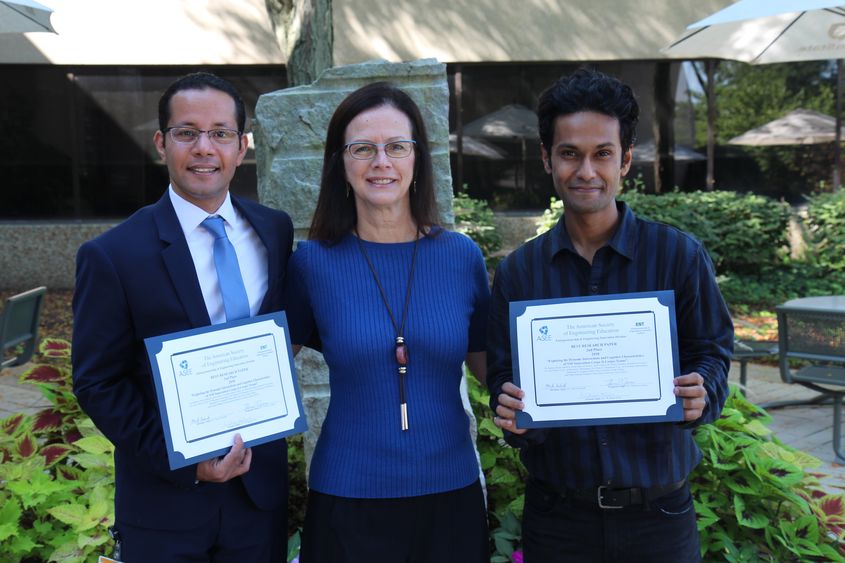 MALVERN, Pa. — To launch a fruitful business or product, entrepreneurs must rely on a team of people to effectively integrate individual skills and communicate in a productive way. But even with good teams in place, some groups are better set up for success than others.
As part of an ongoing grant from the National Science Foundation (NSF), Kathryn Jablokow, professor of engineering design and mechanical engineering at Penn State Great Valley, is examining how engineering teams work together to design and deliver products — and what ultimately renders some teams more effective.
But recently Jablokow — alongside Mohamed Megahed and Pratik Pachpute, two Great Valley graduate students — extended the work to specifically focus on the interaction dynamics of entrepreneurs.
Partnering with Neeraj Sonalkar, a research engineer at Stanford University; Ilya Avdeev, an associate professor of mechanical engineering at the University of Wisconsin-Milwaukee; and Brian Thompson,the president of the University of Wisconsin-Milwaukee Research Foundation and director of the Lubar Entrepreneurship Center, the group studied five NSF Innovation Corps (I-Corps) teams in a program that helps prepare scientists and engineers to commercialize NSF-funded projects. Consisting of three primary members — an academic lead, an entrepreneurial lead, and an I-Corps mentor — each I-Corps team was tasked to determine whether to launch their startup.
Led by Penn State and Stanford, the I-Corps teams participated in a group effectiveness workshop in March 2017 at the University of Wisconsin-Milwaukee. While their entrepreneurial projects were diverse — ranging from a robotic consumer venture to a nursing product to improve patient safety in intensive care units — each team was presented with the same real-world design challenge. They were tasked to create an inexpensive water pump for a developing country and, in one hour, provide two prototypes and a brief presentation.
Jablokow's team relied on three lenses for their analysis: Interaction Dynamics Notation (IDN) to depict communication patterns; the Kirton Adaption-Innovation Inventory (KAI) to evaluate cognitive style; and design metrics to assess the overall outcomes from each team. With a better understanding of how individual cognitive characteristics and group dynamics influence I-Corps results, they hoped to determine the best teaching methods to meet the needs of each team.
The result — a paper called "Exploring the Dynamic Interactions and Cognitive Characteristics of NSF Innovation Corps (I-Corps) Teams" — won second place for the best research paper in the entrepreneurship division of the American Society for Engineering Education (ASEE) at its annual conference in June 2018.
Megahed, an engineering management alumnus and current systems engineering student, started working with Jablokow shortly after she received the NSF grant in 2016. Pachute, an engineering management student, joined the team one year later. The two students worked on all aspects of the I-Corps study — analyzing interactions, team outcomes, individual perceptions, cognitive styles, and more. At times, the work was manual, especially when it came to IDN sequencing.
Rather than concentrating purely on individual actions, IDN focuses on responses and shows the reciprocity of team interaction. Conversations during the workshop were recorded and later coded by hand, with each question, deflection, or moment of silence noted. While time consuming, it helped Jablokow's team fully immerse themselves in the analysis.
"It actually went quickly," said Megahed. "It was never the same thing twice. The process wasn't about technology, but rather the concepts behind the data. The time spent on it helped me better understand how these teams communicated."
Creating their own "war room" on campus in Jablokow's Design Research Lab, Jablokow, Megahed and Pachpute met frequently, holding brainstorming sessions to discuss patterns and trends.
Their study resulted in seven findings, including key takeaways for not only the I-Corps program, but also for engineering educators and teams in general. For example, Jablokow's team found that "bridgers" — teammates whose cognitive styles place them between their more adaptive and more innovative collaborators — are key players in any engineering team. As observed during the I-Corps team interactions, they assume a social role and encourage others to contribute. If bridgers are present in other groups, it can facilitate discussion and prevent the groups from getting stuck in deliberations.
In the past, the I-Corps teaching team has relied on three aspects for structuring their program: curriculum, pedagogy and learning environment, but Jablokow's research discovered the potential for a fourth: team composition. Going forward, KAI can identify cognitive gaps between academic and entrepreneurial leads, and IDN can assess a mentor's interactions and their effects on the team dynamics.
For Megahed and Pachpute, the opportunity to work on this study was the perfect complement to the engineering management program. Their analysis combined the technical aspects of an engineering degree, but also challenged their business and interpersonal skills. Working with real data — and real engineering teams — brought classroom concepts to life.
"I see things differently now," Megahed said. "Before, people would always talk over each other. It was tough to achieve things productively. But now, I can break people into smaller groups to accomplish specific tasks. We can better control our production."
"Examining these dynamics prepared me for a shift to a corporate environment," added Pachpute. "As a marine engineer, I've been exposed to different team interactions. Most employees were contracted for six months, so there were a lot of comings and goings. As I move into an office setting, I'll know how to leverage individual creative strengths and talents. It will make me a better manager."
The collaboration with Jablokow even helped Megahed land a new job. After bringing the award-winning paper to an interview, it was passed onto senior leadership. He received an offer shortly thereafter.
"It really shows the value of the students' work," said Jablokow. "The project was funded by NSF and recognized by ASEE in a blind review. It's a testament to the quality of their efforts and our findings."
Jablokow will continue to study nationwide engineering design teams, including teams from American Crane in Douglassville. Now, she's grown her team from two research assistants to 10 — including students at both the undergraduate and graduate levels. For Jablokow, the wide array of academic backgrounds and work experience is paramount.
"In the engineering design field, cognitive diversity is so important," she said. "Megahed and Pachpute brought two different perspectives to this study. Everyone has their own ideas and sees things in unique ways. Working together and collaborating — that's what helps us examine the data from all points of view."