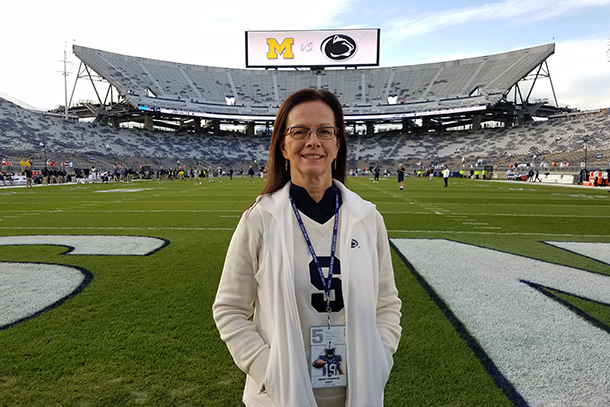 UNIVERSITY PARK, Pa. — In her years studying electrical engineering at the Ohio State University, Penn State Professor Kathryn Jablokow never pictured herself as the guest coach for a Penn State White Out game, rooting for the Nittany Lions. But that's exactly where she found herself on Oct. 19. 
Jablokow, associate chief academic officer at Penn State Great Valley and professor of engineering design and mechanical engineering, is in her 30th year of teaching at the University, having previously worked at the University Park campus for six years.  
As one of the faculty who helped expand the engineering design program to Penn State's Greater Philadelphia locations — Abington, Brandywine and Great Valley — Jablokow now spends time coordinating her doctoral students, master's students and undergraduate researchers between University Park and Great Valley.  
On top of her teaching and mentoring responsibilities, Jablokow assists Penn State Great Valley's chancellor through various initiatives at the Great Valley campus. She facilitates faculty in grant seeking, coordinates program assessment and guides faculty through the promotion and tenure process.  
The recipient of multiple awards, including the 2016 American Society of Mechanical Engineers Ruth and Joel Spira Outstanding Design Educator Award and the 2018 Penn State Engineering Alumni Society World-Class Engineering Faculty Award, Jablokow said being chosen as a guest coach was a special kind of honor. 
"It is the supreme Penn State recognition, not just because it's football, but because our football program really emphasizes the dual nature of those young men by design — focusing on their role as student-athletes," she said. 
Before the 28-21 win over Michigan, Jablokow observed the team practicing plays, reviewing strategies and studying films of their opponent. On game day, she joined the team for breakfast and lunch, as well as for motivational sessions. She rode the team bus to the stadium, watched the team warm up and experienced the pre-game locker room atmosphere.  
Jablokow said that there was no adjective that adequately described the White Out game, as the unity of 100,000 Penn State fans was difficult for her to explain. Standing on the field close to the student section, the echoes of cheers and chants were amplified. 
Receiving three degrees from Big Ten conference rival Ohio State, Jablokow said she has attended many scarlet and gray football games, but noted that the White Out game was something totally unique. Her combined history with Penn State and Ohio State led her to request the guest coach spot for the Michigan game. 
Jablokow has family history with both Big Ten schools as well — her parents met at Penn State in the 1940s, and her father worked at Ohio State for over 50 years. Her family also owns an historic homestead farm in Centre County. She said her father transferred his loyalty to Ohio State, but her mother always stayed loyal to Penn State — wearing blue and white in a sea of red. 
As a result of her research, Jablokow has extensive expertise in what constitutes an effective team. So, in her opinion, how do the Nittany Lions measure up? They follow all the best practices for high-performance teams, according to Jablokow.  
"The coaches and players communicate openly and often, and they have established a supportive environment in which people trust each other to be accountable," she said.  
She said she enjoyed talking to the different coaches and seeing the students practice and learn as the day went on. She was impressed with the athletes' maturity, respect, energy and dedication to the game. 
"The whole experience really showed me how seriously Penn State takes student-athletes," she said. "I toured the Lasch Building and the other facilities they have to support all of our student-athletes in their academics. I was very impressed by the system they have set up." 
The Lasch Building provides academic support to the football players and other athletes, as well as housing athletic training facilities, meeting rooms, coach and staff offices and physical therapy services. 
When talking to Penn State football coach James Franklin, Jablokow said they agreed that both students and faculty can get stuck in their own little worlds and lose sight of Penn State's bigger picture. Though it may seem easier to "stay in your own lane," she said it is important to broaden your horizons and learn how others contribute to the University. 
"Everybody gets buried in doing whatever they're doing, and we don't see enough of what other people are doing," she said. "That's why an experience like this is so important."  
Jablokow plans to take what she learned on and off the field and apply it in the classroom. She teaches classes on creativity and problem solving in engineering and stresses the importance of building unified teams that communicate effectively. The Nittany Lions' support system, structured learning process and detailed organization particularly impressed Jablokow. 
"I teach engineering," Jablokow said, "and we practice things in a different way. But as I watched the team, I realized that some of the techniques they use to master their plays and build a unified team can be transferred into my part of the world."