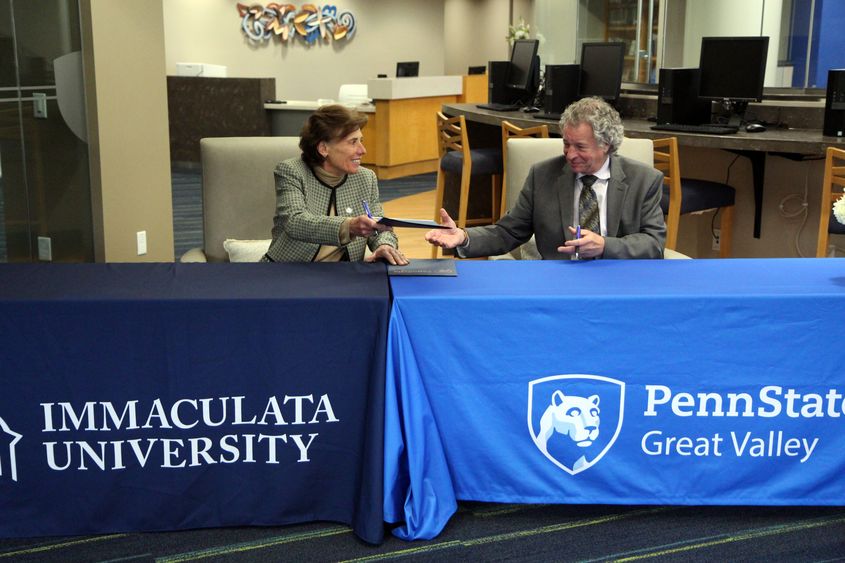 MALVERN, Pa. — Penn State Great Valley in Malvern and Immaculata University have announced an articulation agreement that makes Immaculata students eligible to enroll in select graduate programs at the Great Valley campus. Immaculata students also are automatically considered for the campus' Chancellor Scholarship, a merit-based award of either $10,000 or $15,000 available to qualified students planning to pursue a graduate degree full time (12 credits per semester).
Penn State Great Valley has provided high-quality educational programs to professionals in southeastern Pennsylvania for more than 50 years. The campus offer master's degrees, graduate certificates, and noncredit professional development programs relevant to today's workplace. Evening and hybrid courses are held in a flexible, seven-week format, allowing students to meet the demands of work, family and life in general.
"This partnership enriches the career potential of Immaculata University students," said Immaculata President Barbara Lettiere. "Already equipped with both strong liberal arts and technical foundation, they can now hone those skills through Penn State's graduate programs."
Immaculata students will be recommended for admissions into the following graduate programs: Master of Professional Studies in Data Analytics, Master of Science in Information Science, Master of Software Engineering, Master of Professional Accounting, and Master of Finance.
Penn State Great Valley will waive the application fee for all Immaculata students. To register, students must complete all admissions requirements and have earned a 3.3 GPA for their undergraduate coursework. Many of the graduate programs require completion of the GMAT as well.
"I'm very pleased to have this agreement with Immaculata University that allows their students to go on to a Penn State graduate education as seamlessly as possible and to further strengthen the importance of higher education to our region," said Penn State Great Valley Chancellor James Nemes.