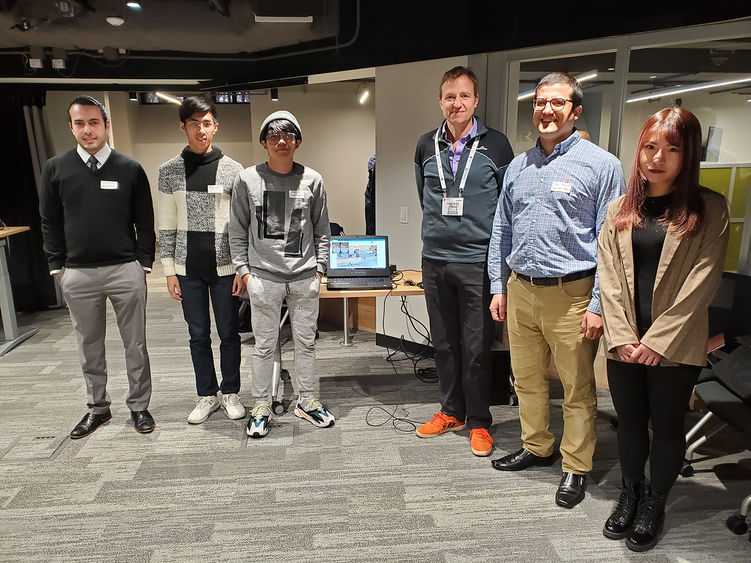 When the newly established Center for Immersive Experiences (CIE) hosted an immersive technology open house on Nov. 12 at the University Park campus, Penn State Great Valley had a strong presence, with Ashkan Negahban, assistant professor of engineering management, and his research team demonstrating their immersive simulation-based learning (I-SBL) approach.
Negahban's project focuses on transforming online and on-campus education through immersive learning modules, and brings together researchers from Penn State Erie, The Behrend College; Penn State Abington; and Penn State World Campus. The modules create a digital solution for problem-based learning, a pedagogical approach that immerses students in a real-world situation.
"We mimic a real system by developing a simulation model," Negahban said. "We have a computerized model of a manufacturing system, for example, where there are machines, parts flow, people walking around. We then develop a problem description around that simulation that mimics a problem that a real-world manufacturing facility may face. Students will observe the simulation model, collect data, perform their analysis and make recommendations for improvement, as they would do when solving the real-world problem. This will better prepare our students for solving problems encountered at future workplace."
Applying a problem-based learning approach for engineering and STEM education can be difficult for a variety of reasons, but the I-SBL approach eliminates those barriers. The project is funded by the University Strategic Initiative Seed Grants program as part of Penn State's strategic initiative to transforming education.
CIE—which is dedicated to driving digital innovation across the Penn State community—is also funded through the transforming education seed grant and, given the similar focus of the projects, CIE director and professor of geography Alex Klippel invited Negahban and his team to the November open house.
In addition to describing the objective and benefits of the project, the demonstration also featured virtual reality (VR) headsets and a VR-enabled laptop that allowed attendees to see and explore one of the simulation models.
"It was great," Negahban said. "We had students, faculty, and deans who stopped by and tried the models. I think it was very well received. We had faculty who mentioned that they would consider using these in some of their classes."
Chuzhen Wang, an undergraduate research assistant majoring in industrial engineering and statistics, also helped demonstrate the I-SBL approach at the open house. Although Wang was nervous about presenting, she felt well-prepared and was excited to share the technology with the community.
"I'm very glad to see the transformation of education since sometimes the traditional classes are a little boring and not interactive," Wang said. "I'm excited to see the results of our project being implemented in classes in the coming years."
A senior at the University Park campus, Wang has been involved with the project since April 2019. She has worked on a variety of aspects, including developing problem-based learning modules and building simulation models of real-world systems, ranging from a pizza store to an airport terminal to a manufacturing warehouse.
Being part of the research team has been an invaluable experience for Wang and helped encourage her to continue to study operations research or data science in graduate school after graduation.
"I believe the simulation models of this project are also a useful tool to optimize the performance of real-world systems," Wang said. "The takeaways for me are to see how the enhanced technology can help transform education further. I'm also glad to say that working on the project helps me develop some transferable skills with broad application, including critical thinking, problem solving, communication, collaboration and independence."
Negahban received the seed grant in January 2019 and the first year of the project was primarily spent developing the simulations, modules and learning objectives.
As the modules are finalized, they'll be implemented in courses across Penn State campuses—an undergraduate class at Penn State Abington has already used one of the modules and an upcoming online graduate course will use one, too.
And looking further ahead?
"Our goal is to implement the I-SBL modules in more and more classes and assess their effectiveness related to student learning," Negahban said. "We will make all of these modules available online for free. … We're hoping that more and more people, not only at Penn State, but also at other universities will start using our modules in their courses."