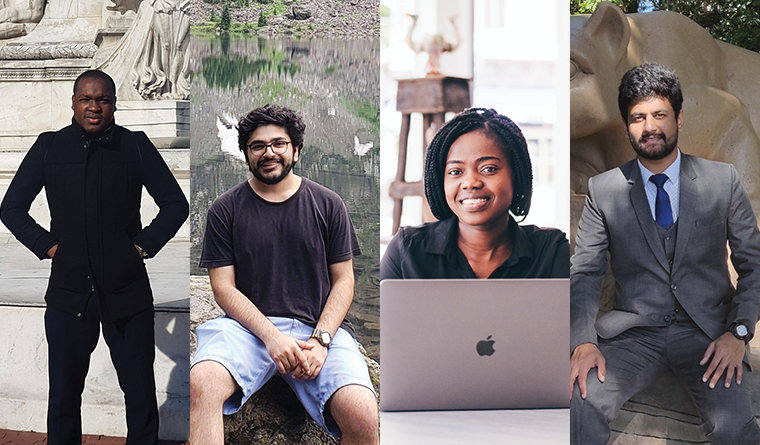 MALVERN, Pa. — Penn State Great Valley graduate students find a plethora of ways to apply what they learn in the classroom to real-life situations. Recently, several international students spent their summers applying their skills at a variety of internships.
Some students shared the details of their internship experiences.
Tayo Adekanye, Engineering Management, Money Mart Financial Services
Tayo Adekanye stayed close to campus for his internship, working in the contact center at Money Mart Financial Services on Swedesford Road.
Adekanye applied skills he learned in classes to optimize the company's processes and systems. By analyzing the call center data, he was able to create an employee performance scorecard. Money Mart hadn't had a sustainable way to evaluate their call center employees and data, but Adekanye's scorecard allowed them to do so.
"It was a gap the company needed to fill, and I feel like me doing that was filling that gap and solving that problem that had ripple effects," Adekanye said. "From an operational perspective, it improved the company. From a human resource perspective, it's good for the company to know how the staff are performing."
The scorecards, which provided insights into how the contact center was performing, helped the company modify its staffing model to be more cost-effective, like by moving employees from less busy weekend shifts to busier weekday shifts. It also helped in assessing agents' skill level in different areas, which showed them where they could improve.
Adekanye also made valuable connections at the company, from other interns to managers of different departments.
"I had a lot of meetings with executives at the company," Adekanye said. "My manager was really good with that, took me to a lot of meetings with high-level stuff, and exposed me to the business side of things."
Achyuta Jha, Data Analytics, UiPath
Achyuta Jha went across the country to Seattle, Washington, to intern with UiPath as a data engineer.
Working with another intern and two data finders, Jha used a mix of different machine learning and deep learning techniques to predict how the demand for certain products would fluctuate in the coming weeks. Using the information gathered, Jha and UiPath could inform warehouse owners and inventory management teams what products to stock to maximize efficiency.
"Throughout the course of a project, we would be evaluating many solutions and comparing the performances and everything," Jha said. "There were managers, but nobody would impose things upon you. You would gradually try to get to work on things."
Jha also enjoyed working with his fellow data scientists because of the different perspectives they provided him. A group of data scientists at UiPath met biweekly to discuss the latest research papers, which gave him an in-depth look at the information and trends in the field.
Jessica Ntim-Ofosu, Information Science, Ernst & Young
Jessica Ntim spent her summer as a UX (user experience) engineer with Ernst & Young, one of the largest professional services firms in the world.
Ntim worked as part of a web development team to create a site for a client. She built a landing page using React, a JavaScript program she had previously been unfamiliar with. While learning a new program was initially challenging, she enjoyed it, and even continues to build pages in her spare time.
Ernst & Young's large reach provided a strong network of support and mentorship for Ntim. In addition to her co-workers in the company's Manayunk studio, Ntim also met other interns from around the world while attending the International Intern Leadership Conference in Orlando, Florida.
Tying in what she learned in the classroom with real-world experiences was especially rewarding for Ntim, as seeing practices being used in a business setting helped reinforce their importance and application.
"I believe my learning experience at Penn State empowered me to take the lead in learning the new language as well as stretching me to try new things," Ntim said. "The leadership and mentorship I received from my adviser at Penn State made me confident in sharing my ideas during my internship."
Aaqil Rahman, Data Analytics, SAP
Aaqil Rahman worked as a strategic analytics intern on the fields and operations team at SAP.
Rahman integrated and analyzed data from a variety of customer relationship management sources and used that information to build data models. Using skills he learned in classes at Penn State Great Valley, Rahman also automated everything he built.
During his internship, Rahman was introduced to block chain technology, and the more he learned about it, the more interested he became.
"It is something not very common in the market, or something that is under researched," Rahman said. "That is what I'm doing for my final capstone project. I'm building a machine learning system that would sit on top of a block chain framework."
Rahman attended many executive meetings, which gave him a closer look at how sales and operations function in a large business. The frequent interactions also helped him understand the day-to-day responsibilities of C-level positions.
None of Rahman's teammates worked on the analytics side of the company, which gave him many opportunities to take ownership of projects and impress his co-workers.
"For the first two weeks you need to build a trust with your directors, your managers," Rahman said. "When you build that trust early, they give you complete access to the company. … That is something that you need to carry forward wherever you go."