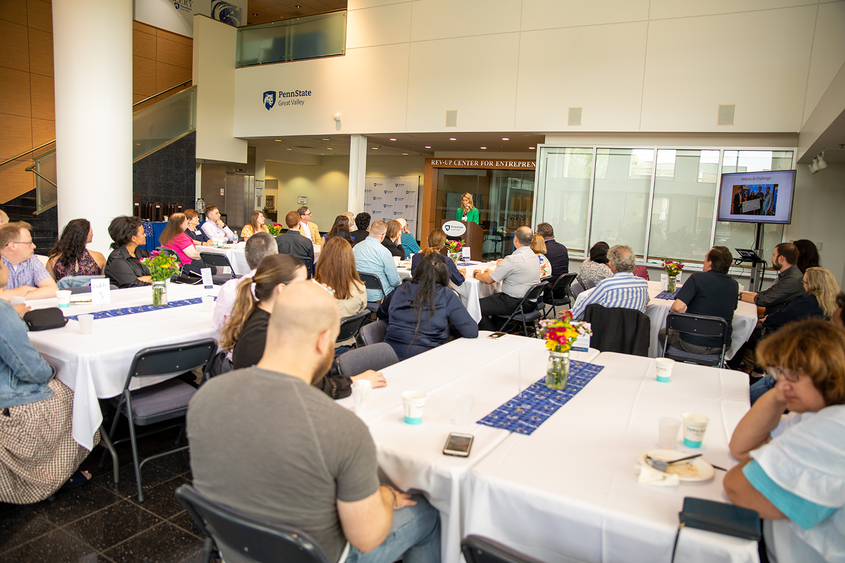 Penn State Great Valley hosted a scholarship brunch on Saturday, April 22, to bring together 40 donors and students to celebrate the impact of philanthropy. For the summer 2022, fall 2022 and spring 2023 semesters, 21 donor-funded scholarships were awarded to 50 students, with funds totaling over $181,000.
Joseph Henry, a 2022 Fundraising Volunteer of the Year, was one of the donors in attendance. In 2018, he and his wife, Marilyn, established the Joseph P. Henry and Marilyn H. Henry Part-Time Graduate Scholarship to help alleviate the financial burden many students face.
A 1976 alumnus of the College of Health and Human Development, Joseph Henry received emergency student aid in his junior year when his father lost his job. Henry credited that support as the reason he was able to finish his degree and build an impressive 30-year career at Independence Blue Cross (IBX).
Henry earned his MBA from Temple University on a part-time basis with IBX paying for his tuition, something Henry noted isn't as common anymore.
"These are the reasons why my wife and I and so many others have established scholarships to support part-time graduate students," Henry said. "We have been there. I met future CIOs, CFOs, CEOs and entrepreneurs at the scholarship brunch, and I know they'll have the opportunity to give back to their communities and alma mater in the future. That will be the best way for them to say 'thank you' to everyone who supported them."
Molly Johnson, recipient of the Madlyn and Michael Hanes Part-Time Graduate Scholarship, and Christopher Tkatch, recipient of the Linda and Jerry Hogan Scholarship, Robert and Barbara Bednar Scholarship and Diane M. Disney Chancellor's Book Bag Award, discussed the positive impact their scholarships have had on their ability to pursue their career and educational goals.
Johnson spent eight years working on Capitol Hill before moving to the Greater Philadelphia. Outside of her job at Comcast, she began volunteering with Work to Ride, a nonprofit organization that provides equestrian programs for under-resourced youths. After a year and a half, Work to Ride offered her a full-time position as director of operations and communication. Johnson credited her time in the master of business administration program for the success she's had in the position, including leading a $10 million capital campaign.
"I would like to express my gratitude for the unwavering support of students like me who are committed to pursuing their dreams and making a positive impact in their communities," Johnson said in a speech at the brunch. "Receiving the Madlyn and Michael Hanes Part-Time Graduate Scholarship in my final semester of school was especially helpful because, with only one class remaining to complete my degree, I did not qualify for federal student loans. This scholarship has allowed me to complete my degree without additional financial burden, and I am grateful for that."
Tkatch, a concurrent master of business administration and master of finance student, left his job as a sales engineer at Lincoln Electric to focus on his studies full time after discovering a passion for finance. His decision to switch careers paid off, and he'll begin a job in corporate finance after he graduates this May.
"Without the support of each donor who generously gifted me a scholarship award, I would not be in the position I am in today — confident that wherever my future takes me, I will have the ability to support my family and be successful in my future career," Tkatch said at the brunch. "Becoming a full-time student took a leap of faith, but because of the generosity of everyone in the room today, I will successfully be completing my degree and following my dreams."
With the record-breaking success of "A Greater Penn State for 21st Century Excellence," which raised $2.2 billion from 2016 to 2022, philanthropy is helping to sustain the University's tradition of education, research and service to communities across the Commonwealth and around the globe. Scholarships enable our institution to open doors and welcome students from every background, support for transformative experiences allows our students and faculty to fulfill their vast potential for leadership, and gifts toward discovery and excellence help us to serve and impact the world we share. To learn more about the impact of giving and the continuing need for support, please visit raise.psu.edu.