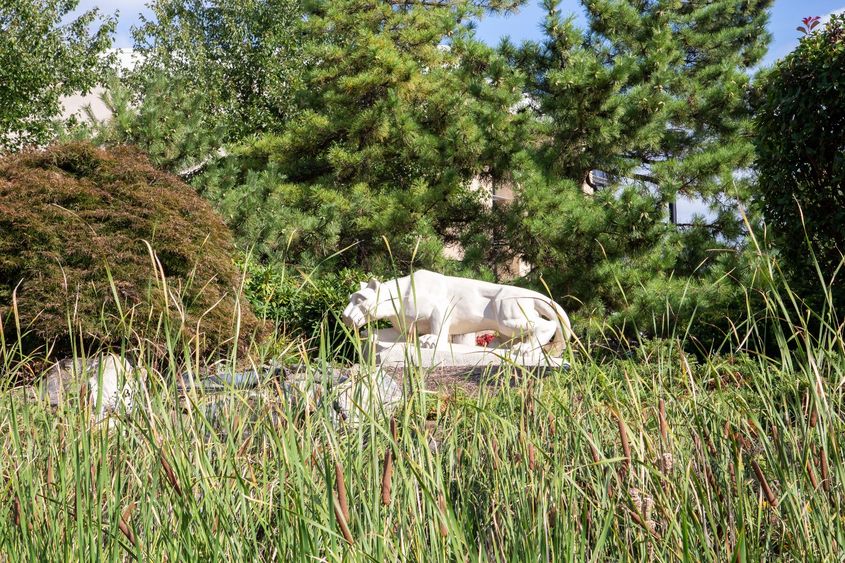 UNIVERSITY PARK, Pa. — Penn State has named Edward J. Beckwith, a 1971 graduate of the Eberly College of Science who has led initiatives across the institution, and Joseph P. Henry, a 1976 alumnus of the College of Health and Human Development who has driven forward projects at Penn State Great Valley, as the 2022 Fundraising Volunteers of the Year.
The awards, which recognize individuals, couples or groups who demonstrate exceptional commitment and leadership in building philanthropic support for the University, will be presented at a special ceremony this fall. The dual selection reflects Penn State's commitment to honoring volunteerism at both University Park and the Commonwealth Campuses.
"Ed and Joe truly represent the very best of the Penn State tradition," said President Neeli Bendapudi. "They have devoted tremendous energy to ensuring the University has the resources to flourish as a land-grant institution, not only through their personal generosity but also by leveraging their considerable talents as philanthropic leaders to inspire others. Penn State is one institution, geographically dispersed, so it is especially meaningful to me to honor exceptional volunteers who have strengthened the colleges and other units at University Park and all of our campuses that serve communities across the commonwealth."
Ed Beckwith
Beckwith is a partner in the national law firm, BakerHostetler LLP. He earned his juris doctorate in 1974 and his Master of Laws in taxation in 1983 at the Georgetown University Law Center. Beckwith has served as an adjunct professor of tax law at Georgetown since 1984 and also teaches at Penn State Law.
Beckwith has used his experience as a private wealth attorney and counselor to high-net-worth families and their charitable interests to train and educate Penn State volunteers and staff members about gift planning practices.
After founding the Gift Planning Advisory Council, Beckwith served as its chair for 15 years, hosting programming and developing new philanthropic initiatives. He also served on the executive committees for the "Grand Destiny" campaign and "For the Future: The Campaign for Penn State Students." He presently serves as vice-chair for the Penn State Law Advisory Board.
"Apart from my family and my faith, Penn State is the geographical center of my emotional universe," Beckwith said. "I came to University Park at age 18, and the truth is I've never left. I have been energized by every opportunity to engage, to volunteer and to serve. I've had the privilege of helping others to understand how best to maximize the impact of their charitable giving and the giving of others. And through it all, my greatest joy has been the opportunity to learn from and inspire fellow Penn Staters."
Beckwith's time as a Penn State undergraduate included a wide-ranging taped conversation in 1969 with Muhammad Ali, whose campus visit he helped to facilitate. That next year, he led efforts as an elected academic student leader to launch Penn State's "Earth Week," which coincided with the inaugural nationwide celebration of Earth Day. During his senior year, Beckwith served as the undergraduate assistant to former President John Oswald. Since graduating in 1971, he has worked with nearly every subsequent University president and has formed close collaborative relationships with fellow volunteers from across the University.
Iris and Ed Beckwith have been married for 49 years. Iris serves as the co-chair of the Student Affairs and Undergraduate Education Development Council. She has pursued a lifelong commitment to advancing the safety and protection of children, including supporting the work of the Child Maltreatment Solutions Network under the direction of Jennie Noll, Ken Young Family Professor for Healthy Children. Iris was named an honorary alumna in 2021.
Over the years, the Beckwiths have made gifts to create numerous scholarships. When the University launched the Educational Equity Scholarship Matching Program in 2020, in response to the national conversation about race and justice, Beckwith was instrumental in working with the Penn State Law Advisory and Development Boards in the creation of funds to honor the late Congressman John Lewis and the late Congresswoman Barbara Jordan, each of whom dedicated their lives to creating a just and fair society for all.
"Ed's service and generosity have lifted the college to new heights by advancing efforts to make Penn State Law more affordable, better resourced and strategically poised to meet the future," said James W. Houck, interim dean of the Law School. "But what really sets him apart as a volunteer is his talent for inspiring others to unite together behind a common cause. The support he's marshalled will be touching students' lives for generations to come."
Joe Henry
Henry, who was a health policy administration major at University Park and who later earned his Master of Business Administration from Temple University, built a 30-year career at Independence Blue Cross.
Henry was introduced to the Great Valley campus during a project management training conducted by his company in 2008. Afterwards, he joined the Great Valley Advisory Board and became a member of the committee supporting the "For the Future" campaign. He chaired the Great Valley Advisory Board from 2012-16 before transitioning to his role as chair of the Great Valley Campaign Committee during the "Greater Penn State" campaign.
Henry was the visionary behind and years-long advocate for transforming the existing library into the Penn State Great Valley Knowledge Commons, which reached fruition with a ribbon-cutting ceremony in November 2018. The renovated learning space created a shared and flexible facility to foster collaboration among students, faculty and staff.
Henry played a leading role in encouraging partnerships between donors and the University to support the graduate student population at Penn State Great Valley through the Open Doors Scholarship Matching Program during the University's "A Greater Penn State" campaign. He has also co-chaired, together with Dallas Krapf, the Penn State Great Valley Golf Outing, for a decade. The golf outings raised significant funds supporting student scholarships and, most recently, the Great Valley LaunchBox.
Henry's dedication and commitment to Great Valley is reflected in his own philanthropic support. He and his wife Marilyn have established the Henry Art Gallery on campus and the Joseph and Marilyn Henry Graduate Student Scholarship, and they have supported a variety of other campus initiatives. In October 2019, Joe and Marilyn were recognized as Platinum members at the inaugural celebration of the Penn State Great Valley Giving Society, honoring those who have supported the campus financially at a leadership level.
"Joe has proven himself to be a dynamic and inspiring leader throughout our development efforts over the last decade," said Colin Neill, interim chancellor, dean and chief academic officer of Penn State Great Valley. "Especially through times when we were under-resourced and short-staffed, Joe stepped into the breach to shepherd potential donors, host key events and brainstorm meaningful projects. The entire University community owes him a debt of gratitude."
Henry traces his dedication to volunteerism to the financial pressure he felt almost half a century ago. When he was enrolled at University Park in 1975, his father was out of work and the whole family was getting by on his mother's salary as nurse.
"I'll never forget it," Henry recalled. "My mom handed me a $100-check and told me to ask the registrar if I could pay my bill piecemeal, because we just did not have money for the full tuition and room and board. That was a non-starter, of course, but they sent me across the street to the Office of Student Aid, and I wound up with an emergency student loan that covered my tuition and textbooks. Without that lifeline, I would've headed home, and maybe never finished my degree. So I know firsthand what it means to feel that in the pit of your stomach and to teeter on the edge of financial insecurity."
With the record-breaking success of "A Greater Penn State for 21st Century Excellence," which raised $2.2 billion from 2016 to 2022, philanthropy is helping to sustain the University's tradition of education, research and service to communities across the commonwealth and around the globe. Scholarships enable our institution to open doors and welcome students from every background, support for transformative experiences allows our students and faculty to fulfill their vast potential for leadership, and gifts toward discovery and excellence help us to serve and impact the world we share. To learn more about the impact of giving and the continuing need for support, please visit raise.psu.edu.