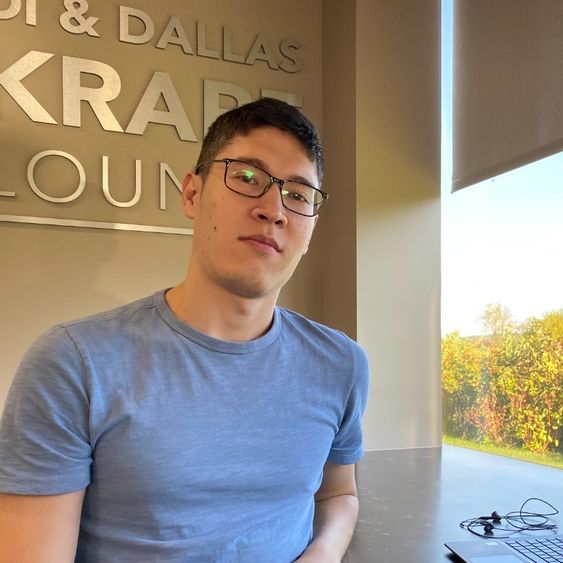 When applying to undergraduate programs, Abay Akhatay — like plenty of other teenagers — wasn't sure what he wanted to do for a career. Engineering seemed interesting, so he chose that as his major. Eventually, though, Akhatay realized engineering wasn't the right fit; he'd become more interested in the business side of things, he said.
From there, the question was how to transition fields. When Akhatay discovered Penn State Great Valley's Master of Finance – Financial Data Analytics option, he realized he'd found the perfect fit for his undergraduate background and his new business ambitions.
"Engineering is … about a way of thinking, so I wanted to have that mindset, but I wanted to also be in business, so that's how I came to financial data analytics," Akhatay said. "Coming from an engineering background and pivoting to the finance role, that's a perfect connection that can kind of use both of them."
The timing was perfect, too: Great Valley launched the Financial Data Analytics option in the spring 2021 semester, and Akhatay enrolled the following fall semester.
Like many other international students, Akhatay spent this past summer at an internship, which he landed with the help of Great Valley's Career Management Services. Associate Director Karen Carli helped Akhatay work on his résumé, interview skills, and initial communications with potential employers, which led to a position with the nearby fintech company Prepay Nation.
The company itself is relatively small but works with telecom operators in a variety of countries to transfer mobile airtime and data across borders. Early into his internship, Akhatay was able to attend a three-day company conference with key employees.
"It was a very interesting moment for me," Akhatay said. "Those three days, I heard what they were speaking about, and I got to learn about the business. Those are guys with years of experience and it's always interesting to listen."
The company was impressed enough by Akhatay's work to offer him a part-time role as a financial analyst as he finished his degree. In his time with Prepay Nation, Akhatay has been able to apply lessons from his coursework. In fact, that was one of his biggest takeaways from the Master of Finance program—how classes focus on practical applications to help students tackle real-world issues.
Now that Akhatay has complete his degree, he's considering what his next step will be. Regardless of what that is, he feels confident in his new finance knowledge and can see a noticeable difference in himself since starting his graduate degree.
"I can say where I was before actually starting on my grad degree, and I can feel where I am now and I can see there is a difference," Akhatay said. "Certainly, there was positive change. I got to know more stuff about finance and I'm using this stuff in my new job. Just comparing myself to my past experience, it's a huge change."