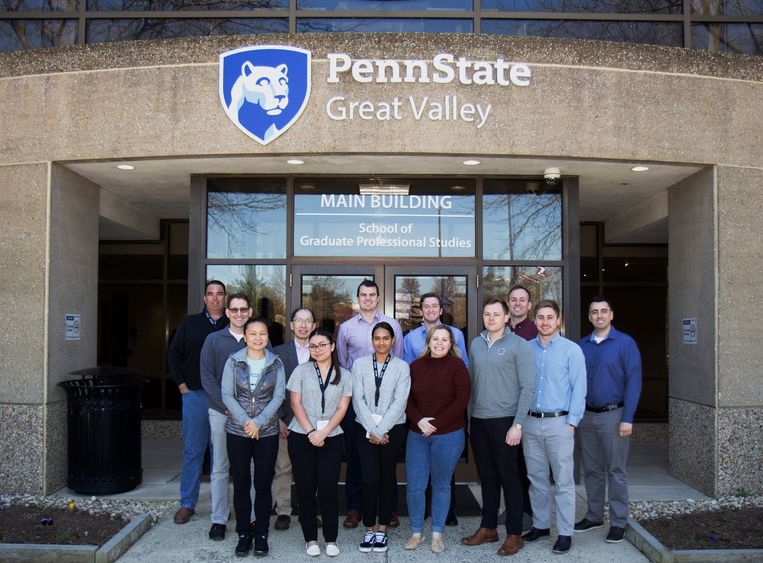 MALVERN, Pa. — Twelve students from six states came together at Penn State Great Valley for a one-week residency for the campus' online master of finance program offered through Penn State World Campus from March 29 to April 3.
"The residency was not only beneficial for students to learn modeling skills, but also a valuable opportunity for them to learn how to articulate the technical results to a broader audience, which is an important skill to possess nowadays," said Patrick Qiang, associate professor of operations and management and professor-in-charge of the finance program.
Throughout the week, students learned intensive hands-on financial modeling skills. The complexity and nonlinear nature of the models are challenging to teach online, so the residency is a key aspect to ensuring a comprehensive learning experience. At the end of the week, students presented projects to a panel consisting of the faculty members and the program alumni.
"Residency week was a great experience to work face-to-face with my peers and the faculty," said George Dyche, a student in the program. "The interactions with the professor and class discussions were extremely valuable. A large portion of the course curriculum was centered around the science and art of financial modeling from the perspective of a financial analyst. It opened my eyes to the importance and emphasis around the art of evaluating companies. Ensuring we had rational and factual explanations of the key assumptions used in the models were emphasized throughout the residency. Additional books and references were provided for students to go deeper into topics."
For fellow student Christopher Tkatch, the hands-on learning opportunities presented during the week were instrumental. Teams of students worked on a valuation project that analyzed Walmart's stock price to give recommendations on whether to buy, hold, or sell the stock at the current level.
"The greatest learning experience I had during the residency was working through the Walmart example," Tkatch said. "I was able to gain a deeper understanding of valuation through a real-life example which class examples cannot cover."
The finance program has been ranked among the top graduate business programs by U.S. News & World Report, and teaches important, real-world skills related to financial modeling, valuation, and using data for making strategic financial decisions.