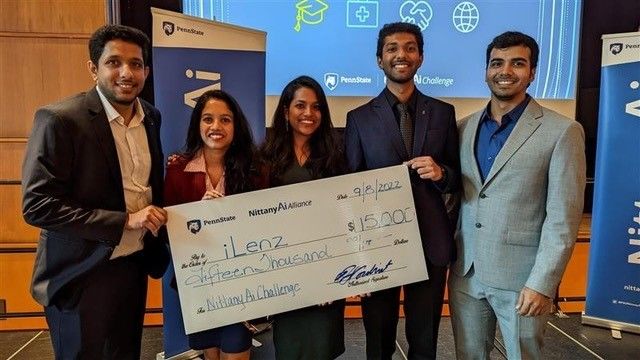 MALVERN, Pa. — For the past four years, Penn State Great Valley graduate students have been shining in the Nittany AI Challenge, a competition for students to apply Artificial Intelligence (AI) technologies to real-world problems. And earlier this month, a group of five Great Valley students won first place and $15,000, marking the first Nittany AI Challenge win for the campus.
Working in small groups, participants expand on their classroom knowledge and use cutting-edge AI platforms. The competition comprises three rounds of judging, with winning teams receiving funding to further develop their ideas into a successful business.
"The main challenge is to help students to identify a real-world problem and adopt a mindset to develop an innovative solution as a complete system, integrating different components, including but not limited to AI and machine learning," said Youakim Badr, professor of data analytics and iLenz's mentor. "Another challenge is to guide them to frame the business problem with a potential impact on society, or advance ideas that support furthering 'AI for Good.' From the very beginning, my extracurricular activities and mentorship have been my greatest career passion. In my role, I provide guidance, motivation, offer constructive criticism and maintain long-lasting mentoring relationships with the teams through the life span of the competition."
Master of Professional Studies in Data Analytics students Abhay Chamu Haridas, Akanksha Anand, Dominic Thomas, Namratha Sri Mateti and Parv Bhatt teamed up to form iLenz, a deep-learning-powered mobile phone application that enables users to perform retinal imaging using a clip-on case.
Officially, the Nittany AI Challenge begins in January. But the Great Valley team started brainstorming and working with Badr in October, coming up with approximately a dozen ideas. After plenty of research, the team decided iLenz was the perfect fit for the challenge: They could address real-world problems by offering a way to detect diabetic retinopathy and cataracts, which fell perfectly in line with the "AI for good" theme of the competition.
"We got to know that this is really a serious issue, that if eye diseases are not detected on time, then there's a chance that people could lose vision. If detected early, there's a chance this could be preventable," Mateti said. "We wanted to work on it so everyone will have a tool handy so they can do manual checks at their home."
About 44 teams across the University submitted ideas in the first phase. iLenz was one of 20 teams selected to receive funding for the prototype phase, and one of 10 groups to receive $1,500 for the minimum viable product (MVP) phase. The group was also one of three teams recognized at the President's Reception at Penn State Startup Week in April.
During the schoolyear, the team balanced their courses and research assistantships with the additional meetings, work and research needed to develop iLenz. Summer wasn't any easier; many of the team members had internships and those who didn't spent time back home in India — a nine-and-a-half-hour time difference from campus. Combine that with some internships being in different time zones in the U.S. and team meetings could get tricky.
Despite the balancing act, the team was able to focus on researching how to expand the hardware aspect of the product as well as reaching out to multiple professors and researchers for additional datasets.
Since 3D printing and computer-aided design (CAD) software wasn't the team's area of expertise, they worked with Dennis Wozniak, engineering lab manager, and Sally Sue Richmond, assistant teaching professor of information science, to enlist the help of undergraduate engineering students in the Multidisciplinary Engineering Design (MDE) option.
Through a consortium with Penn State Brandywine and Penn State Abington, undergraduates in the MDE option spend their last two years of advanced engineering coursework at Great Valley's state-of-the-art engineering facility. Using the funds they'd won in previous rounds of the competition, the iLenz team paid Brandywine seniors Arthur Francis, Michael Leuter, Armin Toshtzar and Edward Virgilio to develop the prototype.
"It was gratifying to see the graduate and undergrad students working together," Richmond said. "Each group contributed their areas of expertise. Having the undergrads produce a physical prototype based upon iLenz's ideas helped them make a more compelling pitch in the competition. This is an example of how multidisciplinary collaboration produces more effective solutions. It was a wonderful opportunity for the undergrad students to apply the design process and their technical skills to produce a solution for a 'real-world' situation."
The iLenz team had decided to incorporate a physical product for an additional edge over other teams. And iLenz certainly did stand out — even before the results were announced at the "AI for Good Expo" at University Park, the team said they received a host of compliments and positive feedback.
Hearing iLenz announced as the first-place team was thrilling for the group; they immediately called Badr to share the news.
"At first it was like, 'Oh this might just be a dream. I need to wake up now,'" Bhatt said. "After [we called Badr], I think most of us called our parents back in India. It was like early morning over there, but it didn't matter what the time was. We just wanted to spread the news. It was pretty amazing."
Badr was proud of the iLenz team and sees the win as recognition of not only iLenz, but also of the other Great Valley teams to participate in the challenge. Last year, Abundant Connections was one of 20 teams across the University selected to advance to the second phase of the competition.
The Artificial Intelligence Energy Management System (AIeMS) and MedArmor teams received funding to develop a minimum viable product for the final round in 2019 and 2020, respectively.
All that experience has shaped the way Badr worked with iLenz, as well as how the team approached the competition. And while Great Valley is a small campus, the background and outpouring of support from the community played a big role in iLenz's success.
"The campus, the University, the professors, everyone was very supportive at every moment because we had [class and research assistantship] assignments and everything going on along with the competition submissions," Anand said. "The support from the University really helped us while we were working on the competition."