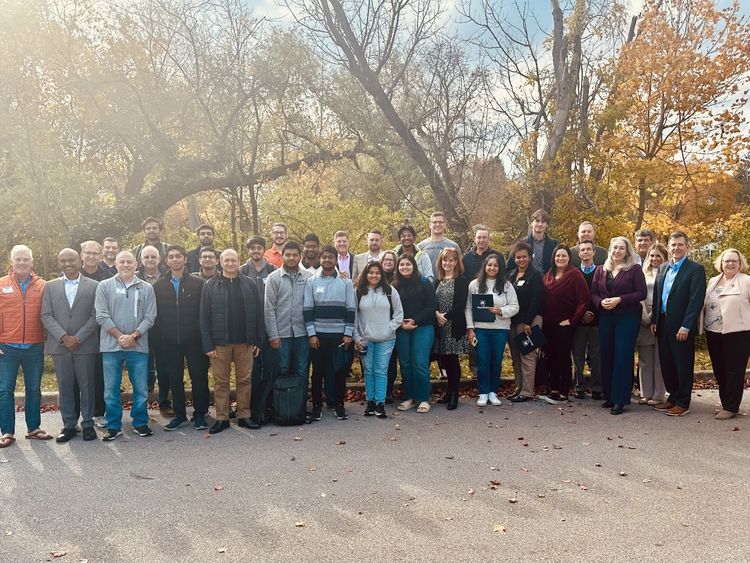 EXTON, Pa. — Artificial intelligence (AI) has the potential to help nonprofit organizations expand their impact, but adopting the technology can be overwhelming for those without a background in it.
"For us, just the general knowledge about how to use AI and what it can do is a challenge," said Jessica Rigo, executive director of YMCA of Greater Brandywine. "We are so used to our own systems and processes, that something like AI, that is new and innovative, not a lot of us have exposure to it."
To help Chester County nonprofits overcome this challenge, Penn State's  Nittany AI Alliance joined forces with United Way of Chester County and Innovation Titan to host an "AI for Impact" workshop. The event brought together nine area nonprofits and social enterprises with industry leaders and Penn State staff, faculty and students to explore ways these important community organizations could use AI in their everyday work.
Rigo said the workshop helped to demystify AI and see the potential the technology has to assist her organization in its mission to strengthen Chester County.
"I took away that AI can actually help us tell our story," Rigo said. "When we are talking about impact in the community, it is about getting our message and our mission out there. A lot of people don't realize that we are a service organization; they look at the Y as a gym and swim. I think AI can help us overcome that."
The workshop is one of many ways that the Nittany AI Alliance, a Penn State Outreach initiative, brings together students, faculty, staff, and industry leaders with nonprofit and community organizations to address real-world problems through experiential learning projects using AI.
"Artificial intelligence is emerging as a disruptive force that will impact every industry. Our goal is to help nonprofits identify opportunities to leverage this disruptive force to improve efficiencies, increase capacity, and approach challenges in new ways," said Daren Coudriet, executive director of innovation for Penn State Outreach and the Nittany AI Alliance. "Our programs increase the University's land-grant impact while providing students with experiential learning opportunities that help prepare them for an AI-enabled world."  
Those are the type of opportunities that Youakim Badr, a professor of data analytics and artificial engineering at Penn State Great Valley, said he looks to provide for his students. He participated in the workshop with 12 students from Penn State Great Valley, where they worked with the nonprofit leaders to identify and develop potential AI projects that could benefit the organizations.
"This workshop presents a valuable opportunity for students to engage with industry leaders, address tangible challenges, and contribute meaningfully to society," Badr said.
Dheeraj Gosangi, a graduate student pursuing a master's degree in Data Analytics, said working with the nonprofits provided him a venue to apply the skills he has gained in the classroom.
"Back in college we learn the theory part of it, but this is giving me a chance to put my skills to use and get some practical knowledge," Gosangi said. "As students we are always looking for opportunities on how we can improve our world. This is a good opportunity to do that. I would like to put AI to use where I can possibly give back to society."
Mark Mintzer, CEO and founder of Youth Mentoring Partnership, said working with the team of students has helped him identify opportunities where AI could help his program as it works to close the mentoring gap for youth in Chester County.
"It was eye-opening, really eye-opening, especially for a baby boomer. I think there are so many applications of AI that are right at our fingertips, that could already enhance what we are doing presently with relative ease," Mintzer said.
Moving forward, both Rigo and Mintzer said they plan for their organizations to continue working with the students to further develop the AI solutions that they identified during the workshop.
Andy Gatto, innovation ecosystem and partnership strategist for the Nittany AI Alliance, said the Nittany AI Alliance has the framework for that to happen beginning with the upcoming Nittany AI Challenge, a program where students teams compete for "AI for good" project funding.
"Big picture, we see this workshop as step one towards creating a community focused, AI innovation ecosystem across Pennsylvania," Gatto said. "We hope the ideas sparked by today's discussions grow into something bigger in the Nittany AI Challenge."
Chris Saello, president and CEO of United Way of Chester County, said the work started at the workshop will benefit the participating nonprofits and the community moving forward.
"We appreciate the new partnership between the university and United Way of Chester County to harness the power of Penn State to make Chester County a better place to live and work," Saello said. "This 'AI for Impact' workshop was a huge success, not only demystifying AI but also fostering innovative thinking, and it encouraged the development of AI-driven initiatives to propel their missions forward and create meaningful, sustainable impact for the community at large."
For more information about the Nittany AI Alliance is available here.