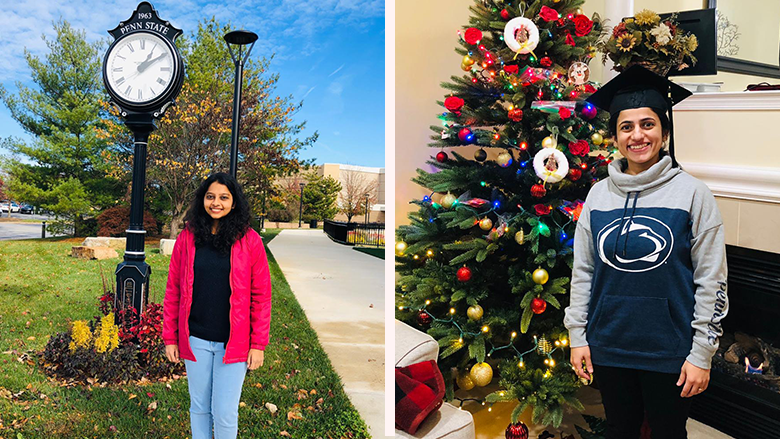 MALVERN, Pa. — Looking for an internship or full-time job during the COVID-19 pandemic can be intimidating. A few of our recent graduates from the Master of Professional Studies in Data Analytics program shared their experiences with securing positions during this difficult time.
Penn State Great Valley students and alumni can reach out to the campus' Career Management Services for help with internship guidance, job placement, interview preparation and more.
Anshul Sarvate, Ernst & Young
Sarvate had a background in data warehousing and enrolled at Penn State Great Valley to take the next step in her career. The courses exposed her to new concepts and help keep her skills sharp and relevant for re-entering the full-time workforce. During all job her interviews, Sarvate described her capstone project, which aimed to create a face mask detection- and violation-alerting system.
"This is my third degree," Sarvate said. "I have a bachelor's and master's from India and then this second master's. But I always say this is the only course that I really enjoyed. There was no subject that I did not enjoy at all and most of the credit goes to the professors because of the way they go over the material. It's really nice and interactive."
Sarvate began her new position as a data and analytics senior at Ernst & Young in mid-February. It's not the position she applied for, though; she applied for a junior position and, when the company saw her work history combined with her education, they decided to interview her for the senior role instead.
Despite four years of work experience and three degrees, Sarvate expected she would only be able to get junior positions, based on what other people told her about entering the workforce in a new country. Compounding that were her concerns about not having a summer internship and that there would be limited job openings because of the pandemic.
"I would definitely give all the credit to Karen [Carli], the career counselor at Great Valley," Sarvate said. "I was very afraid [of entering the workforce during the pandemic] because of all the changes. I reached out to her and we were looking at the Nittany Lion Careers website. She actually taught me how to use that website and how to search for jobs there. … She is the best."
On the day of her last exam, Sarvate got a call from Ernst & Young offering her the position. Eight days later — the same day as Penn State's virtual commencement ceremony — Sarvate signed the official offer letter.
Xiaoqin Huang, University of Tennessee Health Science Center
Huang had a unique path to Penn State Great Valley. She earned her doctorate in food science and engineering in 2013 and, while finishing her degree, found she preferred data analysis to the experiments she was primarily doing.
A few years after finishing her doctorate, Huang decided she wanted to continue learning; given her inclination towards data analytics, she decided to enroll in a graduate program focused on the area. She considered a few universities and decided on Great Valley after reviewing each program's course offerings.
When Huang started job searching over the summer, she was worried about entering the workforce during the pandemic. Despite that, she received multiple postdoctoral offers and began her research position at the University of Tennessee Health Science Center in data mining and machine learning after completing her Penn State degree. For some of the positions to which she applied, Huang also submitted representative figures of projects she worked on for her courses at Great Valley.
"My initial goal was to work as a data scientist in bioinformatics or medical science, which is relevant to data analysis or machine learning," Huang said. "What I did in my projects [at Great Valley] is quite closely related to this field. … Relevance is very important when searching for a job. If you have been doing some projects that are closely relevant to the field or position, I think the opportunity [to get the job] is better."
The projects Huang completed for her independent study and deep learning course helped her concentrate on the areas of data analytics that most interested her. Thanks to that focus, she was able to secure a postdoctoral position in the health sciences field.
"Our program is called data analytics, so we can work in any domain, but you have to focus on one," Huang said. "You can prepare a relevant project in your courses. In that way, in your future, you have this project experience when applying to jobs."
Shanmugapriya Viswanathan, iMedX and Eon Health
Viswanathan spent her summer as a data analyst intern at iMedX, an integrated medical document management and health information solutions company. Like many other students, Viswanathan was worried about finding a summer internship amid the pandemic.
When she came across the opening at iMedX, it was the perfect opportunity. Viswanathan previously worked in the healthcare industry and was hoping to continue to do so after finishing her degree.
"The internship gave me a peak into real-world data and made me realize that working on real-world data is far different from performing data analytics on a dataset downloaded from the internet," Viswanathan said. "Many datasets that are available online have already been cleaned. On the contrary, real-world data is present in silos and needs to be collected, cleaned and transformed, before useful information can be extracted from it."
Viswanathan focused on building a machine learning model that could help healthcare providers predict if insurance claims would be denied. The internship provided Viswanathan a multitude of opportunities to work with healthcare workers with years of experience while expanding her knowledge of the role of data analytics in the industry.
After graduating this past December, Viswanathan began a full-time position as a data analyst at Eon Health, a company that focuses on using technology to improve patient management.
"My internship at iMedX and the knowledge gained from my coursework at Penn State helped me land a full-time job," Viswanathan said. "My internship was in the healthcare industry and so is my full-time job. Also, since my internship was remote, that experience is helping me with my full-time job as well."