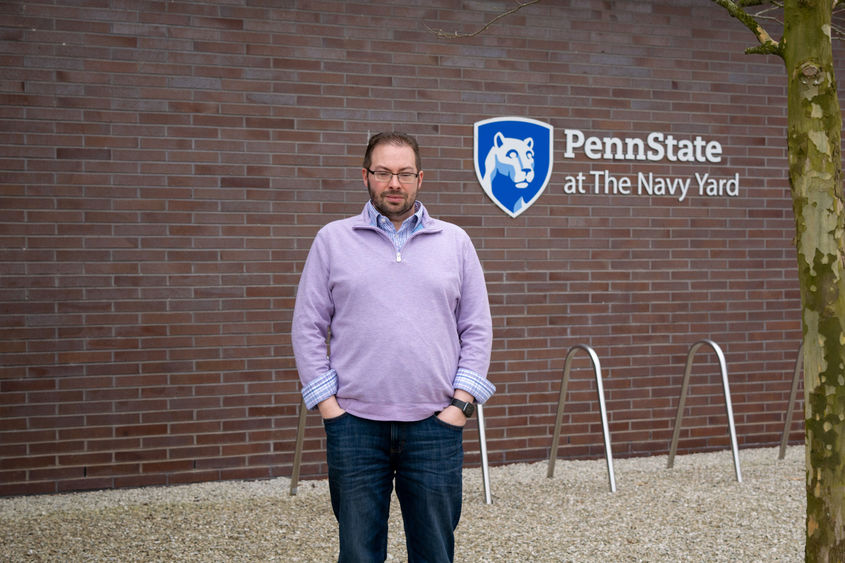 PHILADELPHIA — Saying Todd Krout is familiar with the professional development programs at Penn State at the Navy Yard would be an understatement. In less than five years, he's completed three certificate programs and spoken at numerous lunch-and-learn events promoting the certificate programs he's completed.
Krout first began working at the Navy Yard in 2012 as a contractor. In 2015, he became a full-time government employee at NAVSEA, where he helps track of vital materials for Navy ships to ensure everything is accounted for.
Not long after joining NAVSEA full-time, Krout received a company-wide email promoting Penn State at the Navy Yard's four-course project management certificate. At the suggestion of a co-worker, Krout decided to enroll in the program.
The project management certificate is designed to prepare students for careers in the planning and business fields. Classmates progress through the courses together, working on a simulated project in smaller teams for the duration. The classes cover all aspects of managing a project, including planning, cost management, and risk assessment, which helped Krout better organize himself at work.
The program was also helpful in Krout's personal life, specifically with a barrage of home renovations he's been undergoing since 2016.
"Parts of [the program] I can use, like risk assessment, budgeting, costing, all of that," Krout said. "I might not use all four stages at one time, but I'm using a piece here, a piece there. It works at home and also at work."
After finishing the project management certificate, Krout decided to enroll in the leadership development program. While he didn't know of any co-workers who had taken it, he was sure it would be useful and enjoyable, given the positive experience he had with project management.
At the start of the leadership development program, students take the Myers-Briggs Type Indicator test, which categorizes people into 16 personality types. Learning about and how to work with the other 15 personality types was indispensable for Krout, especially given the nature of his job.
"To learn how to work with somebody and look at it through their eyes is a great eye opener for what I do," Krout said. "I deal with engineers, I deal with blue-collar folks, so I deal with a gamut. … I've got to explain [something] to someone who's super smart this way, but they don't get this; and then I've got to explain it someone who's smart another way, but don't get that."
As with the project management program, the leadership development classes also helped Krout in his personal life. With one young son and another on the way, Krout said he felt it was important to hone his leadership skills so he could pass down ideas to his children.
Krout also took the supply chain management certificate program, which tied in with his work and the concepts he learned in the other programs.
"Supply chain is teaching you how to look down the whole line, so you're not just focusing on your own little world," Krout said "Like, 'Hey, maybe I can help this out, which might help four steps down the line.' Again, it seems like everything always ties in."
Krout hasn't enrolled in a fourth certificate program, but he does speak at the informational lunch-and-learn events that are held by Penn State at the Navy Yard, sharing his experiences with potential students. Director of Professional Programs Ed Weckerly estimates that Krout is responsible for at least 10 or 15 people enrolling in professional development programs.
Despite juggling multiple commitments throughout all of the programs, Krout was able to maintain a work-life balance, make connections in multiple industries, and apply what he learned at work and home.
"I recommend the programs for everybody," Krout said. "The project management one and leadership one should be required, I would say, because it does help a lot of things you do."