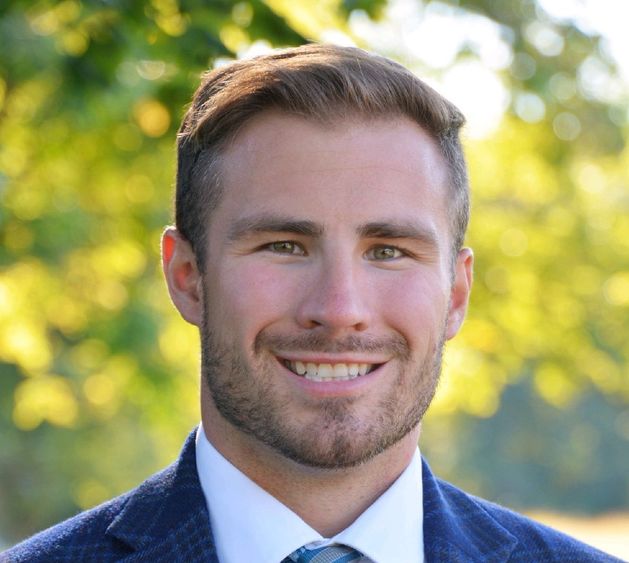 MALVERN, Pa. — Penn State Great Valley's lean six sigma certificate program first caught Chris Bradley's eye a little over two years ago. He looked into similar programs at other Philadelphia-area universities, but Great Valley's program was the best fit — and as an added bonus, Bradley has some deep connections to Penn State. He finished his undergraduate degree at University Park in 2015; one of his uncles, Michael J. Bradley Jr., has served on Penn State Brandywine's advisory board for three decades; and numerous family members have also graduated from Penn State.
But about six weeks into the lean six sigma program, COVID-19 hit. Juggling the pandemic, the shift to virtual classes, and buying a house was too overwhelming, so Chris Bradley opted to put classes on hold.
Since life has settled down a bit, Bradley has jumped back into the program. While perusing the Great Valley website, he came across the leadership development certificate program. When he realized that the father-son duo of Marc and Kyle Hanlan, who teach in the lean six sigma program, also taught in the leadership program, Bradley decided to pursue that certificate, too.
"I always want to keep building and learning, so I saw the leadership development class and was like, 'Wow, this actually sounds pretty great,'" Bradley said. "I kind of knew what I was in store for with Kyle and Marc and really enjoyed the lean six sigma class and really was like, 'This would be great to have as another certification.'"
Balancing two classes a week with a full-time job can be tough at times, but it fits Bradley's description of himself as someone who "can't sit still" and loves learning new things. He plays a few guitar gigs every month, manages those logistics, helps raise money for the bars where he plays, so keeping busy certainly isn't anything new.
If his schedule weren't packed enough already, Bradley also began a new job as a solutions consultant at RST Solutions Inc. at the beginning of March — while still enrolled in his lean six sigma and leadership development classes at Great Valley, of course. Even though it's still early in his tenure with RST Solutions, Bradley can already tell the certificate programs are having an impact.
"It's drastically assisted me in a lot of different contexts," Bradley said. "A lot of what we're working on in lean six sigma is the demand of understanding, defining what we're looking for, how you measure it, how you implement it. … That was the one thing that [my boss] was like, 'Great, you're going through this certification that's literally our discovery process when we work with companies of understanding all of those moving pieces of how their ecosystems work.'"
Because he works with dozens of clients, Bradley is in contact with plenty of vice presidents and directors looking to grow and sharpen their skills. Given the overwhelmingly positive experiences he's had at Great Valley, Bradley lets his clients know about the programs, their real-world applications, and the instructors' expertise as often as possible.
Not surprisingly, Bradley is big on networking, and the lean sig sigma and leadership development programs offer ample opportunities to do so. He especially appreciates collaborating with people from a variety of industries to work through high-level issues in the scope of the courses.
Bradley will be wrapping up both certificates soon, but that doesn't mean he's done with Penn State Great Valley's professional development programs. He (understandably) plans to take a break for a bit before diving back into a new program to continue expanding his knowledge.
"I'm always big on furthering education and getting certifications because that's what companies look for," Bradley said. "Kyle and Marc are absolutely tremendous at what they do and the fact that they cultivate an environment where people are capable of collaborating at working, I think that's really cool."