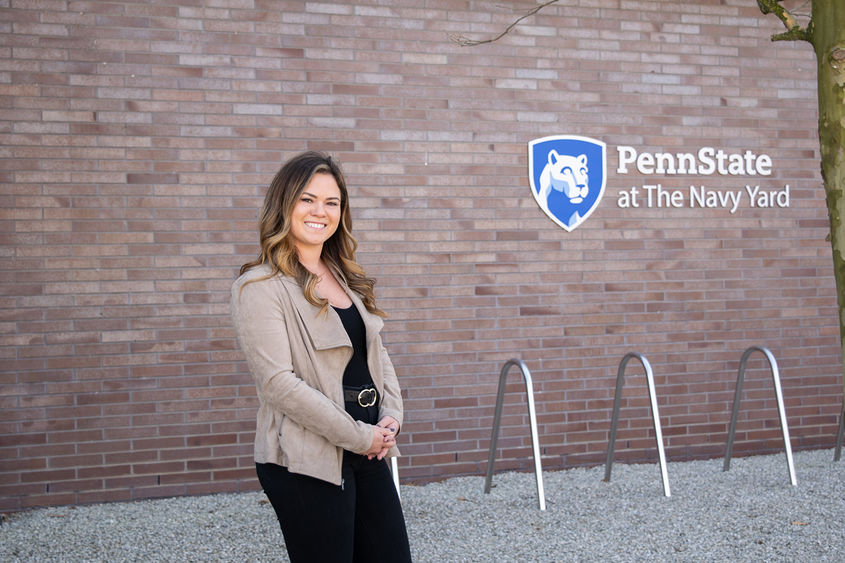 When Alexis Doherty applied for an associate project manager role at WuXi AppTec, she didn't have any professional project management experience. She had completed Penn State at the Navy Yard's project management certificate program a few months prior, and the experience she gained through the program helped her secure the promotion.
Doherty's career with WuXi — a global pharmaceutical, biopharmaceutical, and medical device company — began in 2017. After earning her bachelor's degree in microbiology, immunology, and molecular genetics at UCLA, she moved back to her hometown of Wilmington, Delaware. She knew she wanted to work in a science-related field, but decided medical school wasn't the right choice. Doherty began working as a manufacturing associate at WuXi, but eventually decided she wanted her career to head in a different direction.
"January of 2019 was kind of when I realized manufacturing wasn't my passion or what I wanted to continue doing," Doherty said. "You can be in a lab for long hours in a day, in the 'Monsters, Inc.'-type hazmat suits. Manufacturing is very rewarding work, but it just wasn't me. I finally realized, 'Okay, you need to start widening your horizons and see what else you want to do.'"
Her team had a project manager, so Doherty began sitting in on core team meetings to better understand how project managers communicate and handle different situations. It didn't take long for her to realize project management was something she could be good at.
The timing was perfect — WuXi's project management office was becoming more robust, with plans to add additional roles within the next year. With that in mind, Doherty began shadowing the office's director, who suggested she enroll in the project management certificate program.
Although she was still in manufacturing at the time, Doherty was able to apply key concepts from the course, like communications and time management, to her professional and personal life. Many of her classmates also weren't working directly in project management, but would share how they were applying the knowledge to their roles.
That was one of Doherty's favorite parts of the program — everyone's different professional experiences played a role in the program. Class discussions often focused on how concepts pertained to students' jobs, which also reinforced the ease of maintaining a healthy work-life balance.
"[The program] is eight months long, but it's only once a week," Doherty said. "Months go by in the blink of an eye, and weeks go by quickly. You're done one course and you don't even know that you started… Every week builds on itself, so it's not like you're starting from something else."
As a young professional, establishing credibility and knowledge are important to Doherty. After completing the program in August 2019, she began mentioning her project management certificate when introducing herself.
When WuXi posted the associate project manager position in November 2019, she jumped at the opportunity. She was ready to take the next step in her career.
"I definitely do not think I would have gotten my job without this certification," Doherty said. "When I went into the interviews, they asked, 'Since you don't have any actual project management experience, why do you feel you can do this job?' … I could use the experience I learned in class and say, 'I know it's not an actual project, but it is still going through all of the motions.'"
As soon as she started transitioning to her new associate project manager role, Doherty received a project and was able to apply tools she learned in the courses. WuXi's project management tools training program has helped her further refine her skills.
Looking ahead, Doherty plans to take the Certified Associate in Project Management exam (CAPM) later this year and eventually take the Project Management Professional (PMP) Exam to earn her PMP credential.
Doherty has established a clear career path, thanks to her project management certificate and the connections she made in the programs.
"Three out of my four instructors were women," Doherty said. "As much as they would talk about everything we learned in class, they would talk a lot about their personal experience and jobs. It was cool to see how they said they started from ground zero and eventually worked their way up, just the same as anyone else could do."