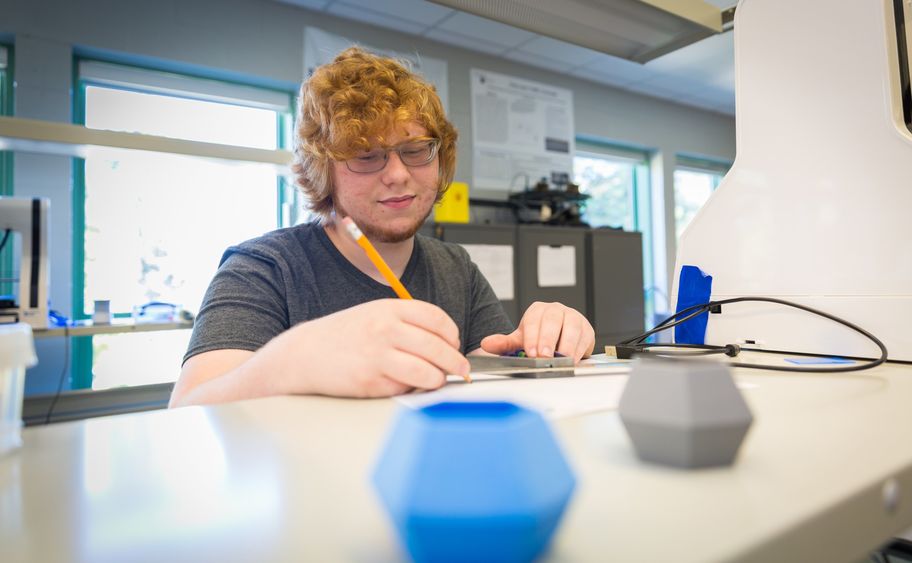 MEDIA, Pa. — Joshua Beauchamp's lifelong passion for robotics introduced him to Penn State Brandywine. Today, as a Brandywine student, he is introducing grade-school students to the world of robotics.
In fifth grade, Beauchamp became involved in an organization — For Inspiration & Recognition of Science and Technology (FIRST) — that introduces K-12 students around the world to science and technology in a hands-on, competitive setting.
"It starts with Junior First Lego League," said Beauchamp, "which is for K-3. They build models with at least one moving part while researching a real-world issue — and the model must somehow address that issue. By the time you get to the upper levels, you build robots that you can drive and you compete against other people to complete tasks with them."
During his time in FIRST, Beauchamp's team was assisted by several Brandywine engineering students who volunteered with FIRST as mentors. Last year, at a FIRST event hosted at Penn State Great Valley, Beauchamp heard about Penn State's general engineering degree.
Penn State developed the general engineering degree with the multidisciplinary engineering design option in response to the evolving needs of companies. The first two years of the program focus on foundational engineering coursework and are completed at Penn State Brandywine or Penn State Abington. The next two years of advanced engineering coursework are completed at the engineering facilities at Penn State Great Valley, where students study engineering design with an emphasis on robotics applications.
Kathryn Jablokow, professor of engineering design and mechanical engineering at Penn State Great Valley, spoke to the FIRST students about the importance of obtaining a multidisciplinary engineering degree.
"It sounded like the program I was looking for," said Beauchamp, who began his general engineering degree in fall 2017.
Since becoming a student at Brandywine, Beauchamp has quickly put his sense of curiosity and initiative to work in the classroom.
"I've already participated in the PaSSS Program and worked as a lab assistant for an engineering professor since coming here," he said. "So far, I've had a great experience. FIRST gave me a great background in basic engineering. Now I'm learning about things like understanding consumer needs, which are parts of engineering you don't always learn in competition."
Beauchamp's original passion — FIRST — has also come full-circle. Today, he is a mentor for a local FIRST team, sharing his own years of knowledge with young STEM enthusiasts.
"I'm applying what I learned starting in fifth grade," he said. "I hope to lead the way and get more Brandywine students involved with FIRST as a whole."