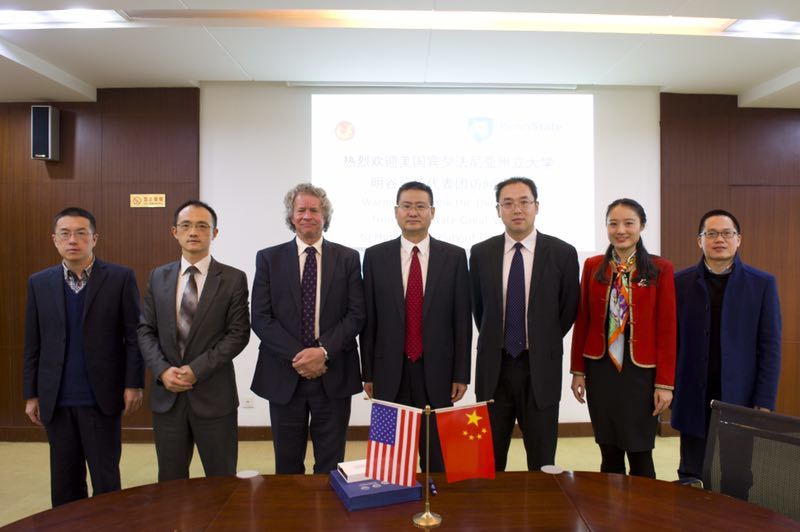 MALVERN, Pa. — As a result of efforts begun two years ago, Penn State Great Valley recently signed an agreement with Chinese business schools to engage students in the campus' Master of Finance program.
In 2016, Great Valley administrators and faculty met with Chester County Economic Development Council (CCEDC) members to discuss potential collaborations in business and education as part of the Chester County China initiative. The plan also includes an expansion of a Kennett Square-based mushroom facility in Shanghai and student exchange programs with Lincoln University.
This December, James Nemes, chancellor and chief academic officer of Penn State Great Valley, and Patrick Qiang, associate professor of operations and management and professor-in-charge for the finance program, spent 11 days in China to visit five different universities in three different cities.
Using Qiang's professional contacts as well as referrals from CCEDC, the two met with university officials, faculty and students to build relationships and discuss future opportunities. Two of the universities — Hubei University of Economics in Wuhan and Xi'an University of Finance and Economics in Xi'an — signed an memorandum of understanding with Penn State Great Valley to join forces on research and continue students' education at the graduate level.
"This was a great opportunity for us to speak with representatives from these institutions and tell them about the programs we offer and look for ways that we might collaborate, including hosting visiting faculty," said Nemes.
While there, Qiang and Nemes hosted the first-ever Master of Finance reunion for graduates living in China, some of whom travelled from as far as Beijing and Shanghai to attend. Most currently hold positions in corporate finance or private equity investment offices.
Qiang has already received Master of Finance applications from students at the universities, and he expects to receive more in the next two years.
"It was wonderful to receive such a warm and formal reception from the universities," said Qiang. "They are very interested in collaborating with Penn State Great Valley, and I look forward to fostering these relationships in years to come. We hope to make this an annual visit."