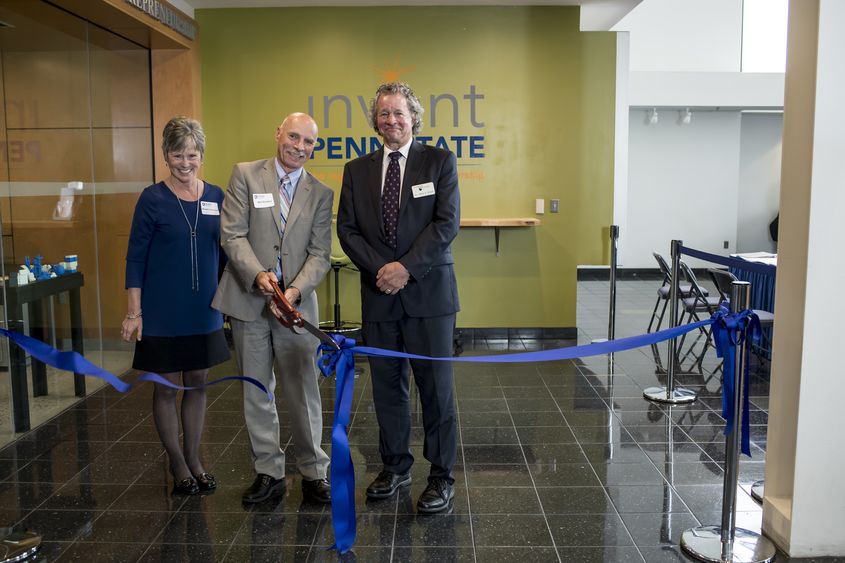 MALVERN, Pa. — The Penn State Great Valley community celebrated its REV-UP Center for Entrepreneurship on Monday, May 22, at a ribbon-cutting ceremony with Neil Sharkey, vice president for research at Penn State, Marybeth DiVincenzo, senior vice president and chief marketing officer of the Chester County Economic Development Council, and local dignitaries.
Standing for Regional Entrepreneurial Ventures through University Programs, REV-UP aims to engage and encourage Penn State students, faculty and community members to generate innovative, commercially-viable solutions to address existing and emerging business and social needs, and to support their entrepreneurial efforts as they serve the Philadelphia region. The program will work closely with the Chester County Economic Development Council, its key corporate affiliate.
The center was created last May thanks to a $50,000 seed grant from Invent Penn State, a Commonwealth-wide initiative that blends entrepreneurship-focused academic programs; business startup training and incubation; funding; and key regional partnerships together for the benefit of Pennsylvania and beyond.
"Invent Penn State is President Barron's initiative focused on leveraging Penn State's research, knowledge and entrepreneurial spirit to bring to market needed ideas, products and services," said James Nemes, chancellor and chief academic officer of Penn State Great Valley. "REV-UP is now one of 12 Innovation Hubs established across the Commonwealth and we're honored to have been selected as one of them."
Since its inception, REV-UP has helped launch a graduate certificate in new ventures and entrepreneurship; award the Warren V. Musser Fellowship in Entrepreneurial Studies to support a full-time graduate student interested in launching a business; hired an entrepreneur-in-residence to provide guidance to emerging entrepreneurs; and hosted an inaugural student-pitch day for scholars to share their ideas with faculty and area professionals.
"The establishment of the REV-UP Center for Entrepreneurship allows us not only to provide a world class graduate education, but also to become a crucial partner to further the economic development of our region in ways we never have been able to do before," added Nemes.
In addition to a welcome from Nemes, Monday's event included remarks from Sharkey and DiVencenzo. Dennis Wozniak, engineering lab manager, provided guests with tours of the campus' innovation center and makerspace, which includes state-of-the-art 3-D printers, machining centers, a laser engraver and other shop tools.
This fall, REV-UP will hold its first-ever Lion Cage where area entrepreneurs will pitch their business ideas for cash prizes.
More information on the REV-UP Center for Entrepreneurship can be found at greatvalley.psu.edu/revup.