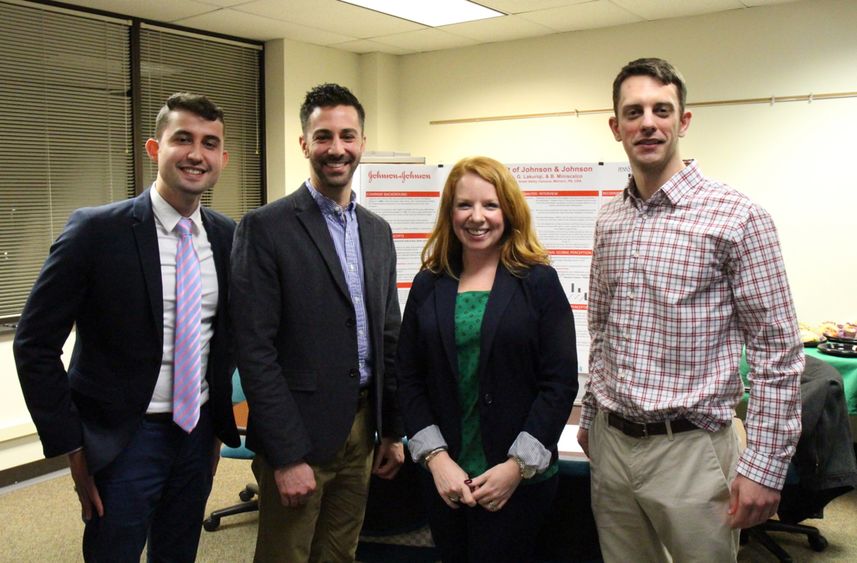 MALVERN, Pa. — Master of Business Administration (MBA), leadership development, and engineering students recently audited area companies including Johnson and Johnson, Vanguard, and the Bank of New York Mellon as part of a positive organizational behavior and well-being class at Penn State Great Valley.
Led by John J. Sosik, professor of management and organization, the course examines the "human sustainability" factor in companies. Students are assigned to groups where they assess the employee well-being, engagement, positive psychology practices, and retention in businesses through interviews with leadership teams and managers, online Glassdoor reports, company documents, and employee satisfaction surveys from a company.
The course culminates in a miniature conference, where student groups present their findings to the public. "The event mimics an academic conference," Sosik said. "It's an opportunity for students to take what they've learned in class, witness it in the real world, and creatively share their results with others. They learn how to become consultants in helping organizations to flourish."
A panel of judges — including several alumni from the Master of Leadership Development (MLD) program — participated in the event, conversing with students on their projects and asking thoughtful questions.
This year's judges included:
State Representative Francis X. Ryan of Pennsylvania's 101st Congressional District
Kurt Linneman, owner of Crocodile Catering and Have Perfect People, LLC.
Neil Bryant, vice president, sales development, U.S. & Canada, at Carestream Health
Vicki Ferguson, senior training professional at Aon Affinity
MBA student Kaushik Krishnaswamy Kumar was in the group that studied Vanguard. For someone accustomed to studying traditional business models and financial theories, the course brought social, psychological and non-financial concepts and theories to life.
"I initially thought something like employee engagement would be hard to assess," said Kumar. "But this course showed me it can be measured and significantly contribute to the overall performance of an organization. Many companies conduct financial and compliance audits, but they often overlook the importance of positive organizational behavior. Seeing the science behind these concepts changed my opinion."
Ahmed Mohammed, MLD student, was also in the group that studied Vanguard.
"The challenge for our team was acquiring the data," said Mohammed. "We had a great group and we managed to find creative solutions for our audit process. For example, we tapped into Glassdoor — a highly underrated resource. The employees' comments online were insightful. Once we had that data and conducted interviews with management teams, the audit process became more interesting."
After reading employee surveys and online reviews, their team — composed of students with a variety of strengths and enrolled in different academic programs — noticed a discrepancy in outlooks between managers and employees. Together, they strategized improvements to Vanguard's culture, including a more robust mentoring program. Each member shared a different component with the judges.
"The mini-conference's structure taught me how to think on my feet," said Kumar. "By being asked questions in lieu of a formal presentation, I think I learned more. We tried to anticipate questions that the judges would ask us, but there were some surprises too."
For judge and MLD alumnus Neil Bryant, the benefit of the mini-conference was two-fold. Not only did it serve as a way to connect with and engage students, but he also learned from the students' observations.
"What I have truly enjoyed about my ongoing relationship with the graduate studies programs is the continual marriage of corporate and academic advancement," said Bryant. "The students were prepared, well-schooled and articulate in methods and findings from their audits, and I learned new methodologies and approaches that I can employ in my work setting to make a better workplace for our people. Similarly, I believe the students were able to hear about how their learning can be applied in a real-life setting, and my sense was that they found great value in this perspective as well."
Kumar, the MBA student, commented that Sosik's course influenced his approach to the job search. As a full-time student who will soon navigate his career path, Kumar noted that work culture will be an important factor in choosing a position. "It's also impacted how I will be in the workforce," he added. "I plan to apply what I've learned to keep my future employees happy and motivated in their jobs."
The experience has changed how Mohammed views the corporate world, too. "Both the course and the mini-conference provided us with a deeper understanding of the challenges that companies and employees face today," he said. "The future of every company depends on the well-being of employees — an important aspect of organizational behavior, taken too lightly by business leaders today. It is vital to an organization's success for leadership teams to maintain a positive growth mindset."
Bryant agrees with both Mohammed and Kumar. As a former student, the graduate courses in leadership development were pivotal in his work. "Not a week goes by without me realizing how instrumental my MLD degree has become in my career. In fact, it became the foundation of my current position, and fuels my actions to further develop our leaders and people. I have employed the models, strategies, tools, tactics and perspectives that I learned during my MLD studies every day since I completed the program in 2010."
Sosik designed this class five years ago, and teaches it yearly. "This has been my favorite course to develop and teach," he said. "It encourages students to learn how to leverage their character strengths, better appreciate what the world has to offer, and become their best possible self."