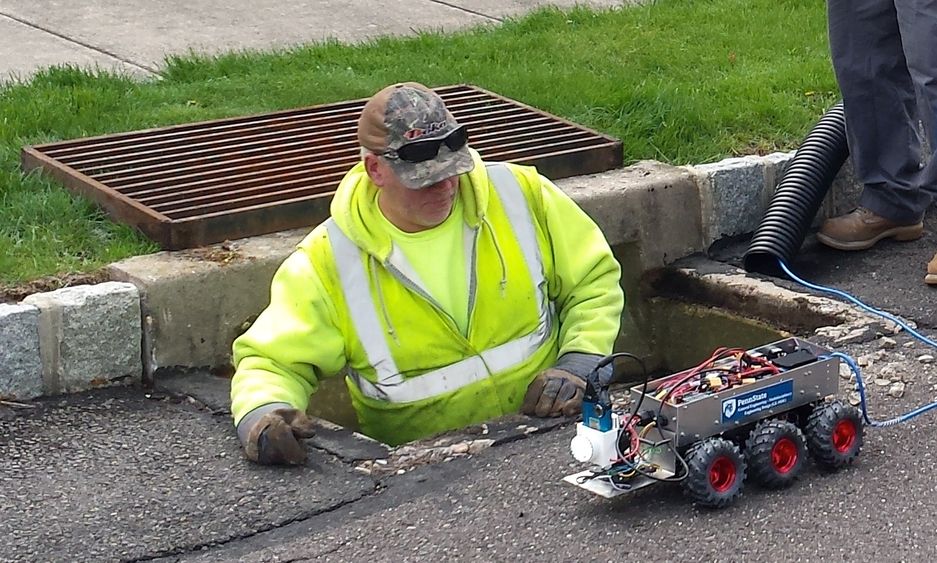 Charged with maintaining critical infrastructure in Horsham Township, Pennsylvania, Public Works Director Dennis Haggerty wanted a cost-effective and flexible option to examine stormwater pipes to help prevent flooding and erosion.
"We hired outside contractors in the past, but it's expensive," he said. "We borrowed a camera, but it wasn't ideal."
He realized that a custom video inspection robot wouldn't just wash up in his office, so when he learned Penn State Abington students earn degrees from the Penn State College of Engineering, he contacted a faculty member with a proposal.
"I thought this could be good for everyone. We form a partnership with Abington students who get to test their skills in real-life situations, and we get the video robot," Haggerty said.
Bob Avanzato, associate professor of engineering, called Stormbot perfect for his senior robot design course in the general engineering multidisciplinary engineering design (MDE) option.
Haggerty provided them with data, videos, images and samples of piping material. The students kept in close contact with their client as they developed a robot to meet the township's requirements — just as they will once they graduate.
Haggerty's requirements included: 
The robot's camera must pan and tilt, returning high-definition video and still images.
A console to allow the user to operate the robot and maneuver the camera from above ground.
Workers must be able to review the video transmission live as they search for compromises and obstructions in pipes.
An emergency cable in case it needs to be removed by hand.
"It was exciting for the students to see concepts from classes come together," Avanzato said.
Finally, it was time for the field test. Haggerty and township workers released the robot into two residential storm pipes while Avanzato and senior Charles Liggett guided them, ready to troubleshoot.
As expected, Stormbot steered clear of debris and maneuvered around obstacles including bricks and a toy rocket, while LED lighting supported the video quality and highlighted areas workers wanted to explore further.
"The results were very positive, and the Horsham people were very pleased with the results," Avanzato said. "In each case, the robot moved between 100 and 150 feet within the pipe."
Several weeks later, Avanzato and his students sat in the audience while Haggerty presented the near-final version of the robot to the Horsham Township Council.
"The quality is high for post-processing the video and analyzing snapshots," Haggerty told council members, who supported the results and the partnership with Abington.
In the end, Haggerty said he was glad he didn't follow his first impulse — attaching a GoPro to his son's remote control car and letting it loose in the pipes.
"The Penn State students built something amazing. The results are valuable and useful, and so is the relationship." he said.
Earn a Penn State engineering degree in the Philadelphia region
The multidisciplinary engineering design (MDE) option of the Penn State general engineering degree is delivered by a consortium composed of Penn State Abington, Penn State Brandywine, and Penn State Great Valley. Students graduate with a bachelor of science degree from the Penn State College of Engineering.
The $2.5 million engineering facility where students take their final two years of coursework is located at the Great Valley campus, about 30 miles from Abington. Shuttle service from Abington to Great Valley is available.
The general engineering program is accredited by ABET (Accreditation Board for Engineering and Technology).