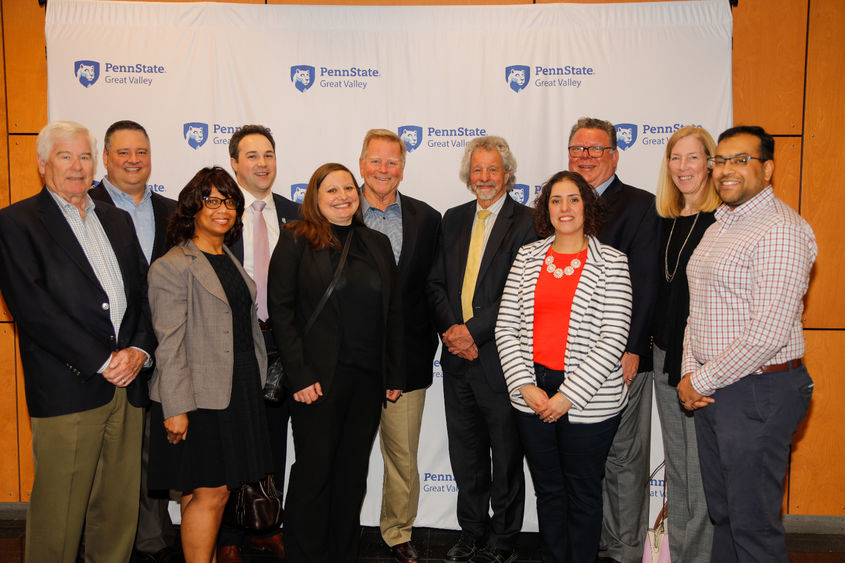 The Penn State Great Valley School of Graduate and Professional Studies held a LaunchBox Showcase on April 5 to highlight opportunities for student and community entrepreneurs at the Great Valley LaunchBox powered by Penn State.
At the event, campus officials announced the creation of the James A. Nemes Endowment for the Great Valley LaunchBox in honor of the campus' chancellor, who is retiring in July. Gifts to this endowment pledged by April 30 will be matched by University funds.
Penn State President Eric J. Barron spoke at the event, along with Chancellor Nemes and other Penn State and community leaders.
The Great Valley LaunchBox helps early-stage entrepreneurs develop their ideas into successful businesses through a collaborative community of peers, mentorship, and professional resources. It is one of 21 LaunchBoxes and Innovation Hubs created across Pennsylvania as part of Invent Penn State, a commonwealth-wide initiative focused on economic development that has been a signature effort of Barron's tenure as President. Barron, who is himself retiring in May, spoke of the Great Valley LaunchBox as part of this broader effort.
"I'm very proud of what has occurred with Invent Penn State," he said. "It started in 2015, and the partnerships we have developed along the way have been truly outstanding. Our early supporters clearly saw the value of economic development, the value of promoting student success, the value of having our students think about Penn State and Pennsylvania as being the place that they would create their companies. None of us at the beginning had any idea just how far we would come in a short period of time, and that we would be here today showcasing the innovations fostered by the Great Valley LaunchBox."
The Great Valley LaunchBox offers programming and resources that include business planning, accounting and legal professional services, guidance on market development and financing, mentorship opportunities, and a student entrepreneurs' peer-support group.
Several startup events are held throughout the year, providing students and community members with experience developing and pitching their business ideas and the opportunity to compete for startup funding or professional services. The LaunchBox also produces a range of original video content, including brief videos featuring successful entrepreneurs and full-length presentations and workshops.
Attendees at the event toured the LaunchBox's physical facilities on the Great Valley campus, which include no-cost coworking space and a maker space housing 3D printers and other equipment and software for prototyping and testing of new products.
The Great Valley LaunchBox collaborates closely with LaunchBoxes at other Penn State campuses — including Brandywine, Abington, Berks, and Harrisburg — and the Chester County Economic Development Council (CCEDC), which offers more advanced entrepreneurship programming.
The Innovation and Entrepreneurship Committee of the Penn State Great Valley Advisory Board helps to foster industry and community partnerships with the LaunchBox. Innovation and Entrepreneurship Committee chair and Great Valley advisory board member Cerise James, who works in medical affairs, spoke of the LaunchBox's impact.
"We're fortunate to have a vibrant entrepreneurial ecosystem here in the greater Philadelphia region, and the Great Valley LaunchBox is an important part of that," James said. "It helps aspiring entrepreneurs take the first steps toward turning their ideas into viable business ventures, and it connects them to other resources in the region that can help them move further on that journey. Ultimately, this is leading to exciting new products and services as well as new jobs for our communities. So it's about helping these entrepreneurs realize their dreams, and the LaunchBox also has great potential to strengthen our region's economy."
Philanthropy is playing an important role in providing financial resources to maintain and expand LaunchBox programming. A highlight of Tuesday's event was the announcement of the new endowment, in honor of outgoing Penn State Great Valley Chancellor James A. Nemes, which has been funded through gifts from active and emeritus members of the Great Valley Advisory Board. This endowment will provide permanent, flexible support for the LaunchBox.
"It was such an honor to hear that an endowment in support of the Great Valley LaunchBox had been created in my name," Nemes said. "I've been an enthusiastic supporter of Invent Penn State since its inception, but to be able to leave this legacy was beyond my wildest expectations. I look forward to hearing all of the great works that the LaunchBox will undoubtedly accomplish going forward."
Nemes began his time at Penn State Great Valley as the head of the engineering division in 2007. He was named interim chancellor in January 2015 and chancellor and chief academic officer a year later. Within the past five years alone, Nemes has overseen the establishment of the REV-UP Center for Entrepreneurship, initiated a partnership with nearby Immaculata University to establish a pipeline of graduate students, overseen the $1.9 million renovation to create the Knowledge Commons, and established a $50,000 educational equity scholarship.
Gifts to support the James A. Nemes Endowment for the Great Valley LaunchBox can be made at raise.psu.edu/NemesLaunchBoxEndowment. Those received by April 30 will activate a one-to-one match from University funds. To learn more about this or other giving opportunities in support of the LaunchBox, contact Erica McLeod at [email protected]. For other information about the LaunchBox, contact Leo Daiuto at [email protected].
These gifts will advance "A Greater Penn State for 21st Century Excellence," a focused campaign that seeks to elevate Penn State's position as a leading public university in a world defined by rapid change and global connections. With the support of alumni and friends, "A Greater Penn State" seeks to fulfill the three key imperatives of a 21st century public university: keeping the doors to higher education open to hardworking students regardless of financial well-being; creating transformative experiences that go beyond the classroom; and impacting the world by serving communities and fueling discovery, innovation and entrepreneurship. To learn more about "A Greater Penn State for 21st Century Excellence," visit greaterpennstate.psu.edu.