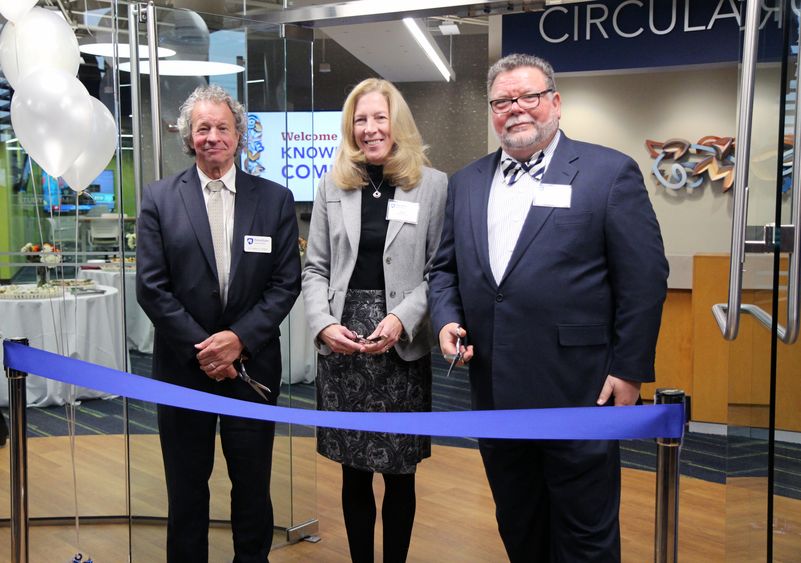 MALVERN, Pa. — Penn State Great Valley just completed a $1.9 million renovation to the Main Building's ground floor to create a Knowledge Commons, a shared learning space that fosters collaboration among students, faculty and staff.
Once a library that housed rows of bookshelves and catalogued tools, the 9,000-square-foot area is now home to a vibrant place where eating, drinking and talking is encouraged. In addition to the library's circulation desk and limited onsite collection, there are group study rooms, a micro-market, a 3D printing lab, a One Button Studio, a media editing room, a gaming room, and a fitness studio. The writing center and instructional design office also relocated to the space.
Designed with today's student in mind, the Knowledge Commons features high-end, comfortable furniture. Study areas have height-adjustable tables and chairs and monitors with screen-mirroring functionality that can project from any device — even a mobile phone. Many rooms have glass walls, giving the space an open, modern feel.
"We wanted to create a destination for students to work and play in a stimulating environment," said Maria Zuccato, director of finance and business for the campus. "By adding a fitness studio and the KC Café micro market, the Knowledge Commons also supports our strategic goal to foster a healthier campus."
The gaming room features an 85-inch TV and both video and board games. And because Penn State is part of the Big Ten library system, books from all over the country can be requested online and delivered to the campus within a couple of days.
The project was years in the making. After former Advisory Board Chair Joe Henry visited the Tombros and McWhirter Knowledge Commons in University Park's Pattee Library, he felt inspired and advocated for a similar space at Great Valley. After several years of lobbying — and as the campus' full-time student population continued to grow — the dream became a reality.
Over the course of two years, shelves were systematically disassembled. Books were catalogued and returned to University Park or recycled. Construction began this summer and was completed by fall, a relatively short time considering the scope of the project.
The Knowledge Commons officially opened on Nov. 15 following a ribbon-cutting by James Nemes, chancellor and chief academic officer, with Mary Massung, chair of the Advisory Board, and Henry, the former chair and current campaign committee chair. Faculty, staff, students and special guests enjoyed light fare and tours.
"I was blown away," said Henry. "When I went to Penn State in the '70s, research was done by sitting in 'the stacks' at Pattee Library, using the card catalogue to look up periodicals, taking notes on index cards, and, finally, typing a term paper on a manual typewriter. But the Knowledge Commons, it's a facility that was clearly needed for the 21st century student."
"We had a vision," added Zuccato. "We talked to librarians at University Park to learn more about the Knowledge Commons at Pattee Library, and we modeled ours after it. At times it was challenging — the design has few right angles — but we're very proud of the result and the immediate use by our students. They could not believe that all this functionality fit in our former library."
For Henry, the space was well worth the wait.
"For a campus dedicated to educating managers and senior managers in business and industry, this facility will replicate the environment for learning, collaboration and creativity used by the 'real world' every day," said Henry. "Penn State Great Valley students will benefit for years to come."
Nemes agreed, saying that the space will propel the campus forward while honoring a tradition of innovation.
"Penn State Great Valley has always been known for our ability to develop cutting-edge academic programs and engage the community," said Nemes. "I'm very pleased to see that now our facilities will keep that pace. The Knowledge Commons will truly transform our campus."
Billie Walker, the campus' head librarian, has already received positive feedback from the students.
"When students see the Knowledge Commons, they comment, 'Wow, this is nice!' and "What a great place to study," he said. "I'm looking forward to seeing how nonlibrary facilities and services can increase the use of the space."
Located on the ground floor of the Main Building, Penn State Great Valley's Knowledge Commons is open during regular campus hours. While the circulation desk, KC Café micro-market, and study and lounge areas are available to the public, certain spaces (including the fitness studio) are only for faculty, staff and student use.
Naming opportunities are available. For more information, contact Erica McLeod, director of campus development, at [email protected].