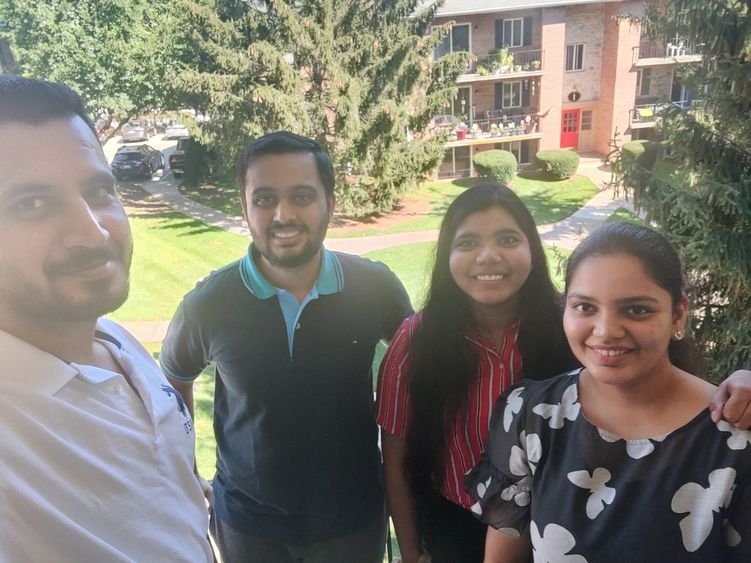 MALVERN, Pa. — One of the best ways for Penn State Great Valley students to hone the skills learned in class is through real-world application. For data analytics students Geethika Marru, Soundarya Mantha, Manish Ranjan and Rohit Muralitharan, the recent iLink Digital Hackathon allowed them to do just that. In their first hackathon, the group came in second place while learning valuable new skills.
The hackathon took place virtually over three days, from Sept. 3 to 5. Prior to beginning their work, the students reached out to Raghu Sangwan, associate professor of software engineering and director of the campus' Big Data Lab, for guidance.
At that point, the students were new not only to hackathons, but also to Great Valley — the event took place after their second week of classes. Sangwan guided the students on what to expect from the hackathon, how to approach it, and what outcome would be expected. The day before the event began, the group received multiple problem statements to choose from.
"There were different problem statements given which were related to IoT and app development, so there were multiple options given to us," Mantha said. "This one (we chose) specifically was AI-related and we thought our experiences and our background and the (data analytics) program would fit into this particular problem statement working on computer vision and AI."
Part of what stood out to the students about the iLink Digital Hackathon was the focus on solving real-world problems. The problem statement Mantha, Marru, Muralitharan and Ranjan selected exemplified that: "Crowd and queue counting using computer vision." Using multiple angles from videos and images, the students had to develop a prototype to identify the size of the line; handle and account for any discrepancies, like pets or a line that wasn't straight; and flag any instances of social distancing not being maintained.
As the use of video analytics continues to grow in many industries, the group knew taking on the problem statement would be beneficial in their future careers. And while participating in their first hackathon posed a new challenge, they expressed that they wanted to take that even further.
"We all have experience in data analytics and data science, but we don't really have any experience working with video or images," Marru said. "This was our first experience working on videos and images."
Once they had decided on the problem statement, the students had to find related image and video data and determine how to approach the technical aspects of the problem.
Great Valley's IT department set up a virtual machine so the students could run neural networks on their data. Unfortunately for the team, they ran into technical issues that prevented them from working on the prototype for most of Saturday. With the IT department's help, though, the group was able to get back into the virtual machine that night and create a prototype that impressed the judges enough to earn the team second place and the $2,000 prize that came along with it.
Despite having only attended a few sessions of their classes, the students found that methods and tools they learned in their course helped them work on their prototype. Now that the team has more experience with hackathons and in the classroom, they plan to continue to look for other hackathons to further hone their skills.
"We got the support we wanted," Muralitharan said. "The college did provide us … even more than what we asked for. It made our requirements easy."