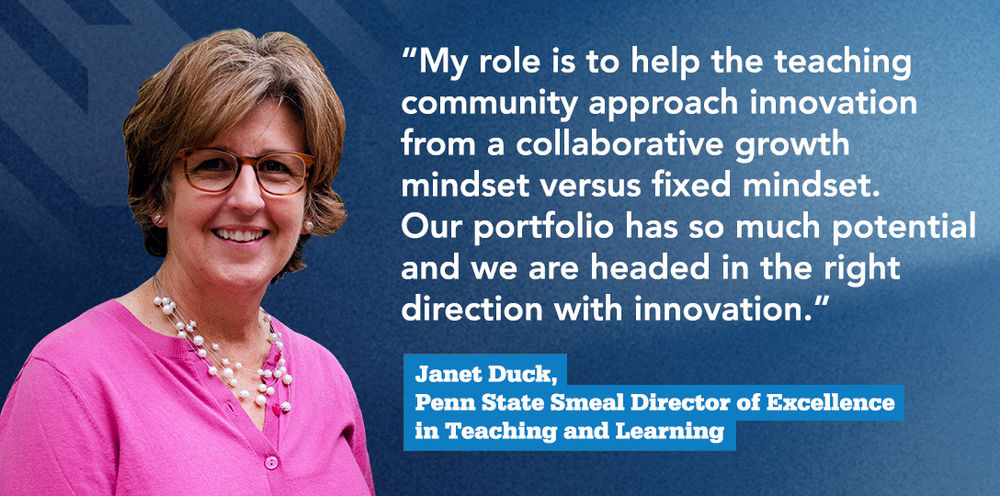 UNIVERSITY PARK, Pa. —The Penn State Smeal College of Business has named Janet Duck as its director of excellence in teaching and learning, a newly formed role to benefit Smeal's fast-growing portfolio of professional graduate programs.
Duck, who has more than 15 years of industry experience with change management expertise in domestic and international markets, will work collaboratively across the University to support the professional graduate teaching and learning community at Smeal through innovative pedagogy, research and development, and data-driven design.
"This new role demonstrates Smeal's commitment to excellence in teaching and learning," said Brian Cameron, associate dean for professional graduate programs at Smeal. "Janet has successfully piloted several program innovations in the Penn State Online MBA and will be adapting many of these innovations for use in the overall professional graduate programs portfolio in the future."
Duck, a clinical professor of management and organization and current faculty director of the Penn State Online MBA program, earned her doctoral degree in workforce development from Penn State and her MBA from Lebanon Valley College while she was still working. She has taught courses in the Penn State Online MBA, iMBA, and has been part of the graduate-level faculty at Penn State Harrisburg and Penn State Great Valley.
"After I received my Ph.D. and got into academia, I followed the evolutionary role of a faculty member from resident face-to-face to hybrid teaching to online teaching," Duck said. "I've taught in the online space for 17 years now, and I've learned so much throughout this time. I am honored to lend my expertise to guiding our mission at Smeal."
Duck said she believes that her personal experience as a faculty member and a working student has given her the unique ability to connect students, faculty and program leads across disciplines.
"I resonate with these students because I've sat in their chair, and I've juggled everything that they've had to juggle," she said. "I can tell you who these professional students are before they even walk into residency — they are motivated, risk takers, and they understand that it's never a question of 'can we do it?' but 'how can we do it?'"
In support of innovative teaching and learning, Duck has three main objectives: facilitate a portfolio-wide integration of best practices as it relates to professional graduate education; facilitate academic excellence by providing University knowledge and peer-to-peer mentoring around the professional graduate education space; and continue to develop and implement the Creative Team Model, comprising of lead faculty, teaching support specialists, and learning design.
In addition, Duck will spearhead a unique data-driven design approach to course innovation across the professional graduate education portfolio using learning analytics. According to Duck, many Universities focus on institutional analytics such as demographics, overall student GPA, entrance exam scores, etc. However, less attention is given to understanding student behavior in the classroom and how these analytics can help to shape course innovation related to student outcomes, engagement and group performance.
"We feel confident that data collection and assessment of student behavior in our classrooms will help to guide our creative teams as they work to innovate teaching and learning through an intelligent and deliberate data-driven design process. This approach to innovation will be one of our key differentiators at Smeal," Duck said.
"My role is to help the teaching community approach innovation from a collaborative growth mindset vs. a fixed mindset. Our portfolio has so much potential and we are headed in the right direction with innovation."
Duck was awarded the Outstanding Online MBA Faculty award in 2007-2009 and 2011-2015. She also served as the team adviser for the iMBA program where she facilitated team development for all iMBA teams.
Duck teaches courses in organizational change management, leadership communications, organizational behavior, and corporate culture. Her research and teaching goals focus on improved team development in online settings through collaborative teaching models and integrated technology. Her work in online teaching has been highlighted in The New York Times and Delta Sky Magazine.
About Penn State Smeal Professional Graduate Programs
Penn State Smeal offers a growing portfolio of professional graduate programs that include one- and two-year residential offerings, a twice-monthly Executive MBA in Philadelphia, and an extensive collection of online master's and graduate certificates spanning a variety of specialty areas. Many of the programs are stackable and connect to one another, meaning a student may start with an online graduate certificate, and when they're ready, apply those courses to one of Smeal's master's programs, or stack two master's programs that share credits. For more information on professional graduate programs at Smeal, visit www.smeal.psu.edu/pgp.