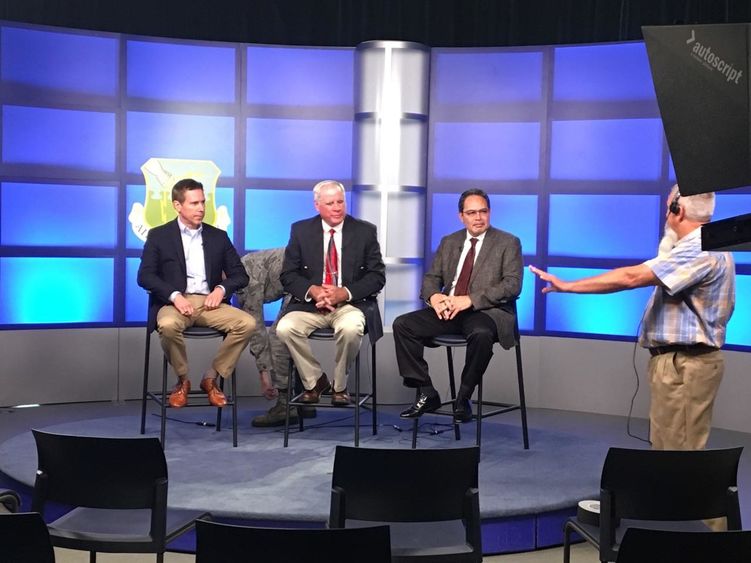 MALVERN, Pa. — When John J. Sosik, professor of management and organization at Penn State Great Valley, published his book "Full Range Leadership Development: Pathways for People, Profit and Planet" in 2010, he had no idea it would spark a unique friendship that resulted in new research opportunities and speaking engagements.
Within a year of the book's release, Fil Arenas, an associate professor with the United States Air Force's Air Command and Staff College of Air University, began incorporating it into his leadership courses. Five years later, Arenas traveled from Maxwell Air Force Base in Montgomery, Alabama to attend the release and signing event of the second edition of Sosik's book "Leading with Character: Stories of Valor and Virtue and the Principles They Teach" in Malvern.
That was the start to a working relationship between the two. Arenas suggested to Sosik that they collaborate to study character aspects of Air Force captains. With the help of former Great Valley colleague Jae Uk Chun, associate professor of management at Korea University, and Ziya Ete, a research assistant now pursuing doctoral studies at Durham University in the United Kingdom, Sosik collected data from 2,000 airmen. As a result of this military-university collaboration, Sosik used this information to evaluate how commanding officers are perceived by their subordinates, and what contributes to high performance outcomes and psychological wellbeing of the officers and their subordinates.
Now on sabbatical, Sosik was invited by Arenas to speak with USAF and allied airmen and conduct follow-up research at Maxwell Air Force Base. Just before Hurricane Irma hit the United States, Sosik departed Philadelphia for Montgomery. Staying on base, he experienced life as an airman — the reveille at 6 a.m., the national anthem 5 p.m., and taps at 9 p.m.
To celebrate Character Day on Sept. 13, Sosik participated in a panel discussion alongside Arenas and Andrew Stricker, another professor at Air University, broadcast on the base's TV station. The event included a welcome from Lt. Gen. Steven Kwast, the commander and president of Air University, followed by a conversation on character development and leadership strengths. Later that day, Sosik spoke to 300 USAF and international airmen undergoing leadership training.
The trip culminated in a presentation to 600 USAF and Allied majors, where Sosik explored the theories and research behind "Leading with Character." Afterward, he met with representatives from different colleges within Air University and conducted interviews for his study on character perception and ethical leadership. Sosik plans on including this research in his forthcoming second edition of "Full Range Leadership Development" and other academic articles.
While working with the Air Force might seem very different from Sosik's students at Penn State Great Valley, he draws parallels between the two audiences.
"There are more similarities between airmen and my students than differences," Sosik noted. "We focus on many of the same things: leading effectively and ethically, motivating others, continuous improvement processes, and developing high-performing teams. These are universal concepts, but the Air Force applies them to more extreme and high-stakes situations. After all, the USAF's mission to fly, fight and win in air, space and cyberspace is placed in their hands by the American people, who they are accountable to for the global defense of our civilization."
For Sosik, the benefits of the trip to Alabama were two-fold. Not only did the event allow him to train airmen and further his research, but it also gave him the opportunity to reflect on influential leaders in history. Sosik toured downtown Montgomery, visiting the Rosa Parks Museum, the church where Martin Luther King Jr. preached, and a mural depicting life in Montgomery in the late 1800s. Both Parks and King are examined in "Leading with Character," bringing even more personal meaning to Sosik's trip.
"My visit to Maxwell Air Force Base was extremely rewarding and inspiring," Sosik said. "I have a deep appreciation for Air Force culture. The airmen personify the notion of ethical leadership that we study and teach at Penn State. They have a high level of respect for one another, and are committed to challenging each other and continuously improving. I am thankful to Dr. Arenas for the opportunity to travel and further my research."