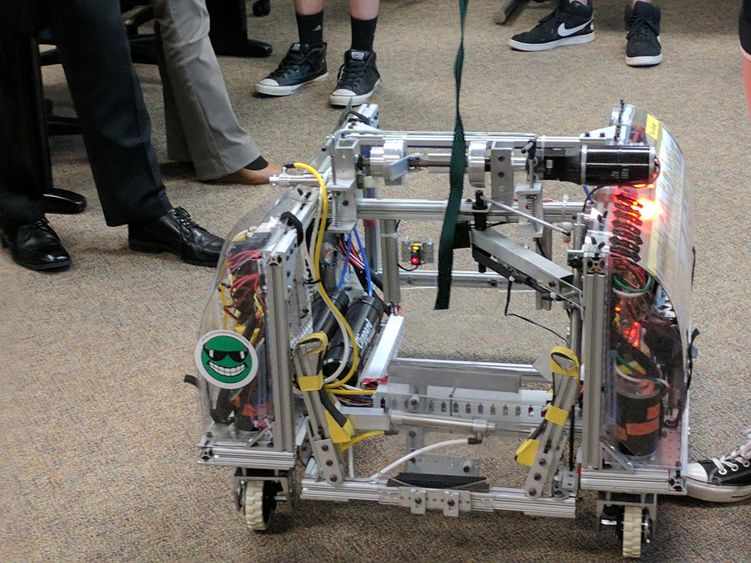 MALVERN, Pa. — On Tuesday, June 20, a robot arrived at Penn State Great Valley. While it didn't stroll in of its own accord, it made it to Great Valley in a much more impressive way: It was built by high school students on the Lansdale Catholic robotics team, the CyberCrusaders.
Professor Bill Viereck invited the high schoolers to showcase their robot to MBA students in his Management of Information Systems course. Team members demonstrated their work by running the robot through a series of tasks that highlighted its abilities. They also explained the process of building and programming the robot — a challenging task completed with little adult supervision.
"The graduate students snapped more pictures on their smart phones than I ever expected," said Viereck. "Several of them took the controls of the robot to complete a task. This gave the students time to experience robots in-person rather than from textbooks or articles."
Lansdale Catholic's robotics team offers students hands-on experience with robots and artificial intelligence before entering college or the workforce. A student who starts the program as a freshman will have the opportunity to work on eight robots prior to graduation, as well as observe and learn from others at local and national competitions.
The CyberCrusaders competed at the FIRST Mid-Atlantic Championship at Lehigh University, where they advanced to the finals. The team also won the Regional Chairman's award — the most esteemed accolade at the competition. In March they won the District Chairman's Award at the Westtown School competition in Pennsylvania and the Creativity Award at the Seneca High School event in New Jersey. In addition to participating in competitions, they have also hosted 45 junior high LEGO Robotics teams from around the Delaware Valley region.
"I look forward to inviting them out again when I instruct the class again," said Viereck. "Major kudos to the team and their moderators. I thank them for coming out and wish they have very successful academic and professional careers."