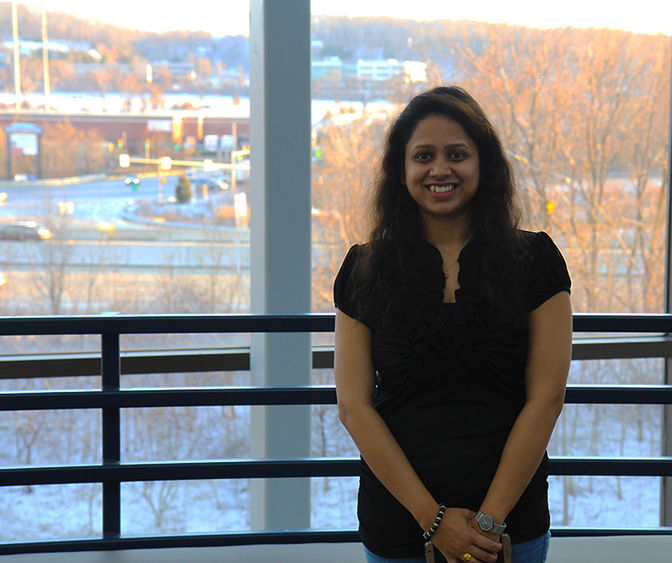 MALVERN, Pa. — Shortly after graduation in December, former master of information science student Meghana Basetty received three job offers for her Optional Practical Training (OPT). As an international student on an F-1 visa, OPT allows Basetty to receive 12 months employment in the United States; having multiple job opportunities was very fortunate. In late February, she will start her job at Clarivate Analytics (formerly Thomson Reuters) as a Salesforce developer.
While Basetty holds a bachelor's degree in information science, she sought an advanced degree in order to stay abreast of current and changing technologies. She started the Master of Information Science program at Penn State Great Valley in August 2015.
"I was impressed with the curriculum," said Basetty. "Information science is an emerging field, and Penn State Great Valley's courses focused on the latest technology. The courses were not stagnant; they were updated with new information as things changed and progressed."
Among Basetty's favorite courses was Data Visualization, where students learned Tableau software and created graphs and storyboards for a project of their choice. As a full-time international student from India, she appreciated being surrounded by local professionals in the classroom.
"In addition to building my awareness of current technologies, I also learned important soft skills," she remarked. "The program improved my presentation and public speaking abilities. I feel more confident now."
In addition to the Master of Information Science program, Basetty was able to participate in professional development courses and workshops including agile business analysis.
As graduation approached, Basetty turned her attention toward her career. She attended job fairs at University Park, and met with Great Valley's career counselor to review her resume, discuss salary expectations, and examine the area's current job market. She utilized the Nittany Lion Career Network for job openings and received a letter of recommendation from a faculty member. Basetty was offered positions from three different companies, with each job interacting with technology in a different way.
"Recruiters want you to know a little bit of everything," said Basetty. "I feel like my courses prepared me for this. I acquired different skills and understandings of a variety of technologies, applications, and software. I'm grateful to the Enrollment and Student Services team for helping me navigate my job search."
This past December, Basetty traveled to University Park with her husband to attend the winter commencement ceremony. She graduated alongside 10 other Great Valley students and friends. She was even able to share the experience with her family — back in India, her parents and in-laws were able to watch the live-streamed event.
At Clarivate Analytics, Basetty will assist with a recent move to a new Salesforce platform. She will implement new features, assist with upgrades, and provide support to customers. As the organization itself is in a time of transition from Thomson Reuters, Basetty is excited to join the newly established team and develop her own role and responsibilities. She hopes to eventually take on a managerial role within the company.