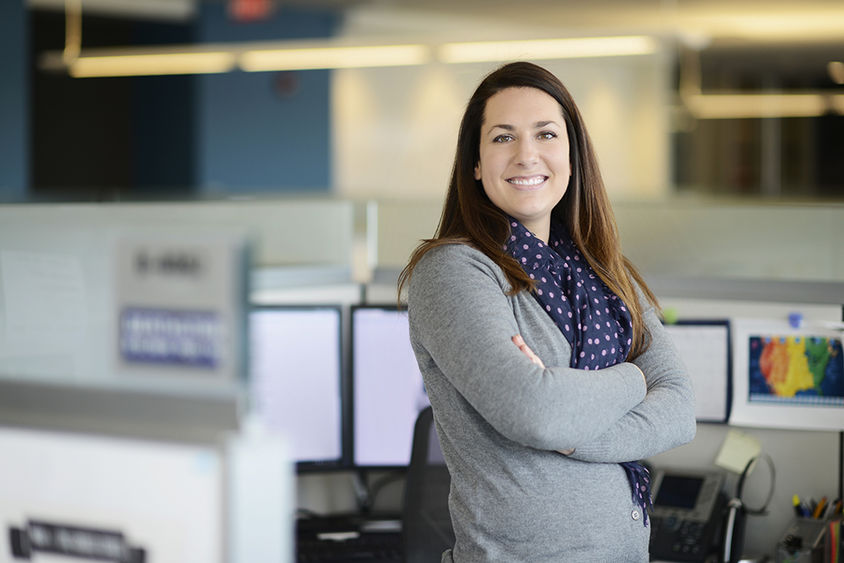 MALVERN, Pa. — In the summer of 2015, Frontline Education Implementation Consultant Laura Materi was assigned to be a member of a new project team. Having no formal project management experience, Materi turned to her manager — a certified Project Management Professional (PMP) — for advice. Her supervisor received a project management certificate from Penn State Great Valley, and after showing her the campus' website, Materi herself decided to enroll.
Great Valley's project management certificate is a series of four courses designed to prepare students for careers in the planning and business fields. It runs as a lock-step cohort, where classmates progress through the courses together. Starting with the first course and continuing through the duration of the program, Materi worked on a simulated project with a team, applying project management practices such as initiation, planning and scheduling, cost management, and risk management, to a real-world scenario. Her peers in the program worked in a variety of industries including technology, pharmaceuticals and construction.
"Our cohort was diverse, which allowed me to glean from other professionals who had experience in areas that weren't necessarily part of my role, like budgeting, costing, and risk management," said Materi. "Learning about these things — and hearing their real-life applications from my classmates — provided me with a good exposure to these concepts."
After earning the certificate, Materi and several members of her cohort decided to enroll in Great Valley's PMP exam preparation course, taught by Adam Selverian. Often considered the gold standard of project management certifications, the PMP is a highly-regarded and globally-recognized credential.
"When I started the certificate program, I wasn't sure if I wanted to sit for the PMP exam," said Materi. "However, after finishing the four courses, I felt confident and motivated to work toward the credential."
In tandem with completing the certificate program, Materi joined a new team at Frontline Education. Tasked with onboarding and integrating a new product, she worked toward the required 4,500 hours of project leadership necessary for the exam.
She passed the exam on her first try.
This past November, Materi was promoted to organizational readiness project manager — something she largely attributes to receiving the PMP credential.
"I wasn't sure where this program would take me when I enrolled," she said. "I learned so much from my instructors and classmates at Penn State Great Valley. The PMP credential — combined with my experiences at work and in the certificate program — bolstered my eligibility for promotion."
Frontline Education is one of the campus' Corporate Alliance Partners, meaning employees are eligible for a tuition discount on Great Valley graduate and professional development courses. A few members on Materi's team recently enrolled in this spring's project management cohort. She plans to serve as a mentor for them as they progress through the program.
"I'm excited for my colleagues to learn more and share my understanding of project management," said Materi. "Our company is growing quickly, and it's beneficial for us to have some formalization and standardization. I look forward to watching them succeed in the program."