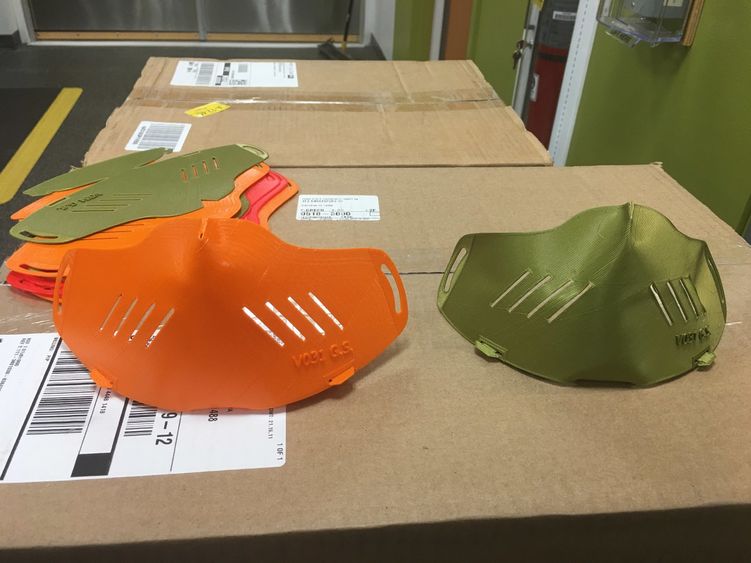 As hospitals across the United States face a shortage of N95 masks during the COVID-19 crisis, Penn State Great Valley engineering lab manager Dennis Wozniak is helping to address these needs by producing mask shields in the campus' Innovation Center.
An N95 mask is usually worn once and disposed, but the shortage has forced medical professionals to reuse the masks, jeopardizing their health. In early March, Virginia couple Amy and Jeremy Filko began 3D printing shields with the potential that someone could use these with masks. The Filkos made the files for the mask shields publicly available so anyone interested could help refine the design and produce shields for hospitals in need.
Wozniak's daughter-in-law is a nurse anesthetist at Chester County Hospital, which was in dire need of mask shields; when she and Wozniak's son approached him about using Penn State Great Valley's Innovation Center to produce the mask shields, he jumped at the chance.
"The mother of my grandchildren risks her health to help everyone day in and day out, so if I can help to protect her and other mothers and dads who work to help many people, it's kind of a no brainer," Wozniak said. "If it helps keep my daughter-in-law and her co-workers safe, I am happy to do it."
After receiving approval from Chancellor and Chief Academic Officer James Nemes, Wozniak returned to campus towards the end of March to begin producing the mask shields. After each is printed, it's cleaned with bleach and water before being sent to the hospital to be sanitized, heated and formed to fit whomever will wear it.
Since he first produced the mask shields, Wozniak has updated the design, based on feedback from Chester County Hospital and modifications released by others who are producing the shields.
"Newer versions of these mask shields have been released by many people who are willing to take their time to help battle this virus and help the people in the medical field who are always there for all of us," Wozniak said. "It's amazing to see people like Amy and Jeremy Filko willing to make their designs of personal protective equipment available to anyone to manufacture and help the people in the medical and emergency fields all over this country. I am honored to be able to help wherever I can."
"We Are" stories
The "We Are" spirit is perhaps more important than ever before, and Penn Staters everywhere are coming together in new and amazing ways. During these challenging times, our community is continuing to realize Penn State's commitment to excellence through acts of collaboration, thoughtfulness and kindness. As President Eric Barron has written on Digging Deeper, this truly is a "We Are" moment — and we want to hear your "We Are" stories.
Visit news.psu.edu/WeAre to share how you or other Penn Staters are supporting each other to overcome the collective challenges presented by novel coronavirus. We are!