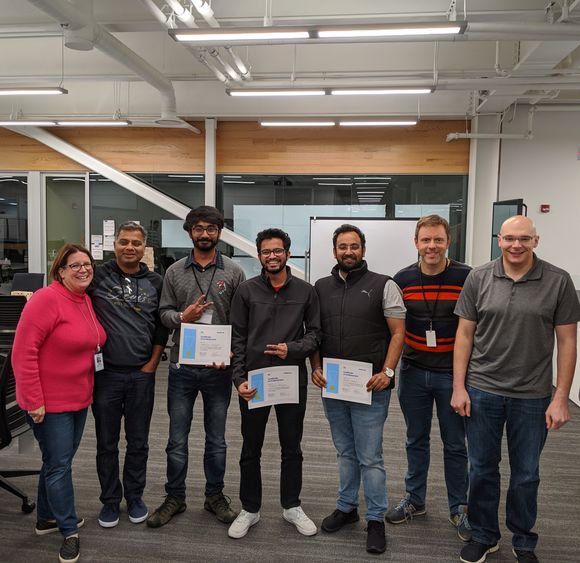 MALVERN, Pa. — Penn State Great Valley students Harsh Anand, Atharva Mungee and Rahul Sharma wanted to learn more about solving sales forecasting problems when they decided to attend the Wawa HCL Hackathon in October. Participating in their first hackathon in the United States, the three data analytics graduate students won first place.
"Our approach was to learn the business and focus on using the right tools to model the given scenarios," Mungee said. "It wasn't about winning. Winning was one of the byproducts."
With more than 130 participants at the hackathon, including competitors with decades of data analytics experience and students from Ivy League universities, Anand, Mungee and Sharma were excited for the challenge and learning more about solving sales-forecasting problems.
Participants were given a dataset with multiple years of sales information from Wawa convenience stores in Maryland. Using that information, external sources, and any generally available information from Wawa, the participants had to forecast future sales.
Anand, Mungee and Sharma spent the first hour of the eight-hour event brainstorming ideas and planning how to tackle the task.
"Initially, we thought, 'How do we approach this problem given the limited time?'" Sharma said. "During our brainstorming session, we came up with three kinds of models we wanted to build, starting with multi-regression models."
The backbone of the regression model came from what they learned in their first class at Penn State Great Valley. It was also the first time they applied their technical knowledge to a real-life problem.
The group also developed deep learning and machine learning models, and, based on those and the multi-regression model, they were able to predict sales with 90 to 93 percent accuracy.
"If you know mathematics, if you know statistics, that is something that can lead you a long way," Anand said.
Throughout the event, Anand, Mungee and Sharma gave presentations on their progress and received feedback from the judges. Using that feedback, the group could continuously adjust their approach to ensure they were solving the problem properly.
"We proposed how they can improve going forward," Anand said. "We proposed a hybrid approach, assembling all of these three models together to model the solution for better performance."
They were thrilled when they found out they had won first place. There was only one word, they said, to describe that feeling: Amazing.
Ecstatic about their success, Anand, Mungee and Sharma said they also were grateful for the entirety of the experience. Applying their classroom knowledge to an industry problem was rewarding, they said, especially since the three were combining their different learning experiences.
They plan on continuing to compete in hackathons, and have their sights set on a few upcoming competitions in Boston. Going forward, the group said they also intend to continue their work in sales forecasting and hope they can provide help and insight to others.
"If someone is having the same problem with a forecasting approach, they can always contact us," Anand said. "Even if it's industry, they can reach out to us."