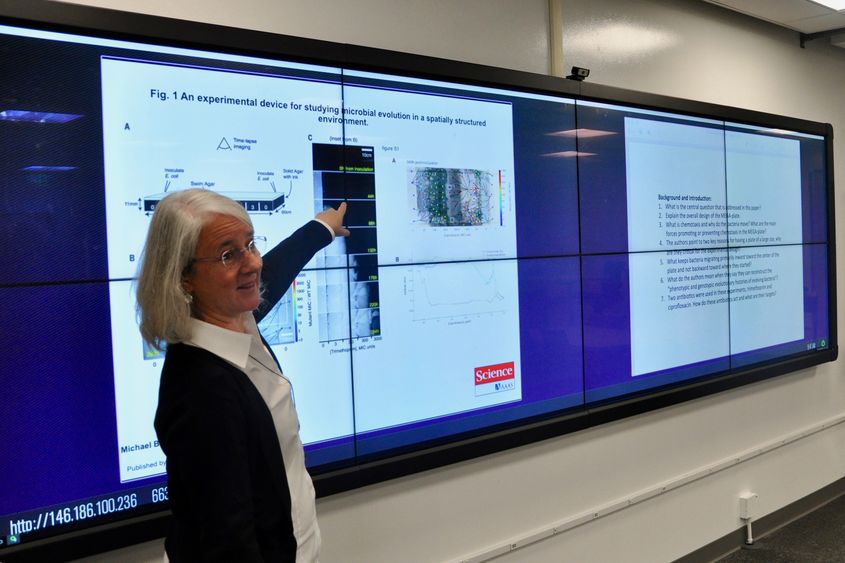 UNIVERSITY PARK, Pa. — Imagine sharing course content with your students on a classroom's main display via your mobile device or laptop, without being tethered to a podium. Then, imagine your students using personal devices to share their work on that same screen for open discussion.
Solstice, a wireless projection client powered by Mersive, a visual computing software provider, makes this sort of collaborative classroom possible at Penn State. Faculty and students share and control content on the main room display using a wi-fi connection from any laptop or mobile device, saving precious classroom time previously needed to change out wired connections. It is currently deployed by Teaching and Learning with Technology (TLT) at the University Park campus and the Great Valley campus, with new locations becoming available.
Solstice provides multiple options for sharing classroom content. Faculty and students can share a laptop's entire desktop, or a tablet's single application window. It also enables the display of multiple windows or files from multiple devices side-by-side on a single screen. In addition, Solstice is device agnostic, so it works with Windows, Apple and iOS and Android mobile devices.
Sarah Ades, associate professor in the department of biochemistry and molecular biology, said Solstice has encouraged greater classroom discussion. "For example, I can put up a figure or image from a journal article in one window and questions for students to discuss in another window in the same main classroom display screen," Ades said. "In a regular classroom, I would have to figure out a way to put everything on one Powerpoint slide, which doesn't always work."
Ades also said Solstice helps her manage and organize classroom time, such as being able to quickly access a number of student presentations for in-class review. "When we have students prepare short presentations on topics, we can have the students load them on the display, put them in a 'dock' area in Solstice, and easily pull out the presentations as needed," she said.
Another Solstice benefit is that it allows faculty to control the main room display while roaming the classroom. "It automatically opens up options for the instructor because you're not tied to the podium anymore," Dave Test, manager of TLT's Technology Enhanced Learning Spaces, said. "While it can be used with a laptop, it can also be used with a mobile device like a tablet, so when using Solstice you can be out and about, more directly engaging the students."
Test said some Penn State classrooms have the added benefit of multiple Solstice "pods," which are smaller versions, around the size of an Apple TV. This is especially useful for student group work, because they can share content in the Solstice pods. If an instructor walks past and sees something interesting that the group is working on, the instructor can then put it on the main classroom display to share with the entire class.
"While Solstice is considered wireless display software, faculty users view it as much more than that," Jennifer Sparrow, senior director of TLT, said. "It gives faculty and students many options for collaboration that weren't there before, so they see it more as a tool to encourage student engagement and in-class participation."
How to get started
Faculty can get more information about how Solstice can enhance teaching on the Solstice at Penn State website. For additional assistance, please contact the Technology Enhanced Learning Spaces group at [email protected].