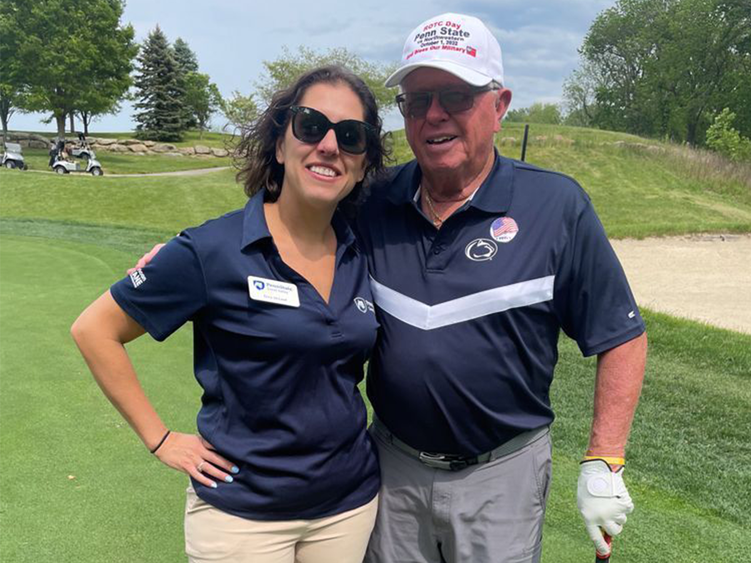 MALVERN, Pa. — Penn State Great Valley hosted its 11th annual golf outing at Applecross Country Club in Downingtown on May 16. The event exceeded its goal and raised $32,000 to support Great Valley student scholarships.
The event was presented by Di and Dallas Krapf, longtime supporters of the campus who are passionate about the impact scholarships have on Great Valley students.
"I think a lot of the students at Great Valley are in dire need of aid. The golf outing was just a great day for a great cause," Dallas Krapf said. "Financial support can make a great difference to graduate students, many of whom are already carrying significant debt from their undergraduate education or have families depending upon them."
Susan Robinson Fruchtl, former Penn State women's basketball star and current director of major gifts for Penn State Athletics, and Char Morett Curtiss, Penn State's longtime — and recently retired — field hockey head coach, headlined the event as the keynote speakers.
"This year, we had two great speakers in Char and Susan," Krapf said. "They speak from the heart, and they're diehard Penn Staters."
A variety of other local businesses also supported the outing, including NSM Insurance Brokers, Bender, Reading Bakery Systems, CTDI, American Crane & Equipment Corporation, AmeriHealth Administrators, Patriot and RWR Insurance.
The 12th annual golf outing will be held in May 2024. Check the golf outing website for additional information as it becomes available. Gifts to support the Advisory Board and Friends of Penn State Great Valley Part-Time Graduate Scholarship at Penn State Great Valley are welcomed year-round.
With the record-breaking success of "A Greater Penn State for 21st Century Excellence," which raised $2.2 billion from 2016 to 2022, philanthropy is helping to sustain the University's tradition of education, research and service to communities across the commonwealth and around the globe. Scholarships enable our institution to open doors and welcome students from every background, support for transformative experiences allows our students and faculty to fulfill their vast potential for leadership, and gifts toward discovery and excellence help us to serve and impact the world we share. To learn more about the impact of giving and the continuing need for support, visit raise.psu.edu.