New labs provide access to upper level College of Engineering courses in Philadelphia region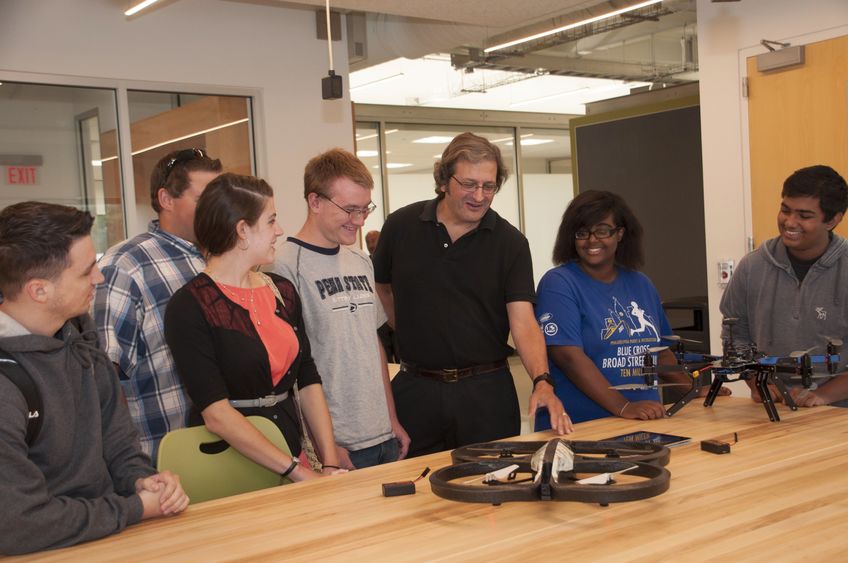 Filmon Ogbaselase and Cara Fiala are solving real-world challenges in an engineering suite outfitted with the advanced professional software and equipment -- and they haven't even earned their degrees yet.
The two Penn State Abington students are on track to be among the first to graduate from one of the nation's top schools in the profession, the Penn State College of Engineering, while living in the Philadelphia area. The option became a reality with the recent opening of the University's regional engineering suite at Great Valley in Chester County.
Students like Filmon and Cara major in the multidisciplinary engineering design option and take their first two years of foundational courses with an emphasis on robotics at Abington. Then they spend their final semesters immersed in advanced applications at the multimillion-dollar engineering suite. The plan is also available to students who register for the first two years at Penn State Brandywine.
The same product lifecycle management software used worldwide across multiple industries is integrated into the curriculum. The technology is available thanks to an in-kind grant from longtime Penn State partner Siemens.
The students have access to top-tier circuits and robotics labs as well as a fabrication and design facility. Laser engravers, 3-D printers, machining centers and other shop tools are available.
Filmon and Cara said College of Engineering's rigorous curriculum combined with the location were key factors in choosing the program. Filmon, who already earned a degree in food science, said he drives to Great Valley from his home in Philadelphia while other students use the Abington shuttle.
Cara said the coursework is exciting and is preparing her to pursue her dream of working in the defense industry.
"It couldn't be any better," she said. "The faculty are amazing and so are the labs."
The multidisciplinary engineering design option of the Penn State general engineering degree is delivered by a consortium composed of Penn State Abington, Penn State Brandywine and the School of Graduate Professional Studies at the Great Valley campus.
To learn more, go to http://www.abington.psu.edu/engineering.