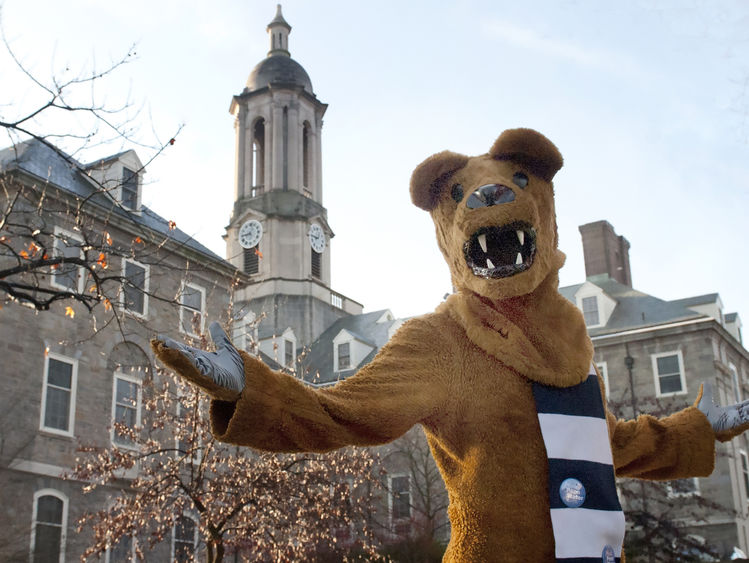 As part of our regular "We Are!" feature, we recognize thirteen Penn Staters who have gone above and beyond what's asked of them in their work at the University. Do you know someone who deserves a shout-out? If you do, consider taking a minute to nominate that person by filling out a short online form.
This week, we'd like say thank you on behalf of the entire University community to:
Ashley Schools, staff member at Penn State Harrisburg, whose nominator wrote: "You can not find a more kind person than Ashley. While doing a job of three, she keeps her cool assuring our students accomplish their goals. She is an inspiration leading the We cAre food pantry during a time of great need and while managing the above she still finds time to help her colleagues."
Kathleen Ruggiero, staff member at Penn State Harrisburg, whose nominator wrote: "Our assistant financial officer is the best! In a time of SIMBA she has made herself available to talk things through and has worked to make the transition and processes easier on all. This has not been an easy transition and know I am grateful to have her at our campus. We appreciate you!"
Ebonie Cunningham Stringer, faculty member at Penn State Berks, whose nominator wrote: "Dr. Cunningham Stringer goes above and beyond for her students to make sure they exceed their full potential. She always checks in with us and relates with admirable transparency. She believes in her students and never fails to provide us with countless opportunities."
Alice Puzarowski, staff member Penn State Behrend, whose nominator wrote: "Alice consistently goes above and beyond in for the Black School of Business and Behrend. Alice listens to student concerns and provides them support beyond what is expected of her. Even when it isn't her responsibility, Alice jumps in to help. WE ARE lucky to have Alice at Behrend."
Kristen Gincott, staff member at Penn State Behrend, whose nominator wrote: "Kristen works tirelessly to make the semester schedules for in the School of Humanities and Social Sciences. Through this year of challenges, she stepped up to the plate and done more than expected of her. WE ARE happy to have Kristen on our team for scheduling."
Nathan Carter, staff member at Penn State Behrend, whose nominator wrote: "We Are lucky to work alongside Nate, especially when it comes to semester scheduling. Even in a remote environment, Nate is a team player and provides help for others outside his school. Nate is a true Penn Stater and an excellent representation of Behrend."
Emily Artello, staff member at Penn State Behrend, whose nominator wrote: "Emily, a former Penn State student, is an incredible academic adviser. She is remarkably knowledgeable and helps support and guide students through challenges, especially during the pandemic. She consistently goes above and beyond. We are lucky to have her!"
Clark Tieman, staff member at Penn State Behrend, whose nominator wrote: "Clark has been hosting activities across a variety of mediums: in-person, takeaway projects and virtual programming to accommodate our students no matter their learning situation. The students appreciate the opportunity for activities, leadership opportunities, and safe socializing."
John Delavan, staff member in the Office of the Executive Vice President and Provost, whose nominator wrote: "John supports our busy executives but, he also does an amazing job of keeping the COVID Call Center informed of changing messaging and the dynamic situations. If you've called the call center and they've answered your question, it's likely because John gave them the information they needed."
Jolene Smeltzer, staff member at the College of Agricultural Sciences, whose nominator wrote: "Jolene is a ray of sunshine helping faculty in difficult times navigate processes for grant submissions. She is diligent, thorough, and pleasant!"
Lisa Hallahan, staff member at Penn State Great Valley, whose nominator wrote: "Lisa is a staff coordinator in the management division at Penn State Great Valley. Over the last month, Lisa has helped out tremendously, organizing data for the AACSB Accreditation Review. Lisa always goes above and beyond to make sure students, faculty and staff are well taken care of. Thank you Lisa!"
Olivia Hodgson, staff member at Penn State Behrend, whose nominator wrote: "Olivia sits on the eboard of Behrend's Alternative Spring Break program as the Director of Programming. She took her responsibilities very seriously and managed to work with her peers to adapt a week-long service trip into a year-long series of educational sessions AND a virtual service project."
Tracy Walker, staff member at Auxiliary and Business Services, whose nominator wrote: "Tracy is a joy to work with. Despite ongoing challenges in our work environment, consistent demand, and high expectations, she knocks it out of ballpark! She has a positive attitude, genuine 'can-do' attitude and is always willing to help others, even when she is busy."
Thank you Ashley, Kathleen, Ebonie, Alice, Kristen, Nathan, Emily, Clark, John, Jolene, Lisa, Olivia and Tracy — and everyone who helps make Penn State such an incredible community!